CFDirectory Filtering Uses Pipe Character For Multiple Filters (Thanks Steve Withington)
After I just posted about how the CFDirectory tag can use the single-character wild card, "?", in its filtering, Steve Withington came in and demonstrated that you can also use the pipe character, "|", to use multiple filters in the same CFDirectory tag. After reading this, I went to the ColdFusion 8 docs but didn't see this listed or mentioned anywhere. As Dan Vega pointed joked, what's the secret handshake you need to get at this kind of information??
Anyway, I ran a quick test, based on my original post, just to see if this worked. In the following demo, I am filtering on files that have the name ben or anna:
<!---
	Get all the files that are have either the name ben
	or anna in them. To separate out the values, we are
	going to use the pipe "|" character.
--->
<cfdirectory
	action="list"
	directory="#ExpandPath( './' )#"
	listinfo="name"
	filter="anna.*|ben.*"
	name="qFile"
	/>

<!--- Output file list. --->
<cfdump
	var="#qFile#"
	label="File List With Ben Or Anna"
	/>

Running the above code, I get the following CFDump output: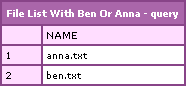 Works quite nicely, like a regular expression. What's odd, though, is that if you look at the CFZip and the CFZipParam tag, they also have a Filter attribute, but they use the comma to separate out different filter values. I wonder why the difference in things that are doing almost the exact same thing.
Want to use code from this post? Check out the license.