The Five Love Languages: How To Express Heartfelt Commitment To Your Mate By Gary Chapman
A couple of weeks ago, I blogged about Dr. Hatkoff's Love Scale quiz as discussed in Tara Parker-Pope's For Better: The Science Of A Good Marriage. In the comments to that post, Kate recommended that I might like a related book, "The Five Love Languages: How To Express Heartfelt Commitment To Your Mate," by Gary Chapman. I felt that the Love Scale quiz had really given me a lot of perspective; as such, I was excited to learn even more about people's individual styles of expressing and receving love.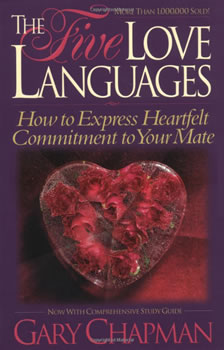 The premise of the book is simple, the message, profound. We all have what Gary Chapman refers to as a, "Love Tank." Somewhat like an emotional gas tank, the fullness of our love tank reflects how much love we feel in our current relationship. When we are neglected, the level of our love tank drops. When our loved ones effectively communicate their love for us, the level of our love tank rises. The key to a strong marriage, Chapman says, is to consciously choose, day after to day, to fill our signifanct other's love tank.
While this might seem obvious at first, it can become an impossible task if we are not aware of our signifant other's, "Love Language." As Gary Chapman explains, every person has one dominant love language. And, unless our significant other communicates with us using that particular love language, nothing that they can do will make us feel truly loved.
Unlike Dr. Hatkoff's Love Scale quiz, which has six categories, Gary Chapman outlines five love languages:
Words of Affirmation. This love language is marked by the desire to hear words of encouragement, approval, and appreciation.

Quality Time. This love language is marked by the desire to actively spend time with our signifant other, having meaningful conversations or sharing recreational activities.

Receiving Gifts. This love language is marked by the desire to receive gifts, regardless of whether they are expensive commercial gifts or heartfelt, handmade gifts.

Acts of Service. This love language is marked by the desire to have someone do things such as dish washing, dog walking, and laundry for you.

Physical Touch. This love language is marked by the desire to be touched, whether it's holding hands, hugging, kissing, a stroking of the skin, or sex.
NOTE: These descriptions are from my memory and are not a word-for-word defintion of the five love languages.
Love languages are like any other language; and, unless we are speaking the same language, no real meaning can be communicated. So, for example, even if you are always doing chores and complimenting your lover, if her particular love language happens to be, "Quality Time," none of your actions, although apprecicated superficially, will make her feel truly loved. A woman in this situation might say something like, "It's great that he does all of those things; but, I just don't feel like he loves me!"
When I read this book, I found that there was something quite eye opening about it. As much as the Love Scale quiz gave me tremendous perspective, hearing Gary Chapman recount stories about misunderstood love languages really drove home the fact that we all experience love in our own way. Love is one of those things I have trandionally believed to be universally experienced; but, it appears that we all get there by own particular means.
After thinking about it for a long while, I came to the realization that my dominant love language is, "Words of Affirmation." This was a really hard decision for me to make. As I blogged before, I find "Physical Touch" and "Quality Time" extremely important. But, when I think about the relationships in which I have felt the most fulfilled, I think that they were the ones in which I was verbally praised. But, given the fact that my Love Scale quiz resulted in no dominant love style, it would be easy for me to accept the idea that I have two dominant love languages (Words of Affirmation and Physical Touch).
I can tell you for sure that I am definitely not an, "Acts of Service," person. The idea of having someone do my laundry, clean my bathroom, or cook my food doesn't make me feel anything profound. These are simply things that need to be done; and, if someone wants to do them for me, that's lovely, but it's certainly not required.
I can also tell you that I am not a, "Receiving Gifts," person. Heck, I can hardly even think about things that I'd want to buy for myself.
One thing Gary Chapman said that I found very interesting was that while one's own actions may be a reflection of their love language, they don't have to be. I can certainly see this in my own actions; while I am not personally an, "Acts of Service," or a, "Receving Gifts," person, these are activities that I rather enjoy sharing with others. Perhaps this difference between giving and receiving relates to another point that Chapman makes: there is a big difference between feeling love and choosing to perform acts of love; while there is only one primary way for me to feel loved, there are many ways in which I like to express my love for others.
All in all, I found The Five Love Langauges by Gary Chapman powerful in its simplicity. The key to making our loved ones feel loved is not only to express ourselves every day, it is to do so in a way that our loved ones will truly understand. After we move past the "falling in love" phase of our relationships, it is crucial that we consciously choose to show our lovers how much they mean to us through our acts of love.