For Better: The Science Of A Good Marriage By Tara Parker-Pope
Last week, I blogged about the Love Scale quiz by Dr. Hatkoff as discusesd in Tara Parker-Pope's book, "For Better: The Scinece of a Good Marriage." This weekend, I finally had a chance to finish the rest of the book and I have to say that I really enjoyed it. I think the book has a tremendous amount of interesting information in it and I'm sure that I will have to read it a second time before I can truly start to internalize much of what was covered.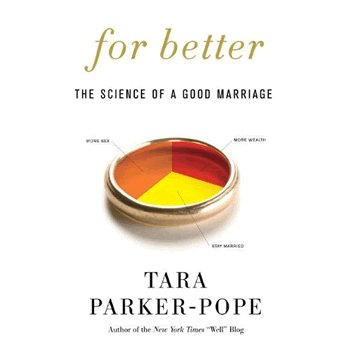 The book discussed the biological basis for animal behaviors, trends in marriage, statistical analysis, reviews of many studies, and tons of great insight - like I said, there was a lot of interesting information. One section that I found particularly insightful, however, was what Gay and Lesbian relationships teach us about heterosexual relationships. Studies of gay and lesbian relationships reveal that same-sex couples (and same-sex marriages) have all of the same ups and downs and disagreements that straight couples have. This transcendence of behavior above the gender lines reveals to us that problems in relationships are not gender specific - no one is who they are, or behaves as they do simply because they are a man or a woman.
While this might seem obvious on one level, I think it shifts the perspective of relationships in a very profound way. It's not men and women, or Mars and Venus - suddenly this point of view feels very archaic; relationships are about the interactions between two committed individuals, regardless of gender and gender stereotypes. Combine this with the women's Working movement and the relatively recent prioritization of love in marriage and we find that the reality of relationships start to clash with many of our preconceived notions.
Now, the beauty in this revelation is certainly one of hope and possibility. When we see that everyone is suspeptible to the same problems, we realize that we can do something about it - that we can work towards a better future. And, when we embrace the fact that very little of our behavior is codified in our gender, it gives us the freedom to become the best people that we can be.
The section on gay and lesbian relationships also provided a lot of information about conflict resolution and the tremendous importance of an extended social network in the context of love-based marriages; but, I don't want to give you the wrong idea - this book wasn't a study of non-heterosexual relationships. This section just happend to be one of many very interesting explorations into relationship dynamics and happened to be one that provided me with a very fresh perspective.
No one goes into relationships an expert; and, as modern couples start to expect more from their life, their marriage, and from their significant other, it has never been more important to understand the science of a successful relationship. And, like all activities that we engage in, a successful relationship is one that is built on top of hard work, dedication, and deliberate practice. For Better: The Science of a Good Marriage, by Tara Parker-Pope is certainly one book that I feel will be a valuable asset on my journey towards maximizing my relational satisfaction.