Whom Not To Marry: Time-Tested Advice From A Higher Authority By Pat Connor
A couple of weeks ago, in my post about the The Five Love Languages by Gary Chapman, the very beautiful Nadine Fawell suggested that I might like the book, "Whom Not To Marry," by Father Pat Connor. I have to admit that at first I was a bit hesitant - a book written by a man of the cloth seems a bit odd to me. But, if I've learned anything from the great author, Robert Fulghum (a Unitarian minister), it's that we can all relate to the "human" experience, regardless of our background or life situation.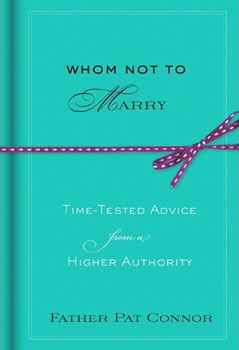 Whom Not To Marry is clearly targeted at women; not only does Connor frame the entire book in terms of finding the right "man" or "husband," he explicitly introduces the book as guide for women. But, this did not deter me; I figure it's his job to write the book and it's my job to find a way to extract value from his teachings. Besides, going into any relationship with the preconceived notion that men and women have different needs based solely on their gender is already a failure of mindset.
Father Pat Connor writes with a gentle, familiar tone that makes the book an easy read. As far as content goes, however, there is not too much here that hasn't been covered many times over. But, as typically happens, hearing a fresh perspective on any topic gets you to think about a subject matter in a new light.
For example, one activity that I found very challenging was trying to define "Marriage" in 25 words or less. Marriage is most definitely a bond that I would like to enter into one day; however, feeling strongly about something does not in any way presuppose one's ability to articulate the reasons behind such a feeling. Getting my definition of marriage down to 25 words took me a few good number of attempts, but here is what I came up with:
Marriage is ... the promise of love between two people and the explicit commitment to work to maintain that love no matter what obstacles life may bring.
Even this definition leaves me wanting more - 2 to 3 pages more in fact. But that's what was so interesting about the challenge; verbosity, to some degree, masks one's inability to articulate their own thoughts, which is, again to some degree, a sign that one has no idea how they really feel. For me, any activity that requires a deeper exploration of my own thoughts and desires is something worth doing.
Along the lines of commitment, another topic that I thought Connor discussed in a thought-provoking way was that of "soul mates." Connor insists that not only does everyone have a soul mate, we all have many soul mates. In fact, he suggested that while you are married to one soul mate, chances are likely that you'll meet several of your other soul mates in passing. Which soul mate you end up marrying is a choice left up to you. And, once married, it necessarily become your responsibility to remember that the soul mate you are with is more important than the one you meet in your postnuptial life.
This line of thinking reminded me of my college days. As a Freshman in school, I distinctly remember seeing a movie in which a happy couple broke up such that one of them (probably the guy) could enter into another relationship with his newly-found "true love." At the time, I was very conflicted about the movie and how I felt about the plot line. On the one hand, I thought it was horrible that the happy couple had to break up; but, on the other hand, I thought it would be crazy for someone to pass up their "true love" purely for the sake of one's feelings. After all, why would one person's pain be held as more important than one person's opportunity for life-long happiness?
I think the mental turmoil that I experienced, with regard to that situation, came from a narrow-minded belief that there is only one person who can completely compliment us in this life. When you have that outlook, passing up a love will always feel like the ultimate sacrifice. But, if you take Connor's point of view as fact, which I am more than happy to do, passing up love is not a sacrifice; rather, it is an investment in the love you already have and the promise of the love that you will continue to experience.
While the book is about marriage (and whom not to marry), many of the concepts can be used in the platonic world as well. Once such piece of advice that I found to be simply awesome was the acronym, THINK. As in, "think" before you speak. THINK stands for:
T - Is it truthful?
H - Is it helpful?
I - Is it inspiring?
N - Is it necessary?
K - Is it kind?
There is something about this that is just so profound in its clarity. To me, this five-letter acronym isn't just a reminder of how to communicate; it is a standard of interaction for which we should all strive. And, the fact that it spells out, "think," is just all the more serendipitous as it reminds us that our actions should always be a conscious, deliberate effort to put our best foot forward.
There are a number of other discussions in the book that I really enjoyed; for example, Father Connor recommends an engagement period of no less than one year. He aslo recommends that you should never marry a man (or woman) who is not willing to make the same sacrifices that he demands of you. This is a particularly provocative statement especially when you get into some of the more archaic and fundamentalist points of view in which women are explicitly subjugated by their mates. A lot of the topics that Connor covers are familiar; but, I truly enjoyed the new way in which he was able to get me to think.