RxJS Streams Are Inconsistently Asynchronous In Angular 2 Beta 6
Now that I'm starting to dig into the RxJS Observable sequences in Angular 2, I'm trying to translate my Promise-based mental model into a Streams-based mental model. And, as I was trying to figure out how to throw errors in the future using RxJS, I noticed a behavior in RxJS streams that is fundamentally different from Promises: where as promises are always asynchronous, RxJS streams are inconsistently asynchronous.
Run this demo in my JavaScript Demos project on GitHub.
To demonstrate what I mean, all we have to do is create two RxJS streams, one that uses a .delay() operator and one that does not. Then, we can easily log-out the timing of the subscription-based event handlers in the context of the overall page load:
<!doctype html>
<html>
<head>
	<meta charset="utf-8" />

	<title>
		RxJS Streams Are Inconsistently Asynchronous In Angular 2 Beta 6
	</title>
</head>
<body>

	<h1>
		RxJS Streams Are Inconsistently Asynchronous In Angular 2 Beta 6
	</h1>

	<!-- Load demo scripts. -->
	<script type="text/javascript" src="../../vendor/angularjs-2-beta/6/es6-shim.min.js"></script>
	<script type="text/javascript" src="../../vendor/angularjs-2-beta/6/Rx.umd.min.js"></script>
	<script type="text/javascript">

		// NOTE: While this demo is not Angular 2 Beta 6 specific, it is using the version
		// of RxJS that ships with the Angular 2 Betas. As such, I am referring to this
		// demo as having an Angular 2 Beta 6 context.

		// Here, we are subscribing to two different RxJS streams and simply logging the
		// observed values in the context of the general execution of the page to get a
		// sense of where, in time, sequences emit events.

		console.warn( "RxJS - Script - Begin." );

		getStreamA().subscribe(
			function handleNext( value ) {

				console.info( "Stream A value:", value );

			}
		);

		console.log( "In between A and B." );

		getStreamB().subscribe(
			function handleNext( value ) {

				console.info( "Stream B value:", value );

			}
		);

		console.warn( "RxJS - Script - End." );


		// --------------------------------------------------------------------------- //
		// --------------------------------------------------------------------------- //


		// I return an RxJS observable sequence that happens to be synchronous.
		function getStreamA() {

			return( Rx.Observable.of( "stream" ) );

		}


		// I return an RxJS observable sequence that happens to include a delay.
		function getStreamB() {

			return( Rx.Observable.of( "stream" ).delay( 10 ) );

		}

	</script>

</body>
</html>

As you can see, we're subscribing to the RxJS streams immediately after they are created (as one would typically do in an application). And, when we run the above code, we get the following output: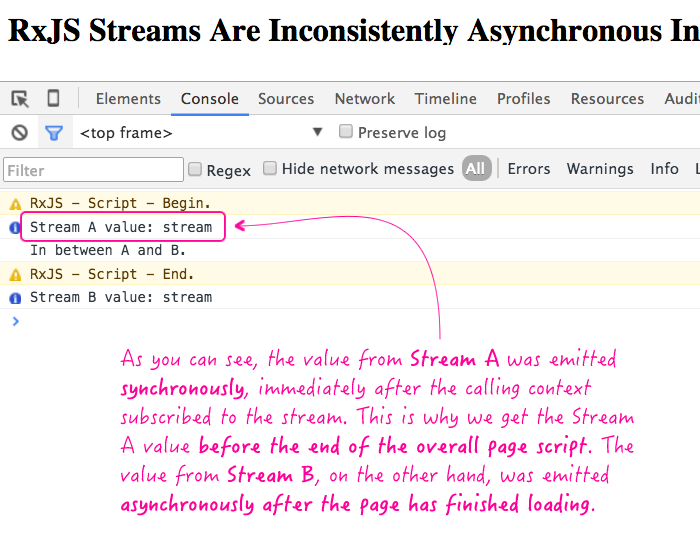 Clearly, Stream A started emitting values immediately (ie, synchronously) after the calling context subscribed to the stream. This is why we can log-out the Stream A value before we log the end of the page load.
Let's quickly compare this to Promises. In the following code, I'm attempting to recreate the same workflow using two Promises instead of RxJS streams:
<!doctype html>
<html ng-app="Demo">
<head>
	<meta charset="utf-8" />

	<title>
		Promises Are Always Asynchronous In Angular 1.x
	</title>
</head>
<body>

	<h1>
		Promises Are Always Asynchronous In Angular 1.x
	</h1>

	<!-- Load scripts. -->
	<script type="text/javascript" src="../../vendor/angularjs/angular-1.4.7.js"></script>
	<script type="text/javascript">

		angular.module( "Demo", [] ).run(
			function testPromises( $timeout, $q ) {

				// Here, we are binding to two different Promise chains and simply
				// logging the resolved values in the context of the general execution
				// of the page to get a sense of where, in time, promises emit values.

				console.warn( "Promise - Script - Begin." );

				getPromiseA().then(
					function handleResolve( value ) {

						console.info( "Promise A value:", value );

					}
				);

				console.log( "In between A and B." );

				getPromiseB().then(
					function handleResolve( value ) {

						console.info( "Promise B value:", value );

					}
				);

				console.warn( "Promise - Script - End." );


				// ------------------------------------------------------------------- //
				// ------------------------------------------------------------------- //


				// I return a Promise that resolves immediately.
				function getPromiseA() {

					return( $q.when( "promise" ) );

				}


				// I return a Promise that happens to include a delay before resolving.
				function getPromiseB() {

					var promise = $timeout( angular.noop, 10 )
						.then(
							function handleResolve() {

								return( "promise" );

							}
						)
					;

					return( promise );

				}

			}
		);

	</script>

</body>
</html>

As you can see, one function returns an already-resolved promise whereas the other function returns a promise that is delayed by a timer. And yet, when we run the above code, we can see that both promise subscriptions are invoked asynchronously, after the page has finished loading: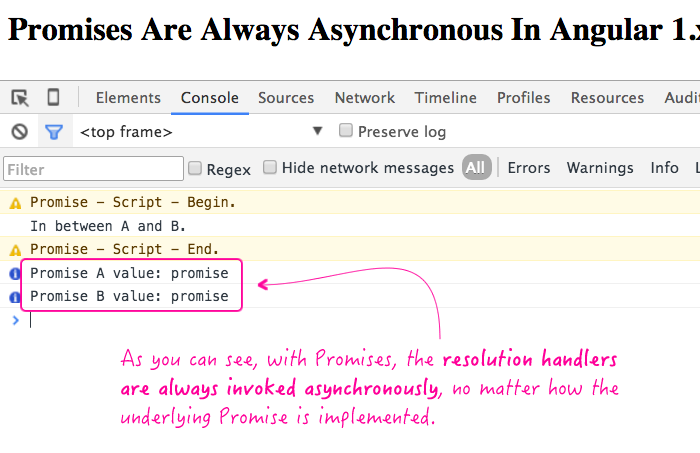 Now, I'm not saying that Promises are "right" and RxJS streams are "wrong." I'm just trying to build up a mental model for RxJS streams. That said, I do think that it is nice that you can always depend on Promises to be asynchronous - it means that your calling code never has to wonder about the underlying implementation of the Promise chain. With RxJS streams, on the other hand, your calling context may very well have to guard against the inconsistently asynchronous nature of observable sequences.
Want to use code from this post? Check out the license.