The User Experience (UX) Of Ceremony And Self-Priming
After a few years off from doing anything athletic, I've been trying to get back into weight-lifting. Yesterday, I was at the gym working on my deadlifts. I'm nowhere near as strong as I used to be; but, I have been able to build up to a weight that is hard for me to hold. And that's when the chalk comes out. Chalk is like nature's glue. Before each set, I chalk up my hands and then I get ready to dig deep!
As I was chalking up my hands before my second set, I suddenly had a moment of self-reflection and I realized that I wasn't just chalking up my hands; rather, I was invoking the powers of ceremony and using the chalking as a means of self-priming - a way to unleash the beast. I use chalk before each set, not because I have to, necessarily, but because I want to.
The chalk, when applied, is a signal. It's time to enter "beast mode." My mindset changes, my breathing changes, my perception of reality changes. The barbell is no longer an object to be lifted but rather a destiny to be fulfilled.
I can't help but think of the opening fight scene in Unleashed starring Jet Li. As the scene unfolds, Danny (Jet Li) has his dog collar removed. This simple ceremony transforms him from human into dog (metaphorically):
Not only is this an outstanding fight scene with wonderful choreography, it demonstrates the power of ceremony and of priming.
In user experience (UX) design, we often talk about priming the user, generally in ways that the user isn't fully aware of. Which can be good. But, self-priming can be very powerful. I wonder if there may be more opportunities, in our application design, to let users invoke ceremony as means to prime themselves for heightened performance?
The complexity with self-priming is that it is very personal. What works for me may have absolutely no effect on someone else. And, what works for someone else might seem downright silly to me. I don't think it's a feature that can be easily generalized. If we wanted generalized priming, we could just fallback to trying to prime people without their awareness of it.
I think it would have to be a feature that you invite the user to actively configure. You get the user to define the ceremony - let them personalize it. Then, when it's "go time," they have exactly what they need in order to transform.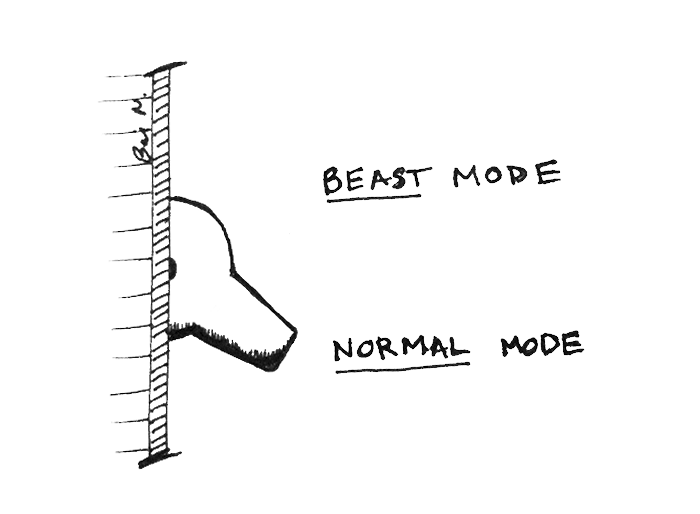 Honestly, I have no idea what this looks like from a user experience standpoint. I don't think I've ever seen an application that does this. There are a large number of examples of gamification in application design. But, no examples that I can think of where an application lets the user actively and consciously game themselves through the powers of ceremony.
In order for this to be a possibility, I believe that the people building and designing the application have to also be the people consuming the application. It has to be a dog-fooding situation. Otherwise, how can the user experience designers even begin to understand what makes the user tick at such a fundamental, primal level.
But again, I have no idea what this would look like. Has anyone ever seen anything like this?