Revisiting Routing, Nested Views, And Caching With ngRoute In AngularJS 1.x
It's been a few years since I wrote the AngularJS routing system for InVision App. And, once it was done, I didn't really think about it again. But, the recent Adventures in AngularJS podcast, on the Angular-UI router, has me thinking about routing once more. I know that the new AngularJS 2.0 (and maybe 1.4?) router is supposed to provide a world of difference; but, before we step into the future, I wanted to take a minute revisit the functionality that we can get with the current AngularJS 1.x router.
Run this demo in my JavaScript Demos project on GitHub.
To be fair, I think the AngularJS 1.x router is actually pretty solid - the major problem with routing, in AngularJS 1.x, is the ngView directive; it's extremely limited. But, we can make up for that using other core directives like ngSwitch. In fact, if you start to think about building views with "component directives," ngSwitch feels a lot more natural than ngView (or what ngView could have been).
When I built the routing system for InVision App, it took me about 3-4 weeks. Most of that time was spent trying to figure out what the heck a routing system was supposed to do and, more importantly, how to get controllers to ignore irrelevant route-change events. Now, with 2+ years of routing under my belt, I wanted to see how easily I could build a routing service that would solve 95% of my routing requirements.
NOTE: When I say "build a route service," I mean build "on top of," and leverage, the core ngRoute module.
The code that I wrote in this blog post took a little over two [aggregate] days, from scratch. Much faster than the 3-4 weeks it took me the first time.
In retrospect, the biggest mistake I made - two years ago - was trying to get every controller to react to the same route-change event. This proved to be very problematic when trying to determine if a route-change event was relevant to a particular controller. In this version of my routing solution, I'm translating each route-change event into one or more action-oriented events.
Each route is associated with some "action" value, which is nothing more than a dot-delimited list that represents the state of the current application. If you think about the application view as number of nested views, you can roughly think about each item in this dot-delimited list as defining which box is being rendered in a given level of nesting.
Example: main.users.detail.contactInformation
In the following version of the code, if the user were to switch to a route that was associated with the above action, I would take the main $routeChangeSuccess event and translate it into a the following series of events which will be fired sequentially in the same $digest:
route:
route:main
route:main.users
route:main.users.detail
route:main.users.detail.contactInformation
Essentially, I walk the length of the action-list, $broadcast()'ing an event for each location from the $rootScope. While this approach incurs a bit more overhead, it greatly simplifies the association of a Controller with a particular portion of the route-action. Furthermore, each event includes the next item in the route-action which can easily be used [by convention] to render the nested view: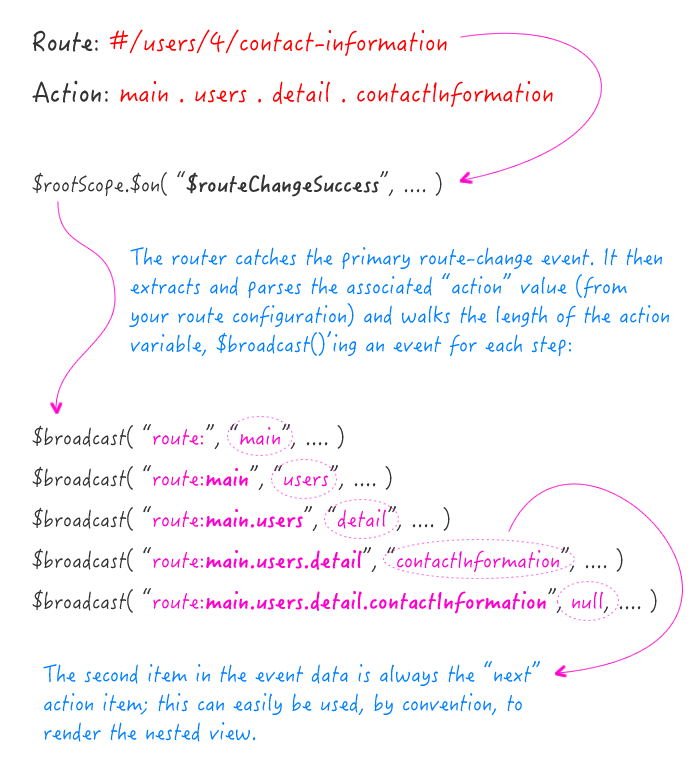 NOTE: If you believe that $broadcast() is too expensive, you are living in the past. Not only does $broadcast() not trigger a $digest, $broadcast() has been well optimized in recent releases of AngularJS.
The beauty of this approach is that if a route changes to an application-state that is no longer relevant to a rendered Controller, that controller will never receive the route-change event. As such, it will be destroyed and no further steps need to be taken.
The other challenge that I've faced in routing was dealing with AJAX responses that were no longer relevant. It's quite easy to find yourself in a situation where an AJAX request is initiated while a view is relevant but, returns after that view is no longer relevant. At best, this can lead to unnecessary processing; but, at worse, this can lead to accidental page redirects and unexpected error messages if the AJAX returns in error.
To deal with this problem, the following code offers an ability to "lock" a callback to a particular scope and route state. For example:
lock( $scope, ajaxCallback )
lock( $scope, "id", ajaxCallback )
This will return a proxy that will bypass the given callback if the scope has been destroyed or the given route parameter has changed. By using this locking method, I don't have to try to test inside the controller to see if subsequent actions are still relevant. That said, .lock() is a convenience method that is intended to be simple, not robust.
Bringing it all together, I created a simple service called "pike" that exposes only three methods:
pike.bind( scope, [eventType,] handler) - binds the given scope to the sub-action events of the given type. This function returns the next item in the action path according to the current route.
pike.lock( scope, [key,] callback ) - locks the given callback to the given state and optional routeParam key. If the scope has been destroyed, or the route param has changed, when the proxy is invoked, the callback is bypassed.
pike.param( key ) - returns the given key from the routeParams, coerced appropriately.
In the last item there, I mention that the param will be "coerced appropriately." pike will try to coerce route parameters to numbers where possible so that strict-equality can be achieved. This applies to both the .param() method as well as the new/old parameter collections passed-in with the route event.
That said, here's the demo code - though it may be much easier to absorb in the video.
CAUTION: I am not trying to sell you on this code - this was just a thought-experiment to see how simple I could make a "good enough" routing system on top of the core ngRoute module.
<!doctype html>
<html ng-app="Demo">
<head>
	<meta charset="utf-8" />

	<title>
		Revisiting Routing, Nested Views, And Caching With ngRoute In AngularJS 1.x
	</title>

	<link rel="stylesheet" type="text/css" href="demo.css"></link>
</head>
<body ng-controller="AppController" class="module">

	<h1>
		Revisiting Routing, Nested Views, And Caching With ngRoute In AngularJS 1.x
	</h1>

	<div ng-switch="subview">
		<div ng-switch-when="list" bn-friend-list></div>
		<div ng-switch-when="detail" bn-friend-detail></div>
	</div>

	<!--
		These links are here to help run the demo for the video recording - they
		wouldn't be here otherwise.
	-->
	<p class="demo-links">
		These are here to help run the demo:<br />
		<a href="#/friends/1/bio">#/friends/1/bio</a> - Sarah<br />
		<a href="#/friends/1/likes">#/friends/1/likes</a> - Sarah<br />
		<a href="#/friends/2/bio">#/friends/2/bio</a> - Joanna<br />
		<a href="#/friends/2/likes">#/friends/2/likes</a> - Joanna<br />
		<a href="#/friends/3/bio">#/friends/3/bio</a> - Kim<br />
		<a href="#/friends/3/likes">#/friends/3/likes</a> - Kim<br />
	</p>


	<!-- Template for the FriendList module directive. -->
	<script type="text/ng-template" id="friend-list.htm">

		<div ng-switch="isLoading" class="module">

			<h2>
				My Friends
			</h2>

			<p ng-switch-when="true">
				<em class="loading">Loading friends!</em>
			</p>

			<ul ng-switch-when="false">
				<li ng-repeat="friend in friends track by friend.id">
					<a ng-href="#/friends/{{ friend.id }}">{{ friend.name }}</a>
				</li>
			</ul>

		</div>

	</script>


	<!-- Template for the FriendDetail module directive. -->
	<script type="text/ng-template" id="friend-detail.htm">

		<div ng-switch="isLoading" class="module">

			<p ng-switch-when="true">
				<em class="loading">Loading detail</em>
			</p>

			<div ng-switch-when="false">

				<h2>
					{{ friend.name }}
					&mdash;
					<a href="#/friends">Back to list</a>
				</h2>

				<p>
					<strong>Birthday</strong>: {{ friend.birthday }}
				</p>

				<p>
					<a ng-href="#/friends/{{ friend.id }}/bio">Biography</a>
					&nbsp;|&nbsp;
					<a ng-href="#/friends/{{ friend.id }}/likes">Likes</a>
				</p>

				<div ng-switch="subview">
					<div ng-switch-when="bio" bn-friend-bio></div>
					<div ng-switch-when="likes" bn-friend-likes></div>
				</div>

			</div>

		</div>

	</script>


	<!-- Template for the FriendBio module directive. -->
	<script type="text/ng-template" id="friend-bio.htm">

		<div ng-switch="isLoading" class="module">

			<h3>
				Biography
			</h3>

			<p ng-switch-when="true">
				<em class="loading">Loading bio</em>
			</p>

			<p ng-switch-when="false">

				{{ bio }}

			</p>

		</div>

	</script>


	<!-- Template for the FriendLikes module directive. -->
	<script type="text/ng-template" id="friend-likes.htm">

		<div ng-switch="isLoading" class="module">

			<h3>
				Likes
			</h3>

			<p ng-switch-when="true">
				<em class="loading">Loading likes</em>
			</p>

			<ul ng-switch-when="false">
				<li ng-repeat="like in likes">
					{{ like }}
				</li>
			</ul>

		</div>

	</script>


	<!-- Load scripts. -->
	<script type="text/javascript" src="../../vendor/angularjs/angular-1.3.13.min.js"></script>
	<script type="text/javascript" src="../../vendor/angularjs/angular-route-1.3.13.min.js"></script>
	<script type="text/javascript" src="../../vendor/lodash/lodash-3.5.0.min.js"></script>
	<script type="text/javascript">

		// Create an application module for our demo.
		var app = angular.module( "Demo", [ "ngRoute" ] );


		// -------------------------------------------------- //
		// -------------------------------------------------- //


		// Set up the routes for this application.
		app.config(
			function configureRoutes( $routeProvider ) {

				$routeProvider
					.when(
						"/friends",
						{
							action: "list"
						}
					)
					.when(
						"/friends/:id",
						{
							redirectTo: "/friends/:id/bio"
						}
					)
					.when(
						"/friends/:id/bio",
						{
							action: "detail.bio"
						}
					)
					.when(
						"/friends/:id/likes",
						{
							action: "detail.likes"
						}
					)

					// Define a catch-all for friend-oriented routes. Try to redirect
					// the user back to the friend detail.
					.when(
						"/friends/:id/:notFound",
						{
							redirectTo: "/friends/:id"
						}
					)

					// Define a catch-all for the entire application.
					.otherwise({
					redirectTo: "/friends"
					})
				;

			}
		);


		// -------------------------------------------------- //
		// -------------------------------------------------- //


		// I provide a light-weight route integration on top of the AngularJS 1.x ngRoute
		// module. The system relies on each route being mapped onto an "action" variable
		// which is subsequently translated into events that are broadcast down through
		// the scope tree.
		app.factory(
			"pike",
			function pikeFactory( $route, $routeParams, $rootScope ) {

				var splitter = /\./g;

				var oldRouteParams = {};

				// I am used as the prefix / name-space for the internal event that will
				// be announced on the scope-chain.
				var eventTypePrefix = "route:";

				// I bind to the route-change event so that it can be translated into
				// action-oriented events on the scope-tree.
				$rootScope.$on( "$routeChangeSuccess", handleRounteChangeEvent );

				// Return the public API.
				return({
					bind: bind,
					lock: lock,
					param: param
				});


				// ---
				// PUBLIC METHODS.
				// ---


				// I bind a route-change handler to the contextual scope and return the
				// next item in the action path
				function bind( scope, eventType, handler ) {

					// If we only get a change-handler passed-in, assume that the
					// event-type will be the empty string.
					if ( arguments.length === 2 ) {

						handler = arguments[ 1 ];
						eventType = "";

					}

					// Bind the route-change handler on the context scope.
					scope.$on( ( eventTypePrefix + eventType ), handler );

					// If there is no action associated with the current route, there
					// can be no known "next action"; as such, return null.
					if (
						! $route.current ||
						! $route.current.action ||
						( $route.current.action === eventType )
						) {

						return( null );

					}

					// In order for there to be a relevant next action, the provided
					// event type must be a prefix for the current action. If it is not,
					// then return null.
					if ( $route.current.action.indexOf( eventType + "." ) !== 0 ) {

						return( null );

					}

					// Now that we know we'll have a relevant next action, split both
					// the route action and the event type so that we can determine the
					// next action by index.
					var currentParts = $route.current.action.split( splitter );
					var eventParts = eventType.split( splitter );

					return( currentParts[ eventParts.length ] );

				};


				// I return a proxy to the given callback that will only be invoked if
				// the scope still exists and the route has not changed "too much". This
				// is intended to short-circuit AJAX responses that return after the
				// initiating route context is no longer relevant. This must be called
				// with a scope; but, it can also be called with an optional route param
				// to track.
				// --
				// lock( scope, callback )
				// lock( scope, key, callback )
				function lock( scope, key, callback ) {

					// If a key was omitted, shift argument mappings.
					if ( arguments.length === 2 ) {

						callback = arguments [ 1 ];
						key = null;

					}

					var value = ( key ? param( key ) : null );

					return( proxyCallback );


					function proxyCallback() {

						// If the scope has been destroyed, exit out.
						if ( ! scope.$parent && ( scope !== $rootScope ) ) {

							console.warn( "Response ignored due to scope destruction." );
							return( callback = null );

						}

						// If the scope exists, and the tracked key has changed, exit out.
						if ( key && ( value !== param( key ) ) ) {

							console.warn( "Response ignored due to stale state." );
							return( callback = null );

						}

						// Otherwise, invoke callback.
						return( callback.apply( scope, arguments ) );

					}

				}


				// I get, coerced, and return the value from the current $routeParams.
				function param( key ) {

					return( coerceParam( $routeParams[ key ] ) );

				}


				// ---
				// PRIVATE METHODS.
				// ---


				// I try to coerce the given route parameter value in a way that is most
				// expected - if a parameter can be converted to a number, we will return
				// it as a number.
				function coerceParam( value ) {

					if ( angular.isUndefined( value ) ) {

						return( null );

					}

					var numericValue = ( value * 1 );

					return( ( value == numericValue ) ? numericValue : value );

				}


				// I try to coerce all of the local keys in the given params object,
				// converting each value to a number it can be. This will make strict-
				// equality much easier to work with as the only "numeric string" in the
				// entire app will come out of the location data. Everything else should
				// be a "known" value.
				function coerceParams( params ) {

					for ( var key in params ) {

						if ( params.hasOwnProperty( key ) ) {

							params[ key ] = coerceParam( params[ key ] );

						}

					}

					return( params );

				}


				// I catch the core route-change event and then translated it into
				// action-oriented events that get broadcast down through the scope tree.
				function handleRounteChangeEvent( event, newRoute ) {

					// If there is no action, it's probably a redirect.
					if ( angular.isUndefined( newRoute.action ) ) {

						return;

					}

					// Gather the coerced parameters for the new route.
					var newRouteParams = coerceParams( angular.copy( $routeParams ) );

					// Each part of the route-action is going to be announced as a
					// separate route event.
					var parts = newRoute.action.split( splitter );

					// Announce the root change event. This is necessary for anyone
					// who is listening for a route-change but does not provide an
					// event-type to bind to.
					$rootScope.$broadcast(
						eventTypePrefix,
						( parts[ 0 ] || null ),
						newRouteParams,
						oldRouteParams
					);

					// Now, walk down the route-action and announce a different event
					// for each part of the path. So, for example, if the action were
					// "foo.bar.baz", we'll announce the following events:
					// --
					// $broadcast( event, "foo", "bar", new, old );
					// $broadcast( event, "foo.bar", "baz", new, old );
					// $broadcast( event, "foo.bar.baz", null, new, old );
					// --
					// If you think that this causes too much processing, you have to
					// get some perspective on the matter; the cost of traversing the
					// scope tree for event triggering is quite inconsequential when
					// you consider how infrequently route changes are going to be
					// triggered.
					for ( var i = 0, length = parts.length ; i < length ; i++ ) {

						$rootScope.$broadcast(
							( eventTypePrefix + parts.slice( 0, i + 1 ).join( "." ) ),
							( parts[ i + 1 ] || null ),
							newRouteParams,
							oldRouteParams
						);

					}

					// Store the current params for the next change event.
					oldRouteParams = newRouteParams;

				}

			}
		);


		// -------------------------------------------------- //
		// -------------------------------------------------- //


		// I control the root of the application.
		app.controller(
			"AppController",
			function( $scope, pike ) {

				// NOTE: We are not providing a route-action prefix because this is the
				// root of the application - therefore, we want to know about top-level
				// action changes.
				$scope.subview = pike.bind( $scope, handleRouteChange );


				// ---
				// PRIVATE METHODS.
				// ---


				// I handle contextual changes in the route.
				function handleRouteChange( event, nextAction, newParams, oldParams ) {

					// Will be one of the following:
					// --
					// [ list ]
					// [ detail ]
					$scope.subview = nextAction;

				}

			}
		);


		// -------------------------------------------------- //
		// -------------------------------------------------- //


		// I render the FriendList module.
		app.directive(
			"bnFriendList",
			function() {

				// Return the directive configuration.
				return({
					controller: Controller,
					templateUrl: "friend-list.htm"
				});


				// I manage the view-model for the module.
				function Controller( $scope, friendService, pike ) {

					$scope.isLoading = false;

					$scope.friends = [];

					loadRemoteData();


					// ---
					// PRIVATE METHODS.
					// ---


					// I load the remote data and merge it into the local view-model. If
					// cache data is available, it will be consumed.
					function loadRemoteData() {

						$scope.isLoading = true;

						// CAUTION: Using pike.lock() to short-circuit callbacks if the
						// route has changed by the time the callbacks have returned.
						friendService.getList()
							.then(
								pike.lock( $scope, handleResolve ), // Live data.
								null,
								pike.lock( $scope, handleResolve ) // Cache data.
							)
						;


						// I apply the remote data to the local scope.
						function handleResolve( friends ) {

							$scope.isLoading = false;

							$scope.friends = friends;

						}

					}

				}

			}
		);


		// -------------------------------------------------- //
		// -------------------------------------------------- //


		// I render the FriendDetail module.
		app.directive(
			"bnFriendDetail",
			function() {

				// Return the directive configuration.
				return({
					controller: Controller,
					templateUrl: "friend-detail.htm"
				});


				// I manage the view-model for the module.
				function Controller( $scope, friendService, pike ) {

					$scope.friendID = pike.param( "id" );

					$scope.isLoading = false;

					$scope.friend = null;

					// Setup the route-change event binding.
					// --
					// NOTE: When setting up the route-change binding, .bind() will
					// return the next action item based on the current route state.
					// In this case, it will be [ bio ] or [ likes ].
					$scope.subview = pike.bind( $scope, "detail", handleRouteChange );

					loadRemoteData();


					// ---
					// PRIVATE METHODS.
					// ---


					// I handle contextual changes in the route.
					function handleRouteChange( event, nextAction, newParams, oldParams ) {

						// Will be one of the following:
						// --
						// detail.[ bio ]
						// detail.[ likes ]
						$scope.subview = nextAction;

						// If the route ID has changed, we'll have to re-initialize the
						// data for the new friend.
						if ( $scope.friendID !== newParams.id ) {

							$scope.friendID = newParams.id;

							loadRemoteData();

						}

					}


					// I load the remote data and merge it into the local view-model. If
					// cache data is available, it will be consumed.
					function loadRemoteData() {

						$scope.isLoading = true;

						// CAUTION: Using pike.lock() to short-circuit callbacks if the
						// route has changed by the time the callbacks have returned.
						friendService
							.getDetail( $scope.friendID )
							.then(
								pike.lock( $scope, "id", handleResolve ), // Live data.
								null,
								pike.lock( $scope, "id", handleResolve ) // Cache data.
							)
						;


						// I apply the remote data to the local scope.
						function handleResolve( friend ) {

							$scope.isLoading = false;

							$scope.friend = friend;

						}

					}

				}

			}
		);


		// -------------------------------------------------- //
		// -------------------------------------------------- //


		// I render the FriendBio module.
		app.directive(
			"bnFriendBio",
			function() {

				// Return the directive configuration.
				return({
					controller: Controller,
					templateUrl: "friend-bio.htm"
				});


				// I manage the view-model for the module.
				function Controller( $scope, friendService, pike ) {

					$scope.friendID = pike.param( "id" );

					$scope.isLoading = false;

					$scope.bio = null;

					// Setup the route-change event binding.
					pike.bind( $scope, "detail.bio", handleRouteChange );

					loadRemoteData();


					// ---
					// PRIVATE METHODS.
					// ---


					// I handle contextual changes in the route.
					function handleRouteChange( event, nextAction, newParams, oldParams ) {

						// If the route ID has changed, we'll have to re-initialize the
						// data for the new friend.
						if ( $scope.friendID !== newParams.id ) {

							$scope.friendID = newParams.id;

							loadRemoteData();

						}

					}


					// I load the remote data and merge it into the local view-model. If
					// cache data is available, it will be consumed.
					function loadRemoteData() {

						$scope.isLoading = true;

						// CAUTION: Using pike.lock() to short-circuit callbacks if the
						// route has changed by the time the callbacks have returned.
						friendService
							.getBio( $scope.friendID )
							.then(
								pike.lock( $scope, "id", handleResolve ), // Live data.
								null,
								pike.lock( $scope, "id", handleResolve ) // Cache data.
							)
						;


						// I apply the remote data to the local scope.
						function handleResolve( bio ) {

							$scope.isLoading = false;

							$scope.bio = bio;

						}

					}

				}

			}
		);


		// -------------------------------------------------- //
		// -------------------------------------------------- //


		// I render the FriendLikes module.
		app.directive(
			"bnFriendLikes",
			function() {

				// Return the directive configuration.
				return({
					controller: Controller,
					templateUrl: "friend-likes.htm"
				});


				// I manage the view-model for the module.
				function Controller( $scope, friendService, pike ) {

					$scope.friendID = pike.param( "id" );

					$scope.isLoading = false;

					$scope.likes = null;

					// Setup the route-change event binding.
					pike.bind( $scope, "detail.likes", handleRouteChange );

					loadRemoteData();


					// ---
					// PRIVATE METHODS.
					// ---


					// I handle contextual changes in the route.
					function handleRouteChange( event, nextAction, newParams, oldParams ) {

						// If the route ID has changed, we'll have to re-initialize the
						// data for the new friend.
						if ( $scope.friendID !== newParams.id ) {

							$scope.friendID = newParams.id;

							loadRemoteData();

						}

					}


					// I load the remote data and merge it into the local view-model. If
					// cache data is available, it will be consumed.
					function loadRemoteData() {

						$scope.isLoading = true;

						// CAUTION: Using pike.lock() to short-circuit callbacks if the
						// route has changed by the time the callbacks have returned.
						friendService
							.getLikes( $scope.friendID )
							.then(
								pike.lock( $scope, "id", handleResolve ), // Live data.
								null,
								pike.lock( $scope, "id", handleResolve ) // Cache data.
							)
						;


						// I apply the remote data to the local scope.
						function handleResolve( likes ) {

							$scope.isLoading = false;

							$scope.likes = likes;

						}

					}

				}

			}
		);


		// -------------------------------------------------- //
		// -------------------------------------------------- //


		// I provide access to friend-related data for the purposes of the demo. While
		// we use a single HTTP call to get all of the remote data, we're still going to
		// expose different aspects of the data through different methods and cache the
		// sub-data individually so as to make the example a bit more "real world."
		app.service(
			"friendService",
			function( $q, $http, _ ) {

				// I cache each data point by entity ID.
				var cache = {
					bio: {},
					detail: {},
					likes: {},
					list: {}
				};

				// Return the public API.
				return({
					getBio: getBio,
					getDetail: getDetail,
					getLikes: getLikes,
					getList: getList
				});


				// ---
				// PUBLIC METHODS.
				// ---


				// I get the bio for the friend with the given ID. If cached data is
				// available, it will be announced through the notify event.
				function getBio( id ) {

					var deferred = $q.defer();

					// If we have cache data, notify the calling context.
					if ( cache.bio[ id ] ) {

						notify( deferred, angular.copy( cache.bio[ id ] ) );

					}

					getData().then(
						function handleResolve( data ) {

							var friend = extractFriend( data, id );

							deferred.resolve(
								angular.copy( cache.bio[ id ] = friend.description )
							);

						},
						deferred.reject
					);

					return( deferred.promise );

				}


				// I get the detail for the friend with the given ID. If cached data is
				// available, it will be announced through the notify event.
				function getDetail( id ) {

					var deferred = $q.defer();

					// If we have cache data, notify the calling context.
					if ( cache.detail[ id ] ) {

						notify( deferred, angular.copy( cache.detail[ id ] ) );

					}

					getData().then(
						function handleResolve( data ) {

							var friend = extractFriend( data, id );

							var data = _.pick( friend, [ "id", "name", "birthday" ] );

							deferred.resolve(
								angular.copy( cache.detail[ id ] = data )
							);

						},
						deferred.reject
					);

					return( deferred.promise );

				}


				// I get the likes for the friend with the given ID. If cached data is
				// available, it will be announced through the notify event.
				function getLikes( id ) {

					var deferred = $q.defer();

					// If we have cache data, notify the calling context.
					if ( cache.likes[ id ] ) {

						notify( deferred, angular.copy( cache.likes[ id ] ) );

					}

					getData().then(
						function handleResolve( data ) {

							var friend = extractFriend( data, id );

							deferred.resolve(
								angular.copy( cache.likes[ id ] = friend.likes )
							);

						},
						deferred.reject
					);

					return( deferred.promise );

				}


				// I get the list of friends. If cached data is available, it will be
				// announced through the notify event.
				function getList() {

					var deferred = $q.defer();

					// If we have cache data, notify the calling context.
					if ( cache.list.data ) {

						notify( deferred, angular.copy( cache.list.data ) );

					}

					getData().then(
						function handleResolve( data ) {

							var list = _.map(
								data,
								function operator( friend ) {

									return( _.pick( friend, [ "id", "name" ] ) );

								}
							);

							deferred.resolve(
								angular.copy( cache.list.data = list )
							);

						},
						deferred.reject
					);

					return( deferred.promise );

				}


				// ---
				// PRIVATE METHODS.
				// ---


				// I find the friend with the given ID in the given data. Throws an error
				// if the friend cannot be found.
				function extractFriend( data, id ) {

					var friend = _.find( data, { id: id } );

					if ( ! friend ) {

						throw( new Error( "NotFound" ) );

					}

					return( friend );

				}


				// I get the remote data and unwrap it for processing.
				// --
				// NOTE: For simplicity of the demo, all the data comes back in a single
				// JSON object; but, only parts of it will be plucked out.
				function getData() {

					var promise = $http({
						method: "get",
						url: "./friends.json"
					})
					.then(
						function handleResolve( response ) {

							return( response.data );

						},
						function handleReject( response ) {

							throw( new Error( "NetworkError" ) );

						}
					);

					return( promise );

				}


				// I notify the promise for the given cached data.
				function notify( deferred, value ) {

					// Hack needed to get notify queue to flush.
					// --
					// SEE: http://bjam.in/2800 for more information.
					deferred.promise.then( null, null, angular.noop );

					deferred.notify( value );

				}

			}
		);


		// -------------------------------------------------- //
		// -------------------------------------------------- //


		// I simulate some network latency so that we can see the UI in a pending state
		// while remote data is being loaded.
		app.config(
			function simulateHttpLatency( $httpProvider ) {

				$httpProvider.interceptors.push( slowDownRequest );


				// I add a delay to post-HTTP part of the promise-chain.
				function slowDownRequest( $q, $timeout ) {

					return({
						request: function( config ) {

							// We only want to apply the latency to "API"-based calls.
							if ( config.url.search( /\.json$/i ) === -1 ) {

								return( config );

							}

							var latency = $q.defer();

							$timeout(
								function() {

									latency.resolve( config );

									config = latency = null;

								},
								1000,
								false // No need trigger a digest.
							);

							return( latency.promise );

						}
					});

				}

			}
		);


		// -------------------------------------------------- //
		// -------------------------------------------------- //


		// Expose the lodash library as an injectable.
		app.factory(
			"_",
			function( $window ) {

				try {

					return( $window._ );

				} finally {

					delete( $window._ );

				}

			}
		);

	</script>

</body>
</html>

One of the things that makes this demo so interesting, in the context of routing, is the fact that the data-access layer can serve up cached data using the $q .notify() event. Having data instantly available means that you can never rely on network latency to create a situation in which a Controller will always be destroyed and reinstantiated. As such, each controller has to know how to reload / re-initialize the view-model based on changes in the route state.
To me, this approach is a really nice mariage of simplicity and functionality. It's not the most robust routing system; but, there are so few moving parts that I think it's easy to wrap your head around. More than anything, though, this was just a really fun thought-experiment. I look forward to seeing what the AngularJS 2.0 router has to offer.
Want to use code from this post? Check out the license.