Don't Blindly Isolate All The Scopes In AngularJS Directives
From what I have heard on podcasts and read in blog posts, it seems that there is a growing movement, in the AngularJS community, to make all directives isolate-scope directives. While an isolate-scope can be helpful in certain circumstances, applying the isolate-scope without reason is not advised and can actually cause problems in your AngularJS applications. Don't "default" to isolating scopes - "default" to thinking holistically about your use-case.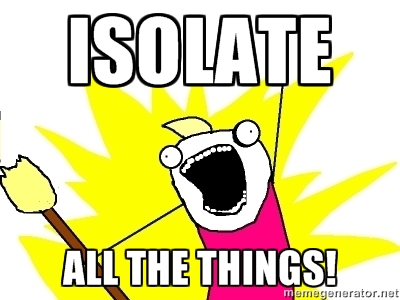 Have you ever looked at the AngularJS source code to see how the core directives are implemented? If you do, you'll find something very interesting - not a single one of them (that I can see) uses the isolate scope. Sure, some of them, like ngController and ngRepeat, create new child scopes; but, none of them actually create isolate scopes.
And yet, I would argue that, as core directives, these non-isolate scope directives have to be the most reusable of any directives. After all, they have to work in every AngularJS application. So, clearly, "isolate scope" and "reusability" are not born together.
If you look at the AngularJS documentation, you'll see that they do recommend using isolate scopes in certain situations:
Best Practice: Use the scope option to create isolate scopes when making components that you want to reuse throughout your app.
To me, the key words here are, "component" and "reuse." Isolate scopes are great for creating reusable components. If you're creating a one-off component, such as a directive that helps manage the view associated with an ngController, isolate-scope probably won't make sense. Or, if you're just creating a behavior, such as binding to a click event (ex, ngClick), isolate-scope probably won't make sense. Or, if you're just creating some DOM manipulation, such as cloning templates (ex, ngRepeat), isolate-scope probably won't make sense.
But, if you're creating a reusable component, especially one that involves transclusion, then, isolate-scope may very well make sense.
If you don't agree with my philosophical interpretation of isolate-scope directives, then we can look at something more concrete. Haphazardly using isolate-scope directives will cause problems in your AngularJS applications.
If you are using AngularJS 1.0.8, then the isolate-scope will bleed into your contextual DOM (Document Object Model) tree if you're not using transclusion. This means that scope references, nested inside an isolate-scope directive, will not be able to leverage the "expected" prototypal inheritance of the scope hierarchy.
If you're using AngularJS 1.2, the next hurdle is that you cannot apply two isolate-scope directives to the same element. Take a look at the following code. All it does is apply two directives to the same element. And, the directives do nothing but require an isolate-scope:
<!doctype html>
<html ng-app="Demo">
<head>
	<meta charset="utf-8" />

	<title>
		Multiple Isolate-Scopes Cannot Be Applied To The Same Element In AngularJS
	</title>
</head>
<body>

	<h1>
		Multiple Isolate-Scopes Cannot Be Applied To The Same Element In AngularJS
	</h1>

	<!-- Both of these directives are isolate-scope directives. -->
	<p bn-this bn-that>
		Look at the console output.
	</p>


	<!-- Load scripts. -->
	<script type="text/javascript" src="../../vendor/jquery/jquery-2.1.0.min.js"></script>
	<script type="text/javascript" src="../../vendor/angularjs/angular-1.2.26.min.js"></script>
	<script type="text/javascript">

		// Create an application module for our demo.
		var app = angular.module( "Demo", [] );


		// -------------------------------------------------- //
		// -------------------------------------------------- //


		// I request an isolate scope directive.
		app.directive(
			"bnThis",
			function() {

				// Return the directive configuration. Notice that we are creating an
				// isolate scope, even though we are not binding any expressions.
				return({
					link: angular.noop,
					restrict: "A",
					scope: {}
				});

			}
		);


		// -------------------------------------------------- //
		// -------------------------------------------------- //


		// I request an isolate scope directive.
		app.directive(
			"bnThat",
			function() {

				// Return the directive configuration. Notice that we are creating an
				// isolate scope, even though we are not binding any expressions.
				return({
					link: angular.noop,
					restrict: "A",
					scope: {}
				});

			}
		);

	</script>

</body>
</html>

When we run this, AngularJS fails to compile, with the following error:
Error: error:multidir
Multiple Directive Resource Contention
Multiple directives [bnThat, bnThis] asking for new/isolated scope on
Now, imagine that the AngularJS core directives all used isolate-scope. Think about how often do you use combinations like ngRepeat and ngClass on the same element; or, ngStyle and ngClick on the same element. If AngularJS "defaulted" to using the isolate-scope for its directives, they would become completely unusable.
In the end, I'm not arguing against isolate-scope directives. I think they can be really useful when creating reusable components. I'm just saying that you should never blindly apply the isolate-scope. Doing so will cause unexpected behaviors and even errors in your AngularJS applications.
Want to use code from this post? Check out the license.