Video Presentation: Regular Expressions, Extraordinary Power
I first learned how to use Regular Expressions (aka RegEx) about 6 or 7 years ago for the purposes of data cleaning. I would take massive Excel files, paste them into Macromedia Homesite, and then use the Find/Replace feature to strip out all the extra spaces, tabs, and commas. It was tedious work; but, I am tremendously thankful that I had to do it because learning Regular Expressions has more than paid for itself in terms of programming efficiency.
Frankly, Regular Expressions are amazing! They're almost magical. But, they are complex, which is why so many developers shy away from them. In this video presentation, I do my best to try and break down Regular Expressions into tiny, bite-sized components that you can much more easily wrap your head around. And, hopefully, by the end, you can start to see the kind of potential that Regular Expressions provide.
To watch the video presentation, click here. If you don't want to sit through whole video, which is about an hour long, click here to view the slides directly.
And, don't forget! International Regular Expression Day is June 1st! It's the 4th annual day of celebration in praise of powerful string manipulation! We'll be giving out fun prizes and just reveling in the awesome glow of Regular Expression goodness.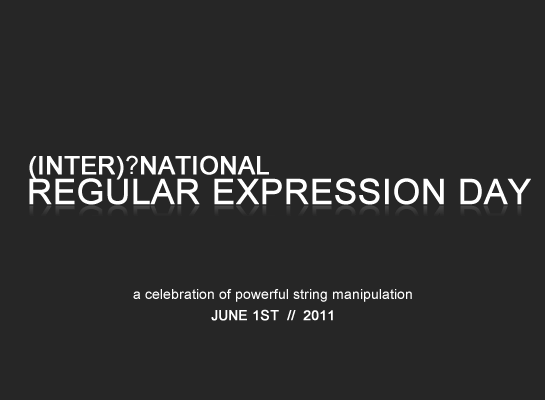 Stay tuned for more information on Regular Expression Day.