ColdFusion CFThread Tag Body Executes As A Function Call
A few years ago at CFUNITED, I was talking to Rupesh Kumar about the new CFThread features he built into ColdFusion 8. In the conversation (which may have been a presentation), Rupesh mentioned that the CFThread tag body actually executes as a function call. At the time, I didn't put much thought into that; but, with ColdFusion 9's new implicit LOCAL scope for function execution, I thought it might be time to play around a bit.
After trying a few CFDump and CFSet calls, I was quickly able to confirm that CFThread does, in fact, execute as a function call, complete with an arguments scope and the implicit local scope. Here is the test code that I ran:
<!--- Launch a parallel thread. --->
<cfthread
	name="localTest"
	action="run"
	girl="Tricia">

	<!---
		The GIRL attribute is actually passed as part of the
		Attributes collection.
	--->
	<cfset thread.attributesGirl = attributes.girl />

	<!---
		The Attributes collection is actually passed as an
		argument to this thread Function. As such, we can access
		it via the arguments.
	--->
	<cfset thread.argumentsGirl = arguments.attributes.girl />

	<!---
		Both the attributes are arguments are actually part of
		the implicit LOCAL scope now part of the ColdFusion
		scope collection.
	--->
	<cfset thread.localGirl = local.attributes.girl />

	<!---
		Because this is actually a function call, we can use
		the new CF9 function to get the hidden name of the
		thread function.
	--->
	<cfset thread.calledName = getFunctionCalledName() />

</cfthread>


<!--- Join the thread so we can examine it. --->
<cfthread action="join" />


<!--- Output the thread object. --->
<cfdump
	var="#cfthread.localTest#"
	label="Thread Local"
	/>

As you can see, I am testing the existence and functionality of the attributes scope, arguments scope, and local scope as well as the use of ColdFusion 9's new method, getFunctionCalledName(). When running the code above and rejoining the thread, we get the following CFDump output (I have hidden the irrelevant properties):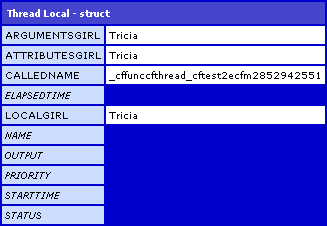 As you can see, I was able to access the name, "Tricia," using the attributes, arguments, and local scopes.
This seems like one of this things that is interesting, but entirely not useful in any practical sense. Even knowing this, I don't think there is any way in which I would change the way I currently code my CFThread tags. Even the use of the local scope appears to be unnecessary - non-scoped values are automatically placed into the implicit local scope whether or not the VAR keyword is used during variable definition. Actually, that's probably the most interesting part of this exploration - in a standard function, non-var'd variables are placed, by default, into the page's Variables scope, not the function local scope; so, in this respect, CFThread functions behave different that standard ColdFusion functions.
Want to use code from this post? Check out the license.