Ask Ben: Handling Errors With ColdFusion CFError
A tutorial on how to get ANY ColdFusion error emailed to you automatically and a friendly message displayed to the visitor would be great, I found one on EasyCFM.com but doesn't actually work.
Having looked at the EasyCFM tutorial, it looks like you want to know about how to use ColdFusion's CFError tag. Before I go into this, I have to just say that if you are using ColdFusion 7 or greater, I would recommend moving to the Application.cfc model and use the OnError() application event method handler; it just provides a nice, clean way of doing this. But that is a whole other discussion. For now, I will just cover the use of the ColdFusion CFError tag and how it can be used for error handling.
To start off with, we have to put the ColdFusion CFError tag on a template that will be executed for every page request such that every new page request will know how to properly handle errors. The obvious choice is to use the Application.cfm template:
<!--- Kill extra output. --->
<cfsilent>

	<!--- Define the application settings. --->
	<cfapplication
		name="ErrorHandlingDemo"
		applicationtimeout="#CreateTimeSpan( 0, 0, 1, 0 )#"
		sessionmanagement="true"
		sessiontimeout="#CreateTimeSpan( 0, 0, 1, 0 )#"
		setclientcookies="true"
		/>

	<!--- Define the page request settigs. --->
	<cfsetting
		requesttimeout="20"
		showdebugoutput="false"
		/>

	<!--- Define erorr handling template. --->
	<cferror
		type="exception"
		template="./cferror.cfm"
		/>

	<!--- Include functions. --->
	<cfinclude template="functions.cfm" />

</cfsilent>

As you can see here, with the ColdFusion CFError tag we are telling it to handle "Exception" based errors with the template, "cferror.cfm". The template path that you want to use with this tag is relative to the Application.cfm file itself; it does not matter which page in the application actually throws the root error - like the ColdFusion CFInclude tag, the path is relative to the tag-defining template not the page template.
Also, if you look at the documentation, you will see that you can define more that one CFError tag - one for each of the possible error types. Don't worry about this. You pretty much will never do that. Stick to Exception. The others no longer serve any real purpose. In fact, if you are using the other types, you might want to reconsider what you are doing (god forbid you are using the built-in ColdFusion data validation!!!).
The template that we are pointing to, cferror.cfm, is not really special in any way. It's just a ColdFusion template like any other. The only real difference is that if the template gets included by the CFError tag, a new variable is created: VARIABLES.Error. This Error object contains the information about the exception that was thrown by the code. This will include things like the stack trace, tag context, message, detail, and template and line number where the error occurred.
Other than that, the only other thing you have to worry about is whether or not content has already been flushed to the browser. If the exception was thrown before the content buffer started flushing, then the CFError template has a blank slate to work with. If, however, content has already been flushed to the browser at the time of the error, then the CFError template will already have a partial page displayed. If one of the goals here is to show a nice "Error Page" to people, then this is something to be weary of. In the following page, you will see that we try to set some header values. If that fails (indicating that content has already gone to the client), we will redirect the user back to the error page explicitly so that we can start a new page. Of course, either way, we want to mail the error to someone.
Here it my example cferror.cfm ColdFusion template:
<!--- Kill extra output. --->
<cfsilent>

	<!---
		Check to see if the error object exists. Even though
		we have landed on this page, it is possible that
		someone called it directly without throwing an erorr.
		The error object only exists if an error was caught.
	--->
	<cfif StructKeyExists( VARIABLES, "Error" )>

		<!---
			Mail out the error data (and whatever other scopes
			you would like to see at the time of th error). When
			you CFDump out the objects, make them Secure AND
			also be sure to use a TOP attribute when appropriate
			so that the CFDump doesn't recurse forever.
		--->
		<cfmail
			to="ben@xxxxxxxxxx.com"
			from="web-errors@xxxxxxxxxx.com"
			subject="Web Site Error"
			type="html">

			<p>
				An error occurred at
				#DateFormat( Now(), "mmm d, yyyy" )# at
				#TimeFormat( Now(), "hh:mm TT" )#
			</p>

			<h3>
				Error
			</h3>

			<cfdump
				var="#MakeStructSecure( VARIABLES.Error )#"
				label="Error object."
				/>

			<h3>
				CGI
			</h3>

			<cfdump
				var="#MakeStructSecure( CGI )#"
				label="CGI object"
				/>

			<h3>
				REQUEST
			</h3>

			<cfdump
				var="#MakeStructSecure( REQUEST )#"
				label="REQUEST object"
				top="5"
				/>

			<h3>
				FORM
			</h3>

			<cfdump
				var="#MakeStructSecure( FORM )#"
				label="FORM object"
				top="5"
				/>

			<h3>
				URL
			</h3>

			<cfdump
				var="#MakeStructSecure( URL )#"
				label="URL object"
				top="5"
				/>

			<h3>
				SESSION
			</h3>

			<cfdump
				var="#MakeStructSecure( SESSION )#"
				label="SESSION object"
				top="5"
				/>

		</cfmail>

	</cfif>



	<!---
		When setting the header information, be sure to put
		it in a CFTry / CFCatch. We can only send header
		information if the site has NOT already been flushed
		to the browser. Also set a flag so that we know if
		information has been committed.
	--->
	<cfset REQUEST.RequestCommitted = false />

	<cftry>
		<!--- Set the status code to internal server error. --->
		<cfheader
			statuscode="500"
			statustext="Internal Server Error"
			/>

		<!--- Set the content type. --->
		<cfcontent
			type="text/html"
			reset="true"
			/>

		<!--- Catch any errors. --->
		<cfcatch>

			<!---
				There was an error so flag the request as
				already being committed.
			--->
			<cfset REQUEST.RequestCommitted = true />

		</cfcatch>
	</cftry>

</cfsilent>

<!---
	Check to see if the request has been committed. If it
	has, then it means that content has already been committed
	to the browser. In that case, we are gonna want to refresh
	the screen, unless we came from a refresh, in which case
	just let the page run.
--->
<cfif (
	StructKeyExists( VARIABLES, "Error" ) AND
	REQUEST.RequestCommitted AND
	(NOT StructKeyExists( URL, "norefresh" ))
	)>

	<script type="text/javascript">

		window.location.href = "cferror.cfm?norefresh=true";

	</script>

	<!--- Exit out of the template. --->
	<cfexit />

</cfif>


<!DOCTYPE html PUBLIC "-//W3C//DTD XHTML 1.0 Transitional//EN" "http://www.w3.org/TR/xhtml1/DTD/xhtml1-transitional.dtd">
<html>
<head>
	<title>An Error Occurred</title>
</head>
<body>

	<h1>
		Internal Server Error
	</h1>

	<p>
		An internal server error has occurred, but our
		squad of CF Ninjas are looking into it! Naturally,
		you won't be able to tell that they're doing
		anything because they are Ninjas! But, rest assured,
		stuff is getting done.
	</p>

</body>
</html>

A few minor things to notice in the above template. First, we are checking to see if the variable Error exists in the VARIABLES scope. If it does, then we are sending out the error email. This will stop us from trying to reference the Error object if the cferror.cfm page was called directly. Also notice that when we CFDump out our relevant scopes, we have two things going on:
We are using the TOP attribute.
We are using the UDF, MakeStructSecure().
The TOP attribute of the ColdFusion CFDump tag is VERY awesome. It limits the depth of recursion when dumping out the contents of the given variables. It also limits query and array dumping, but that's not what's so cool at this moment. If you ever have a struct that has circular references (like a bi-directional linked list), your CFDump will possibly crash the server because it never knows when to stop. By telling the CFDump tag to stop at 5 levels, even if you have circular references, it will limit the recursive depth to 5 - wicked sweet!
The MakeStructSecure() ColdFusion user defined function is a method that I built based on a tip I got from Tobe Goldfinger of the New Your ColdFusion User group. She was saying that when we mail ourselves error information, often times we forget that it might contain secure information such as credit card numbers and expiration dates. Obviously, we don't want to be sending that information out over the unsecured email pathways, so this MakeStructSecure() recursively searches through the given struct looking for keys that look suspicious so that it can black out the values:
<!---
	Define function that will recursively search a
	struct and it's nested elements for keys that should
	be considered secure and blacked out.
--->
<cffunction
	name="MakeStructSecure"
	access="public"
	returntype="any"
	output="false"
	hint="Does a very cursory job of cleaning up a struct by blacking out secure information.">

	<!--- Define argumets. --->
	<cfargument
		name="Struct"
		type="struct"
		required="true"
		hint="The struct we are going to clean."
		/>

	<cfargument
		name="Depth"
		type="numeric"
		required="false"
		default="1"
		hint="The depth of the current search - this will stop the function from looping infinitely."
		/>

	<!--- Define the local scope. --->
	<cfset var LOCAL = StructNew() />

	<!---
		Check to see if we have reached our max depth
		for this search.
	--->
	<cfif (ARGUMENTS.Depth GTE 5)>

		<!---
			You're going too deep, it hurts! We might be
			looping in a circular struct reference.
		--->
		<cfreturn />

	</cfif>


	<!---
		ASSERT: If we have made it this far, then we have
		to check all the struct keys at this level.
	--->

	<!---
		Define the list of keys that would be considered
		to hold secure data.
	--->
	<cfsavecontent variable="LOCAL.SecureKeys">
		CreditCard
		CCNumber
		CCNum
		ExpirationDate
		Expry
		ExpDate
		CCExp
	</cfsavecontent>


	<!---
		Loop over the struct looking for keys that would
		flag secure data to be removed.
	--->
	<cfloop
		item="LOCAL.Key"
		collection="#ARGUMENTS.Struct#">

		<!---
			Check to see if the key is to be considered
			secure AND that the value in it is simple.
		--->
		<cfif (
			FindNoCase( LOCAL.Key, LOCAL.SecureKeys ) AND
			IsSimpleValue( ARGUMENTS.Struct[ LOCAL.Key ] )
			)>

			<!--- Black out value. --->
			<cfset ARGUMENTS.Struct[ LOCAL.Key ] = RepeatString(
				"*",
				Len( ARGUMENTS.Struct[ LOCAL.Key ] )
				) />

		<!---
			Check to see if this key is a struct that we
			might have to search through.
		--->
		<cfelseif IsStruct( ARGUMENTS.Struct[ LOCAL.Key ] )>

			<!---
				Recurse through this one. Be sure to send
				through a new depth value so we don't loop
				forever.
			--->
			<cfset MakeStructSecure(
				Struct = ARGUMENTS.Struct[ LOCAL.Key ],
				Depth = (ARGUMENTS.Depth + 1)
				) />

		</cfif>

	</cfloop>


	<!--- Return out. --->
	<cfif (ARGUMENTS.Depth EQ 1)>

		<!--- Return the cleaned struct. --->
		<cfreturn ARGUMENTS.Struct />

	<cfelse>
		<cfreturn />
	</cfif>
</cffunction>

Here, this ColdFusion user defined function is looking for the following keys:
CreditCard
CCNumber
CCNum
ExpirationDate
Expry
ExpDate
CCExp
Now, this can work, but if you KNOW that one of your structs (ex. the FORM scope) might have secure information, I would check for this explicitly. Do NOT rely on this function to actually work. I put it in more to have a little fun and to demonstrate that we need to be actively thinking about this kind of stuff.
Right before we display the error page, we try to set some header information using the CFHeader / CFContent tag. If this works, then we know that we have a blank page to work with. However, if this fails (you cannot set header information on a page response that has already been committed to the browser), it means that some of the page content has already been flushed. If that is the case, we are using Javascript to immediately forward the user (browser refresh) to the cferror.cfm page. At this point, the CFMail has already been sent out, we just care about proper display. Notice that when we refresh the browsr, we are passing along a flag so the cferror.cfm template knows not to do that again if asked to (this will prevent infinite forwarding).
Note: There are other ways to check to see if the request has already been committed, but I am trying to keep this a bit more low-level.
The last thing left is just to throw an error to see this in action :) In our index.cfm file, we are going to refer to an undefined variable:
<!--- Kill extra output. --->
<cfsilent>

	<!--- Set some sercur form data. --->
	<cfset FORM.CreditCard = "1234567890123456" />
	<cfset FORM.ExpirationDate = "12/12" />

</cfsilent>

<html>
<head>
	<title>ColdFusion CFError Handling Tutorial</title>
</head>
<body>

	<!--- Force an error. --->
	<cfset asdf = sf />

</body>
</html>

Just to demonstrate that the MakeStructSecure() method is actually doing something, I have thrown some credit card information into the FORM scope. Anyway, throwing the error above provides the user friendly error page and sends out the email. The email that we get looks like this: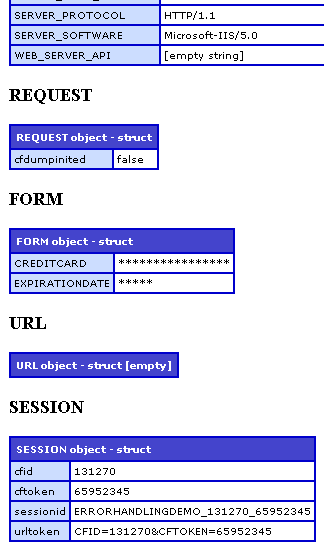 Notice that we get our nicely formatted HTML email and that the secure FORM data has been escaped.
Hope this helped a bit or at least pointed you in the right direction.
Want to use code from this post? Check out the license.