Ask Ben: Using POI Utility To Move Excel Data Into A Database
I am soaking up your work with Excel spreadsheets. I am stuck on this question. I have followed your instructions for creating the multi sheet spreadsheet on meals and I can read the spreadsheet using your POIutility and I can dump out the array. I want to be able to use the data from the spreadsheet and write it into a database. You wrote "all values from the Excel are stored in the resultant ColdFusion queries as CF_SQL_VARCHAR values" - how do I access these?
Getting the data from an Excel using my POI Utility ColdFusion component is just a matter of understanding how the data gets read in from the Excel and how to access it once it is read in. The POI Utility reads each sheet of an Excel workbook into a "Sheet" object. All of these sheet objects are returned in a single array that looks like this (using my previous Meals example):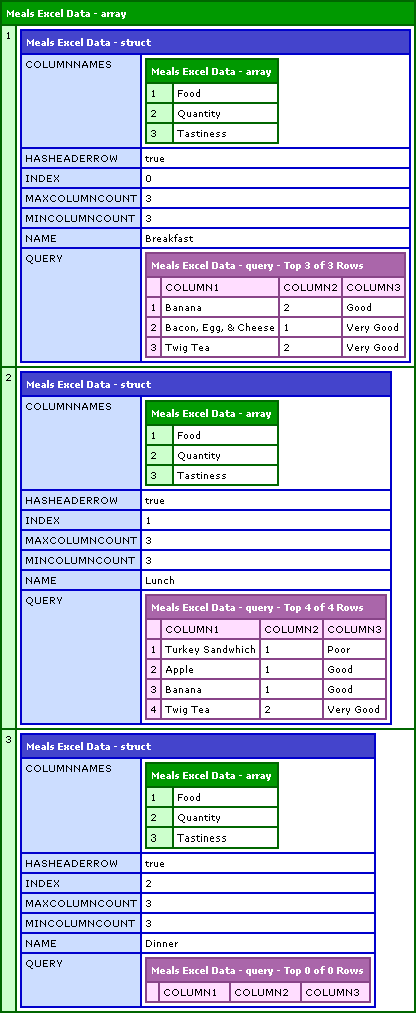 As you can see each index of the above array contains a single sheet object that looks like this: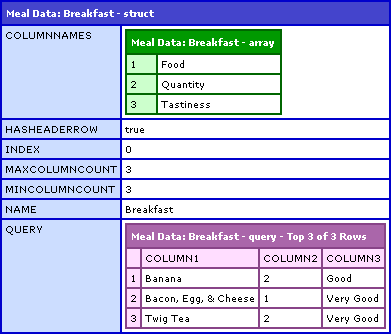 Within that sheet object, there is the Query object (struct key: Query). This is the query object that contains the actual grid data from the Excel sheet. Now, taking that query object and using it to insert into a database could be done as follows:
<!--- Create a new instance of the POI utility. --->
<cfset objPOIUtility = CreateObject(
	"component",
	"POIUtility"
	).Init()
	/>

<!---
	Get the path to our Excel document. Our Excel document
	workbook contains three sheets with information regarding
	three meals (Breakfast, lunch, and dinner).
--->
<cfset strFilePath = ExpandPath( "./meals.xls" ) />

<!---
	Read the Excel document into an array of Sheet objects.
	Each sheet object will contain the data in the Excel
	sheet as well as some other property-type information.
	We are telling the POI Utility to expect the first row
	of the Excel document to function as a header row.
--->
<cfset arrSheets = objPOIUtility.ReadExcel(
	FilePath = strFilePath,
	HasHeaderRow = true
	) />


<!---
	We want to get the data from the Excel document into our
	local database. The first thing we are going to want to
	do is loop over each sheet and attach each set of
	data individually.
--->
<cfloop
	index="intSheet"
	from="1"
	to="#ArrayLen( arrSheets )#"
	step="1">

	<!---
		Let's get a pointer to the current sheet object. We
		could continue to refer to the sheet as an index of
		the sheets array, but this is more convenient and
		breaks it up into easier to read code.
	--->
	<cfset objSheet = arrSheets[ intSheet ] />

	<!---
		The data from the excel object is stored in a query
		within this "sheet" object and can be accessed at the
		key "query." For ease of use and short hand, let's
		get a pointer to that query.
	--->
	<cfset qSheetData = objSheet.Query />

	<!---
		We can treat this query just like any old ColdFusion
		query because it is just a plain old ColdFusion query.
		Let's loop over it to get at each row.

		NOTE: Since we told the POI Utility to use the first
		row as a header row, the first row has already been
		stripped off and returned as part of the sheet object.
		We will not encounter it in THIS query.
	--->
	<cfloop query="qSheetData">

		<!---
			For ease of demonstration, let's get the values
			out of the query that we want to use for our
			database insert. This is step that is not required,
			but helps clarify how things are working.

			NOTE: Remember that the POI Utility auto names the
			columns as it encounters them as COLUMN1, COLUMN2,
			COLUMN3, .... etc.

			We are throwing the second column (quantity) into a
			Val() method call as we need to get it as a number.
			The POI Utility reads in everything as a string.
		--->
		<cfset strFood = qSheetData.column1 />
		<cfset flQuantity = Val( qSheetData.column2 ) />
		<cfset strTastiness = qSheetData.column3 />


		<!---
			Now that we have the values we are going after, we
			can insert them into our database.
		--->
		<cfquery name="qInsert" datasource="#App.DSN.Source#">
			INSERT INTO food_diary
			(
				meal,
				food,
				quantity,
				tastiness,
				date_created
			) VALUES (
				<cfqueryparam value="#objSheet.Name#" cfsqltype="CF_SQL_VARCHAR" />,
				<cfqueryparam value="#strFood#" cfsqltype="CF_SQL_VARCHAR" />,
				<cfqueryparam value="#flQuantity#" cfsqltype="CF_SQL_FLOAT" />,
				<cfqueryparam value="#strTastiness#" cfsqltype="CF_SQL_VARCHAR" />,
				<cfqueryparam value="#Now()#" cfsqltype="CF_SQL_TIMESTAMP" />
			);
		</cfquery>

	</cfloop>

</cfloop>

At this point, each record of each query of each sheet has been inserted into the local database. I hope that that helps. Please let me know if you have any further questions.
Want to use code from this post? Check out the license.