Reading A Microsoft Excel File In ColdFusion Using JExcel API
I just started playing around with the JExcel Java API created by JNIWrapper. The first thing I have done is just read in the data from an Excel file. This is pretty neat stuff. But, before I get into it, let me just touch upon the JExcel Java files. When you download the JExcel Java files, they come as a JAR file. From what I have been told, this is basically a "zipped" file of Java classes. Now, for those of you who follow my blog you know that I LOVE portability and I hate going into the ColdFusion Admin. So, this example is done using a URL Class Loader and a local JAR file that is meant for use with this example only. If you want to see how the Url Class Loader works, it is based on the JavaLoader.cfc by Mark Mandel and you can see my code here. The bottom line here is that this can be done even if you don't have access to the ColdFusion Admin or the ability to update ColdFusion's class paths.
Ok, so onto the example. I have a simple excel file that has a few columns and rows of data. This file is known as the Workbook. The workbook contains sheets (those tabs at the bottom of your excel file). This example reads each sheet into its own query object and each of those query objects is stored in a one-dimension array which will represent the workbook as a whole.
Let's read us in some Excel data:
<!---
	Create the uninitialized Workbook class. Remember, this
	method CreateJExcelObject() just uses a Class Loader to
	load the Workbook class from the locally stored JAR file.
	This method automatically prepends "jxl." to all class
	calls, so do NOT include it in this method call.
--->
<cfset objWorkbook = CreateJExcelObject( "Workbook" ) />

<!---
	Get the workbook from the given file. This workbook
	may contain multiple sheets.
--->
<cfset objWorkbook = objWorkbook.GetWorkbook(
	CreateObject( "java", "java.io.File" ).Init(
		ExpandPath( "./test.xls" )
		)
	) />


<!---
	Create an object to keep track of all the sheet / cell
	data. We are, essentially going to store the excell
	sheets in an array and the data in a query.
--->
<cfset arrWorkbook = ArrayNew( 1 ) />

<!---
	Loop over the number of sheets in the workbook. We need to
	get the number of sheets in the workbook. Be careful! The
	GetSheets() method doesn't return a number (like the later
	used GetColumns() or GetRows()); instead, it returns an
	array of actual jxl.Sheet objects.
--->
<cfloop
	index="intSheet"
	from="1"
	to="#ArrayLen( objWorkbook.GetSheets() )#"
	step="1">


	<!---
		Create a blank query for this excel data sheet.
		We could create the number of columns right now,
		but I think it will be easier to add columns as
		we go.
	--->
	<cfset qData = QueryNew( "" ) />

	<!--- Store this data query into the workbook array. --->
	<cfset ArrayAppend( arrWorkbook, qData ) />


	<!---
		Get the current sheet. Remember that since we are
		getting the sheet by index and we are getting it
		through a JAVA method, we need to use zero-based
		indexes (unlike ColdFusion which is one-based).
	--->
	<cfset objSheet = objWorkbook.GetSheet(
		JavaCast( "int", (intSheet - 1) )
		) />


	<!---
		Loop over the columns and rows. As we loop over the
		columns, we are going to add a column to the data
		query and then add the row values. This should allow
		us to easily create the computed names such as
		COLUMN1, COLUMN2, COLUMN3.
	--->
	<cfloop
		index="intColumn"
		from="1"
		to="#objSheet.GetColumns()#"
		step="1">

		<!---
			Add the column to the query. We are going to add
			all the columns as text since I have no idea what
			kind of data there will be. We can always parse
			it into a data type later.
		--->
		<cfset QueryAddColumn(
			qData,
			("COLUMN" & intColumn),
			"CF_SQL_VARCHAR",
			ArrayNew( 1 )
			) />

		<!---
			We need to add rows. However, since we might be
			adding a lot of data, let's resize the query for
			faster processing. We ONLY want to do this the
			FIRST time. Then, the rest of the times, we can
			simply add data to the existing query cells.
		--->
		<cfif (intColumn EQ 1)>

			<!---
				Resize the query based on the number of rows
				in the excel file.
			--->
			<cfset QueryAddRow(
				qData,
				objSheet.GetRows()
				) />

		</cfif>


		<!---
			Now that we have the appropriate column added to the
			query and we have the correct number of rows that we
			will need, let's loop over the rows and move the
			cell data into the data query.
		--->
		<cfloop
			index="intRow"
			from="1"
			to="#objSheet.GetRows()#"
			step="1">

			<!--- Set the query data. --->
			<cfset qData[ "COLUMN#intColumn#" ][ intRow ] = JavaCast(
				"string",
				objSheet.GetCell(
					JavaCast( "int", intColumn - 1 ),
					JavaCast( "int", intRow - 1 )
					).GetContents()
				) />

		</cfloop>

	</cfloop>

</cfloop>


<!---
	When we have finished processing all the cells, use the
	close() method. This frees up any allocated memory used
	when reading spreadsheets and is particularly important
	when reading large spreadsheets.
--->
<cfset objWorkbook.Close() />

If you dump out the arrWorkbook array, you will see that it has three indexes with the appropriate queries: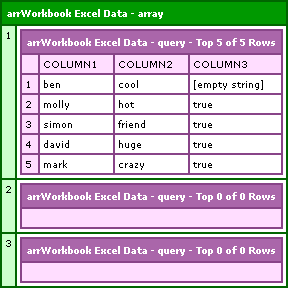 Now, this is a SLOW process. This has a minimal amount of data and takes 5 to 6 seconds to load. Yeah, I said SLOW. However, it seems to scale nicely. If I add a good number of columns and records, the parse time only jumped to about 9 seconds. It looks like the overhead comes mostly from actually opening the excel file via Java. Reading the data from the Excel file seems to scale nicely. This is based on LIMITED testing!
Anyway, the JExcel API seems like it could be very cool to do a number of things including writing Excel files. I have just begun to research, but I can already see the possibilities.
Want to use code from this post? Check out the license.