Using ObjectSave() And ObjectLoad() With Non-ColdFusion-Component Data Types
A few years ago, I took a quick look at the objectSave() and objectLoad() functions, introduced in ColdFusion 9. These functions serialize and deserialize ColdFusion data values using a binary format. When I first looked into these functions, I only tested them on ColdFusion components; and, found some interesting behavior. The other day, however, it occurred to me that I never tried using these functions with non-ColdFusion-component data types. So, I figured I'd give it a quick go.
For this exploration, I wanted to compare the binary serialization format objectSave() and objectLoad() to the serialization format that I think most of use: JavaScript Object Notation (JSON). How does the binary format compare in terms of speed and in terms of data-type integrity. The test is simplistic - I just serialize and deserialize some data a whole bunch of times:
<cfscript>

	// Set up some non-Component data that will be serialized, saved,
	// loaded, and then deserialized. Notice that we are including
	// "ineresting" data types, including TimeStamps and Queries.
	data = {
		friends = [
			{
				name = "Tricia",
				age = 47
			},
			{
				name = "Joanna",
				age = 52
			}
		],
		enemies = [
			{
				name = "Amanda",
				age = 38
			}
		],
		createdAt = now(),
		utc = dateConvert( "local2utc", now() ),
		metaData = queryNew( "id, key, value" )
	};


	// ------------------------------------------------------ //
	// JavaScript Object Notation Test.
	// ------------------------------------------------------ //


	startedAt = getTickCount();
	jsonFile = expandPath( "./data.json" );

	for ( i = 0 ; i <= 1000 ; i++ ) {

		// Serialize and save.
		fileWrite( jsonFile, serializeJson( data ) );

		// Load and deserialize.
		replicated = deserializeJson( fileRead( jsonFile ) );

	}

	writeDump( replicated );
	writeOutput( "JSON: " & numberFormat( getTickCount() - startedAt ) );


	// ------------------------------------------------------ //
	// Binary Representation Test.
	// ------------------------------------------------------ //


	startedAt = getTickCount();
	binFile = expandPath( "./data.bin" );

	for ( i = 0 ; i <= 1000 ; i++ ) {

		// Serialize and save.
		objectSave( data, binFile );

		// Load and deserialize.
		replicated = objectLoad( binFile );

	}

	writeDump( replicated );
	writeOutput( "Binary: " & numberFormat( getTickCount() - startedAt ) );

</cfscript>

The test uses a few different ColdFusion data types:
String
Number
Struct
Array
Date/Time
Query
And, when we run the above code, we get the following output: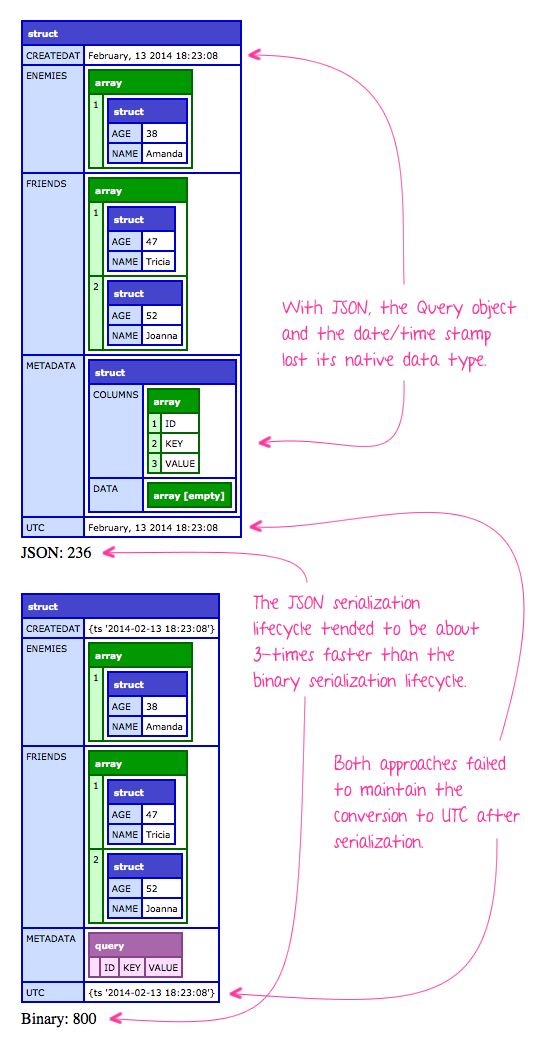 I was surprised to see that, on average, the JSON serialization lifecycle was about 3-to-4 times faster than the binary format. This was the oposite of what I (naively) expected. To me, the binary format seemed like it was going to be faster since, I assumed, it would be much less to process. I thought it was akin to taking a snapshot of memory and then just "reinserting" it into the heap. But, apparently, the binary format has more overhead, albeit, in a very simplistic test.
The benefit of the binary serialization lifecycle, in this case, is that it did maintain better integrity for some of the ColdFusion data types; namely, ColdFusion queries and ColdFusion date/time stamps. That said, both approaches appeared to lose the UTC-conversion (though, I am on ColdFusion 10 and I know the date/time stuff in ColdFusion 10 is junky-monkey).
NOTE: The objectSave() and objectLoad() functions kept the date/time object as an coldfusion.runtime.OleDateTime instance. The JSON approach kept it as a java.lang.String.
Four years after I first looked into it, I am still not sure what the best use-case for objectSave() and objectLoad() is. I wonder if this is how ColdFusion would interact with something like an out-of-process store like MemcacheD? I have read that using a binary protocol is faster than a text-based protocol; however, given this experiment, it seems that text parsing is actually faster? Who knows.
Want to use code from this post? Check out the license.