Using Track-By With ngRepeat In AngularJS 1.2
With the release of AngularJS 1.2 earlier this week, I have to say that the feature about which I am most excited is the "track by" augmentation for ngRepeat. This feature allows you to associate a JavaScript object with an ngRepeat DOM (Document Object Model) node using a unique identifier. With this association in place, AngularJS will not $destroy and re-create DOM nodes unnecessarily. This can have a huge performance and user experience benefit.
View this demo in my JavaScript-Demos project on GitHub.
As I've blogged about before, when AngularJS renders an ngRepeat list, it injects an expando property - $$hashKey - into your JavaScript objects. It then uses this $$hashKey to associate your objects with the rendered DOM nodes. In the past, I've the hashKeyCopier library to manually manage these $$hashKey's such that I could updated the rendered collection with live data without causing unnecessary (and sometimes harmful) DOM changes.
But, no more! With the new "track by" syntax, I can now tell AngularJS which object property (or property path) should be used to associate a JavaScript object with a DOM node. This means that I can swap out JavaScript objects without destroying DOM nodes so long as the "track by" association still works.
To see this in action, we're going to render and then re-render two different ngRepeat lists. The first list will use the vanilla ngRepeat syntax. The second list will use the "track by" syntax. Then, each list item will use a tracking directive that will log DOM node creation.
<!doctype html>
<html ng-app="Demo">
<head>
	<meta charset="utf-8" />

	<title>
		Using Track-By With ngRepeat In AngularJS
	</title>

	<style type="text/css">

		a[ ng-click ] {
			cursor: pointer ;
			text-decoration: underline ;
		}

	</style>
</head>
<body ng-controller="AppController">

	<h1>
		Using Track-By With ngRepeat In AngularJS
	</h1>


	<h2>
		Without Track-By
	</h2>

	<ul>
		<li
			ng-repeat="friend in friendsOne"
			bn-log-dom-creation="Without">

			{{ friend.id }} &mdash; {{ friend.name }}

		</li>
	</ul>


	<h2>
		With Track-By
	</h2>

	<!--
		This time, we're going to use the same data structure;
		however, we're going to use the "track by" syntax to tell
		AngularJS how to map the objects to the DOM node.
		--
		NOTE: You can also use a $scope-based function like:
		... track by identifier( item )
	-->
	<ul>
		<li
			ng-repeat="friend in friendsTwo track by friend.id"
			bn-log-dom-creation="With">

			{{ friend.id }} &mdash; {{ friend.name }}

		</li>
	</ul>

	<p>
		<a ng-click="rebuildFriends()">Rebuild Friends</a>
	</p>


	<!-- Load scripts. -->
	<script type="text/javascript" src="../../vendor/jquery/jquery-2.0.3.min.js"></script>
	<script type="text/javascript" src="../../vendor/angularjs/angular-1.2.min.js"></script>
	<script type="text/javascript">


		// Create an application module for our demo.
		var app = angular.module( "Demo", [] );


		// -------------------------------------------------- //
		// -------------------------------------------------- //


		// I control the root of the application.
		app.controller(
			"AppController",
			function( $scope ) {

				// Set up the initial collections.
				$scope.friendsOne = getFriends();
				$scope.friendsTwo = getFriends();


				// ---
				// PUBLIC METHODS.
				// ---


				// I rebuild the collections, creating completely new
				// arrays and Friend object instances.
				$scope.rebuildFriends = function() {

					console.log( "Rebuilding..." );

					$scope.friendsOne = getFriends();
					$scope.friendsTwo = getFriends();

					// Log the friends collection so we can see how
					// AngularJS updates the objects.
					setTimeout(
						function() {

							console.dir( $scope.friendsOne );
							console.dir( $scope.friendsTwo );

						},
						50
					);

				};


				// ---
				// PRIVATE METHODS.
				// ---


				// I create a new collection of friends.
				function getFriends() {

					return([
						{
							id: 1,
							name: "Sarah"
						},
						{
							id: 2,
							name: "Tricia"
						},
						{
							id: 3,
							name: "Joanna"
						}
					]);

				}


			}
		);


		// -------------------------------------------------- //
		// -------------------------------------------------- //


		// I simply log the creation / linking of a DOM node to
		// illustrate the way the DOM nodes are created with the
		// various tracking approaches.
		app.directive(
			"bnLogDomCreation",
			function() {

				// I bind the UI to the $scope.
				function link( $scope, element, attributes ) {

					console.log(
						attributes.bnLogDomCreation,
						$scope.$index
					);

				}


				// Return the directive configuration.
				return({
					link: link
				});

			}
		);


	</script>

</body>
</html>

As you can see, all we have to do is tell the ngRepeat directive to use the "id" property to associate each Friend instance with a rendered DOM node. We can see the difference in behavior in the console output: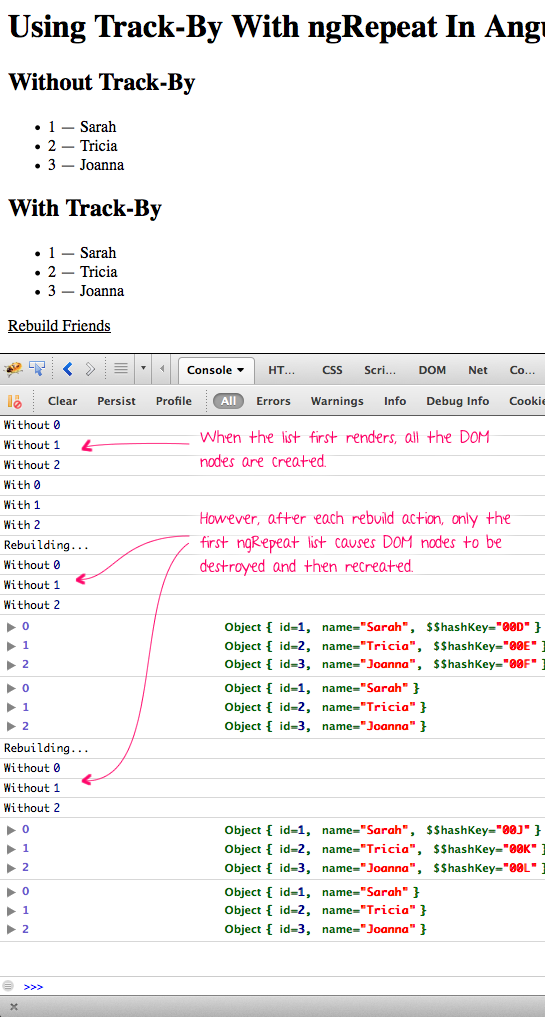 As you can see, during the "rebuild" action, in which we replaced the rendered collections, the vanilla ngRepeat list caused new DOM node creation with each rebuild. The "track by" ngRepeat list, on the other hand, caused no subsequent DOM activity, even when the underlying collection was replaced. This is because AngularJS knew how to associate each item with the corresponding DOM node.
Furthermore, you can see that an ngRepeat list with a "track by" clause doesn't inject the $$hashKey expando property.
I'm sure that people are frothing at the mouth to get "animation" in AngularJS 1.2. But, for me, I think this "track by" behavior is going to be the big win. When your applications get bigger and you start to deal with caching and mixing live data with cached data, the ease with which you can associate JavaScript objects with DOM nodes is going to have a huge performance payoff. Honestly, I would upgrade just for this feature.
Want to use code from this post? Check out the license.