Programming JavaScript Applications (Early Release) By Eric Elliott
On my journey up to cf.Objective() 2012, I read the Early Release edition of Programming JavaScript Applications by Eric Elliott. I've read a couple of "early release" editions lately and I have to admit that they kind of confuse me. The O'Reilly website states that early release books should have all the content, just in its raw, unedited form; yet, the early release editions seem to be missing entire chapters (if not entire sections) according to the "what we'll cover" lists.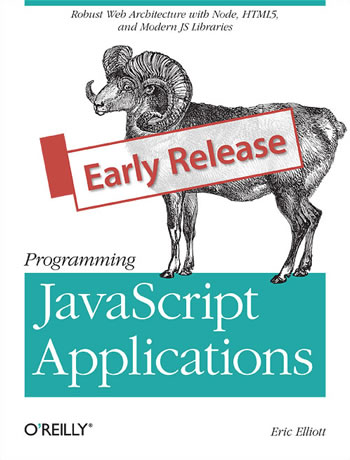 For example, in the beginning of the book, it states that the author will discuss:
JavaScript features and best practices for application developers.
Code organization, modularity, and reuse.
Separation of concerns on the client side (MVC).
Communicating with servers and APIs.
Designing and programming RESTful APIs with Node.js.
Build, test, collaboration, deployment, and scaling.
Expanding reach via platform targets and internationalization.
Of these topics, the "early release" edition only covers the first two - best practices and organization. The rest are only mentioned in passing (if at all) and alluded to in chapter references that don't exist.
As such, I can't really give a fair review of the book at this time as it is clearly far from being done. That said, the content that is in place is pretty good. I don't necessarily agree with everything Elliott says about Object creation (I love constructor functions even though I don't often deal with inheritance); but, Elliott definitely knows his JavaScript and brings some really interesting points of view to the table.
All of his code samples are accompanied by QUnit tests. I love that this drives home how important testing is. Unfortunately, his code never indicates whether or not the tests pass. And, as someone who is not familiar with unit testing, I was sometimes left wondering if a given test was supposed to prove a point by failing or, by passing?
One thing that Elliott mentioned that I do want to put into effect is the use of Command Objects (also known as, Action Objects) instead of Switch statements. The idea here is to replace Case statements with method calls in order to make the code more readable, extendible, and less error prone.
In this approach, you would convert Switch cases to methods and then invoke the case as a method invocation:
commandObject[ caseValue ]( );

There's something about this approach that feels good. Plus, it prevents you from accidentally using the "fall-through" feature of Case statements!
The content of the early release edition is good - Elliott really does lay down some excellent best practices and design patterns and provides a good review of the technical abilities of the language; but, the real take-away for me is to stop buying early release editions. Honestly, I don't think it's even a good idea for O'Reilly to be selling them. It'd be one thing if all the content was done (and simply unedited); but, these books are incomplete and can result in an unfair assessment of the material.