The School Of Practical Philosophy: Philosophy Works - Week Four
So far, I have to say that week four of Philosophy Works has been the most fun. There was just something very engaging about today's topic; and, I think we were generating some really fruitful conversations in class. For the most part, we get the same crowd each Monday and I think this is paying off dividends in the level of comfort that we have established as a group. Obviously, I can't speak for anyone else, but I found today to be very mentally stimulating - I definitely had the machinery firing at full blast, trying to connect dots.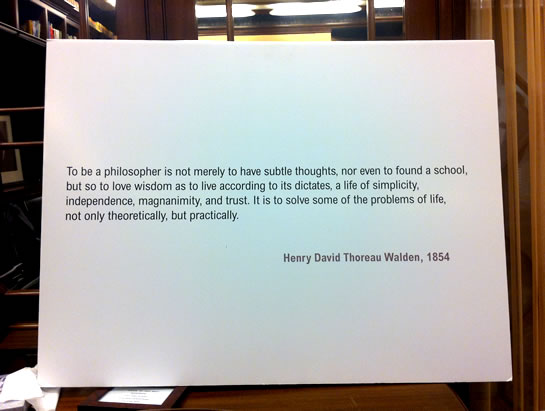 As always, we spend the first part of the class talking about our experiences during the previous week. At the end of last week's class, we were left with the practice of being mindful that, "Whoever or whatever is in front of you is your teacher." For this, I shared my experience with Clark Valberg.
Here, at Epicenter Consulting, we concentrate heavily on user experience (UX) and interaction design. This is something that I feel like I am getting much better at; but, Clark still has better, more empathetic instincts than I do on this topic. I know this. I understand this; and yet, when he offers me constructive criticism, I often times feel begrudgal inside me.
It's not that I think his advice is bad; of course, there are times when I do disagree with him. But, more often than not, I know that his advice is spot on. I might even be aware of it in the moment; and still, I find myself resisting the advice.
I'd say that this is an issue of pride; but, when it comes to something like ColdFusion programming, I absolutely love it when people give me advice. In fact, if you call me out on something and offer a better way of doing it, chances are I'll celebrate your advice and spin it off into its own blog post.
Clearly, I am not adverse to learning from others. So, what is it about UX work vs. programming work that inhibits my ability to learn from my teachers?
Perhaps it's simply an issue of comfort level - I am comfortable enough in programming that I am open to advice. What I hope, though, is that simply being mindful of this response will help me overcome it. Plus, I am pretty sure that I can come up with some sort of mechanism to help break the cycle. For example, if I see that Clark's idea is better, I should admit it to myself; now, I'm typically aware of this, but I mean that I should actually take a moment and actively admit it to myself.
Once we finished sharing our experiences, the teacher started to talk about Desire and Action. That, in life, we tend to go from Desire to Action, to Desire to Action, and so on and so forth. Then, she expanded upon this to explain that what we should do is try to go from: Desire to Action to Rest and so on - that it was the constant switch between Desire and Action that fills us with unhappiness.
Immediately, something about this didn't sit right with me. For starters, I had trouble reconciling this concept with the idea that, It's the journey that makes us happy, not the destination. If it's the journey that makes us happy, then what purpose is "rest" serving?
As we started to discuss this idea, one of my classmates shared with us that when he is doing something that he enjoys, he actually finds the Action itself energizing. I told him that I thought what he said made complete sense. And, I then added that the inclusion of Rest only seems valid if your Actions are not aligned with your Desires.
As the conversation progressed, a few people started to talk about anxiety - that performing Actions caused anxiety, which required Rest and recovery. It was at this point that I suddenly connected a few dots in my head.
Thanks to Randall Jennings, I had recently watched a beautiful TED talk on Vulnerability (Brene Brown - The Power of Vulnerability). In the video, Brene Brown talks about the power of vulnerability and the fact that there is a high correlation between happiness and one's ability to be vulnerable. That is, people who aren't afraid of being vulnerable tend to be happier in general.
Taking this idea of vulnerability and overlaying it on top of the Desire-Action lifecycle, I proposed that it was not Action that caused anxiety; but rather, it was inaction that caused anxiety! By not acting on our desires, we fail to keep our actions and our desires in proper alignment with each other. And, as I hypothesized before, it's this kind of misalignment that wears us down and necessitates Rest and recovery.
As I talked about vulnerability and happiness, I couldn't help but think of the movie Hancock staring Will Smith and Charlize Theron. I'd always found the plot line of this movie to be deeply moving, but I couldn't quite explain why. When you think about the connection between vulnerability and happiness, however, the movie becomes almost magical.
WARNING: Plot spoilers!
In the movie, both Will Smith and Charlize Theron play angels. On their own, each of them is both invincible and extremely powerful. When drawn together, however, they lose their powers and become mortal. Once this is realized, the two have to make a choice - do they stay powerful and remain apart? Or, do they find happiness with each other and thereby become vulnerable?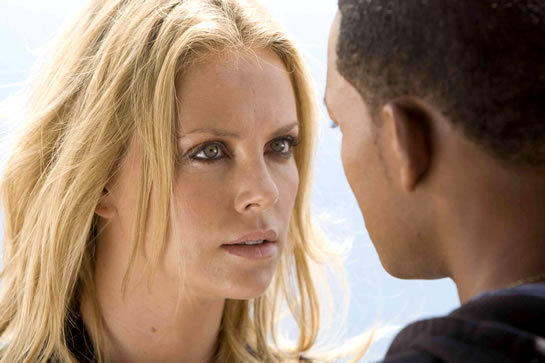 Again, we see that vulnerability goes hand-in-hand with happiness and that happiness can be achieved when our actions are in alignment with our truest desires.
Towards the end of the class, we started to talk about Attention and the concept that whatever we give our attention to, grows. We can give our attention to negative thoughts or positive thoughts. Our exercise for this week is to become more aware of the things to which we give our attention.