Exploring Javascript's eval() Capabilities And Closure Scoping
A little while ago, while working on the jQuery Template Markup Language (JTML) code, I used Javascript's Function() constructor to compile template markup and found out that it doesn't create a closure to the context in which it was executed. I blogged about this and was promptly told that according to the Javascript spec, Function() scopes to the window object and eval() scopes to the calling context. I often use eval() to evaluate JSON strings; but, I very rarely ever use it to evaluate Javascript source code.
I didn't think much more about this until last week when I attended the NYCJS (New York City Javascript) Meetup group. In the meeting, Elijah Insua showed off his JSDom project. And, in his demo code, he pulled in the entire jQuery library as a string and eval()'d it into effect. This really opened my eyes up to the power of the eval() function and I figured it was time to do a little digging of my own.
In the following demo, I have two Script tags. One is of type, "text/source-code", which will not be executed by the browser. The other is of type, "text/javascript", which will, of course, be our executing Javascript code. In the Javascript code, I am going to get the html (innerHTML) of the "source-code" tag and eval() it in its entirety. As I do this, I am going to see what kind of closures and context-chains the evaluated function creates.
<!DOCTYPE HTML>
<html>
<head>
	<title>Javascript eval() - How Much Is Too Much?</title>
</head>
<body>

	<h1>
		Javascript eval() - How Much Is Too Much?
	</h1>

	<!---
		Note that the TYPE of this Script tag is not Javascript,
		but rather "source-code". We will be putting code in
		here to see if it executes properly within an eval()
		function call.
	--->
	<script id="source" type="text/source-code">

		// Create a self-executing function. This is to ensure that
		// nothing defined here goes into the global scope (helps to
		// figure out what bindings are taking place).
		(function(){

			// Create a local value.
			var description = "beautiful";

			// Create a function. This function will reference both
			// the local variable above as well as one that has
			// not yet been bound to this context.
			var whisperSweetNothings = function(){

				// Alert a message that combines the local, private
				// scope and some other scoped-variable (name).
				console.log(
					name +
					", you are looking quite " +
					description +
					" today."
				);

			};

			// Return function.
			return( whisperSweetNothings );

		})();

	</script>

	<!---
		Now, let's actually run some Javascript where we evaluate
		the source-code defined above.
	--->
	<script type="text/javascript">

		// Create a self-executing function. This one is to ensure
		// that any binding isn't simply going to the window scope.
		(function(){

			// Get the source code element.
			var source = document.getElementById( "source" );

			// Create a local variable for the name.
			var name = "Erika";

			// Evaluate the source code, which should return a
			// function reference.
			var whisperSweetNothings = eval( source.innerHTML );


			// Try to execute this function.
			//
			// NOTE: This function uses reference defined in two
			// different self-execution functions. This will help us
			// understand how the closure is being created.
			whisperSweetNothings();

		})();

	</script>

</body>
</html>

As you can see, both Script tags start off by defining self-executing functions. I did this to make sure that nothing was accidentally scoping to the Window object without my understanding. Within the source-code's self-executing function, I define another function, whisperSweetNothings(). This whisperSweetNothings() function creates a closure with its context, which happens to house the variable, "description." This source code is then, itself, eval()'d within the primary code's self-execution function, which happens to house another variable, "name." The whisperSweetNothings() function references both the "description" and "name" variables, which will only work if has both contexts in its closure chain.
When we run the above code, we get the following console output:
Erika, you are looking quite beautiful today.
As you can see, the whisperSweetNothings() function properly referenced the description variable (beautiful) in its defining context as well as the name variable (Erika) in its calling context. Had I done the same thing with the Function() constructor, the Name variable would have errored-out as undefined.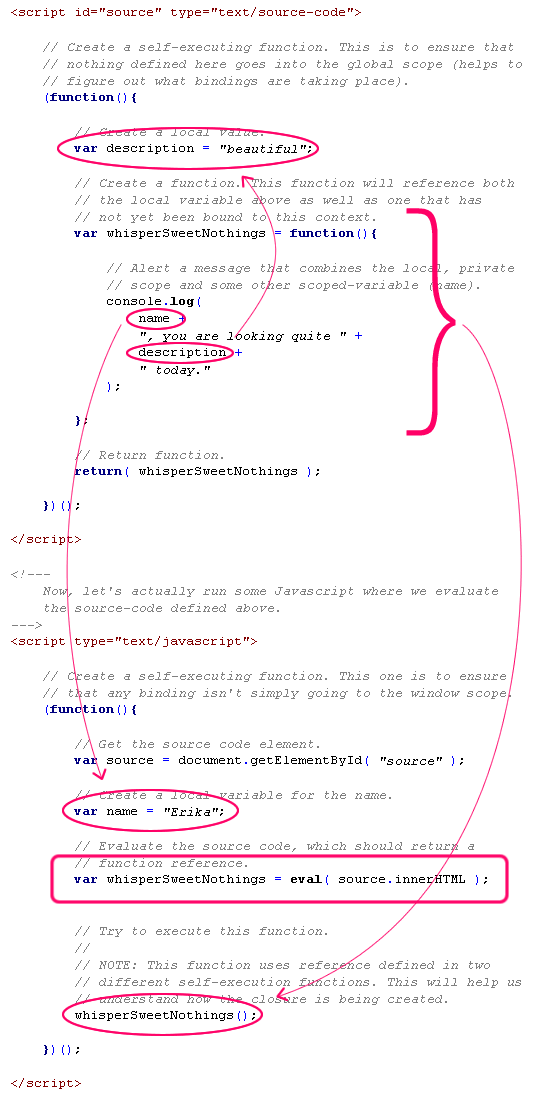 This is some pretty cool stuff! Not only is eval() quite capable of compiling complex Javascript code on the fly, the fact that it compiles in the context of its calling scope seems very powerful. I'll have to do some more experimentation to see if this should be used in conjunction with the Function() constructor or, if it should be used in lieu of the Function() constructor... and when to know the difference.
Want to use code from this post? Check out the license.