Getting Header Values From A ColdFusion Request
Last week, Ray Camden commented on my post about sending multiple data parts in a CFHttp post. In his comment, he demonstrated how he posted custom header data to a Google API. While it was clear that I misunderstood the original question, seeing Ray's comment got me thinking; in ColdFusion I have only ever set Header values for a response or a CFHttp post - I have never gotten them from the current ColdFusion request.
The hard thing about testing this is that I sort of need two different pages - one that sets custom Header values and then one that reads them. I suppose I could have just used one page and read the Header values that came from the browser; but, I wanted to be able to see custom values that I set (which is more satisfying). First, I created a page that posted a CFHttp FORM and then CFDump'd out the response:
<!--- Build the calling URL. --->
<cfset strURL = (
	"http://" &
	CGI.serer_name &
	GetDirectoryFromPath( CGI.script_name ) &
	"response.cfm"
	) />


<!--- Make a post. --->
<cfhttp
	method="post"
	url="#strURL#"
	username="epicenter"
	password="epicenter"
	result="objPost">

	<!--- Send header value. --->
	<cfhttpparam
		type="header"
		name="Sarah"
		value="Stubby"
		/>

	<!--- Send form data. --->

	<cfhttpparam
		type="formfield"
		name="test"
		value="value"
		/>

	<cfhttpparam
		type="file"
		name="data_file"
		file="#ExpandPath( './data.txt' )#"
		/>

</cfhttp>


<!--- Output response content. --->
<cfoutput>
	#objPost.FileContent#
</cfoutput>

As you can see, we are simply posting some form data and a custom Header value: "Sarah=Stubby".
Once I had this page in place, I started to experiment with response.cfm to see how I could access the Header data. As it turns out, my first test was the only one I needed:
<!--- Dump out the request data. --->
<cfdump
	var="#GetHttpRequestData()#"
	label="GetHttpResponseData() Values"
	/>

When we run the above code, we get the following output: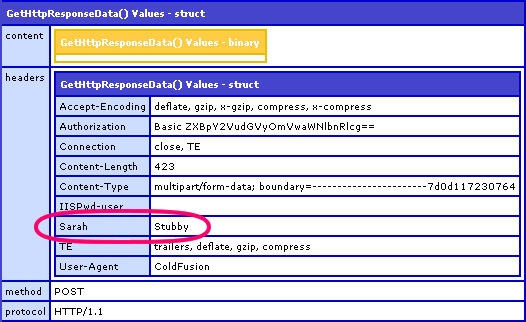 As you can see from the above CFDump, the posted Header values are readily available in the ColdFusion struct:
GetHttpRequestData().Headers
Wow, that was easy!
Want to use code from this post? Check out the license.