FAQu Volume II, Issue II Is Totally Flextasic
I finished the most current issue of the Fusion Authority Quarterly Update (Vol. II, Issue II) this weekend, and I have been debating on whether or not to put up my review. It's not that I didn't like it; just as with the previous issues, V2I2 is of a fantastic quality. My hesitation stems from the fact that I don't think I am the target audience for this particular set of articles.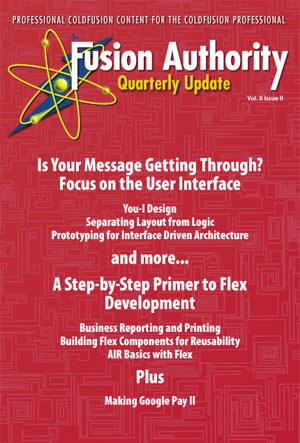 While we do get some great ColdFusion based insights from Peter Bell, Michael Dinowitz, and Charlie Arehart, the majority of the issue is dedicated to Flex, AIR (Adobe Integrated Runtime), and their related topics (IDEs, Frameworks). As always, the articles are well written and the code samples and screen shots are highly informative; but, as someone who has never really touched Flex outside of a single "Hello World" example many months ago, the information felt just beyond my reach. See, Flex isn't like ColdFusion where you can open up a text file, edit it, and then run it in a browser; with Flex, you have to have the right IDE (not required, but super helpful), you have to have compile the code into a SWF file, and you have to really be in the mind set of using Classes as this all that ActionScript 3.0 will play with. As such, I don't think that I am in the best position leverage all this new information.
I am in no way saying that you will feel the same way about this FAQu issue. My brain is funny in that it has a hard time following concepts if it cannot draw analogies to things that I already know. I think if I had a week of Flex under my belt, this issue would have been 100 times more understandable.
Now, don't go thinking that this issue is totally lost on me. I'm putting this issue right in the toolbox along with all my other FAQu's and technical manuals. Then, when I finally do get around to trying out Flex in a serious way, I'll be re-reading this issue and reaping all the benefits. I am sure that if I came back at it from within more of a Flex context, it will be as rewarding as all the other FAQu's have been.