Resident Evil: Extinction Starring Milla Jovovich
I was not a huge fan of the first two Resident Evil movies. Maybe it's because I never played the video game; more likely, I suspect it's because they just weren't that good. Of course part of the problem was expectation management. I loved seeing Milla Jovovich as an action star and supreme being as she kicked ass in The Fifth Element; and I think that that movie set the bar too high such that five years later when the first Resident Evil came out in 2002, its action just fell short in comparison.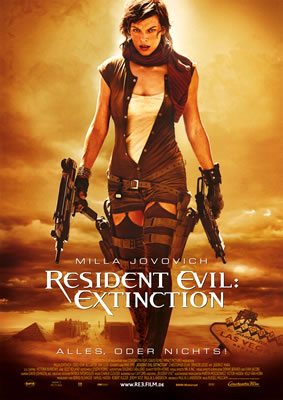 With the first two movies being what they were, I was not expecting a whole lot from Resident Evil: Extinction. But, movie lover that I am, that wasn't going to stop me. And, I'm really glad it didn't because I am happy to report that Extinction brings back Milla Jovovich as an awesome, knife-wielding, action star. You all know that I love watching a girl beat on people, and this movie fully satisfies that craving.
I think that the key here is that this movie has a low level of gun fighting. A good gun fight can be awesome (ala the bank robbery scene in HEAT), but I think too many action movies anchor onto gun fighting as their main attraction and that just ends up leaving me feeling unfulfilled. There is gun fighting in Resident Evil: Extinction, to be sure, but a lot of the movie consists of Milla Jovovich running around beating people in hand-to-hand combat. And, to top it off, she has these two ultra bad-ass knives that she uses masterfully in conjunction with spins, jumps, kicks, and general martial arts goodness.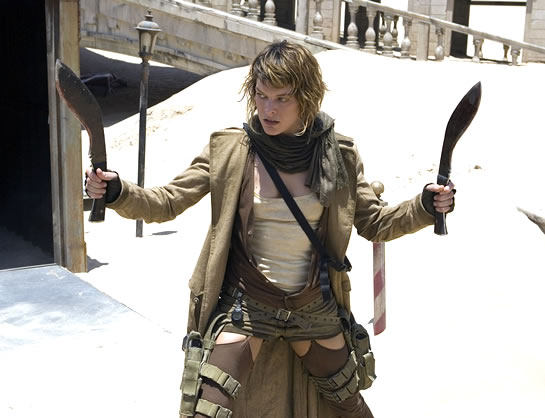 Resident Evil: Extinction doesn't bring anything revolutionary to the silver screen; pretty much everything in it has been seen in a dozen other movies. What Extinction has going for it is the fact that its action star is female and that the fighting has a lot of hand-to-hand combat. This combination of ingredients is in short supply in Hollywood and makes Resident Evil: Extinction a satisfying breathe of fresh air.
To be superficial for a moment, one thing that did bother me was her makeup. Everyone else in the movie comes off as rugged and beat up from living in a post-apocalyptic world full of zombies, but Milla Jovovich's face had this eerie golden glow the whole time. And, not in a good way. It's like she was wearing too much foundation and the camera lens didn't know how to deal with the reflected light. Very odd.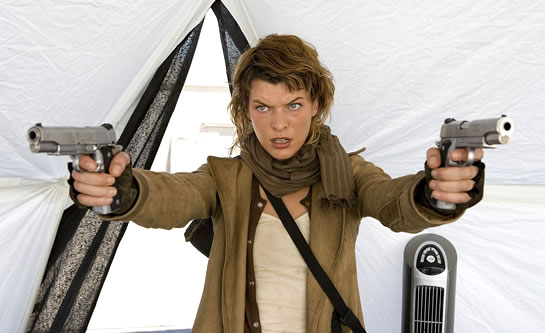 Anyway, I thought this movie was a lot of fun and certainly a nice break from my ColdFusion-driven life. If you didn't like the first two Resident Evil movies, you still might want to consider checking this one out. Of course, if female ass-kickery doesn't appeal to you, then don't bother - this will just be another run of the mill zombie movie and will be more tiring than anything else.