Implementing A "Show Password" Checkbox On A Login Form In JavaScript
More and more, I've been seeing a pattern emerging on login forms where the user is presented with a "show password" toggle. Clicking on this toggle will change the password field from an obfuscated input to a plain-text input where the user can clearly see what value they are typing. Now, if you're old like me, you remember a time where some browsers (*cough* IE *cough*) wouldn't allow input "type" properties to be changed after an input was added to the DOM (Document Object Model). As such, I thought it would be fun to see how easy it is in the modern browser landscape to implement one of these "show password" checkboxes on a login form.
Run this demo in my JavaScript Demos project on GitHub.
View this code in my JavaScript Demos project on GitHub.
Both a plain-text input and a password input are just that: input elements. The only thing that differentiates them is the "type" property (and attribute). Once you have a reference to one of these inputs, you can programmatically change the "type" property which will, in turn, change the way the element is rendered in the DOM.
To see this in action, I've put together a mock login form that has a username and a password field. The password field starts out as a type="password"; but, will change to a type="text" if the user clicks a "Show Password" toggle:
<!doctype html>
<html lang="en">
<head>
	<meta charset="utf-8" />
	<title>
		Implementing A "Show Password" Checkbox On A Login Form In JavaScript
	</title>

	<link rel="stylesheet" type="text/css" href="./demo.css" />
</head>
<body>

	<h1>
		Implementing A "Show Password" Checkbox On A Login Form In JavaScript
	</h1>

	<!-- NOTE: Using GET so we can see the results in the URL. -->
	<form method="get" action="./" class="login">

		<div class="login__field field">
			<label for="username" class="field__label">
				Username:
			</label>
			<input type="text" id="username" name="username" class="field__input" />
		</div>

		<div class="login__field field">
			<label for="password" class="field__label">
				Password:
			</label>
			<input type="password" id="password" name="password" class="field__input" />

			<label for="show-password" class="field__toggle">
				<input type="checkbox" id="show-password" class="field__toggle-input" />
				Show password
			</label>
		</div>

		<div class="login__actions actions">
			<button type="submit" class="actions__button">
				Login + Start Rocking &raquo;
			</button>
		</div>

	</form>

	<script type="text/javascript">

		// Gather our DOM references.
		var username = document.querySelector( "#username" );
		var password = document.querySelector( "#password" );
		var toggle = document.querySelector( "#show-password" );

		// Set some default values just to make the demo easier to use.
		username.value = "BenJamin2002";
		password.value = "dontTazeMeBro!";

		// NOTE: The "(input)" event doesn't work on checkboxes in Safari or IE. As such,
		// I'm using the "(click)" event to make this works cross-browser.
		toggle.addEventListener( "click", handleToggleClick, false );

		// --------------------------------------------------------------------------- //
		// --------------------------------------------------------------------------- //

		// I handle the toggle click, changing the TYPE of password input.
		function handleToggleClick( event ) {

			if ( this.checked ) {

				console.warn( "Change input 'type' to: text" );
				password.type = "text";

			} else {

				console.warn( "Change input 'type' to: password" );
				password.type = "password";

			}

		}

	</script>

</body>
</html>

As you can see, there's really not much going on here at all. Ninety-percent of this demo is just HTML markup and CSS. The only relevant logic is the click-handler, which - as you can see - just changes the "type" property of the input based on the state of the "show password" checkbox. And, if we load this page and click the "show password" toggle, we get the following output: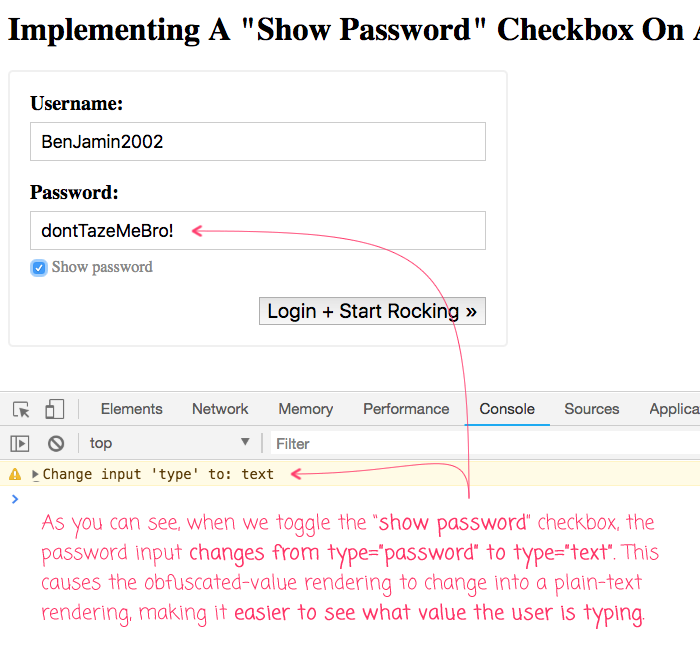 As you can see, the password field changed from an obfuscated field into a plain-text field. Easy peasy!
As passwords get longer and more complex, typing them in becomes more and more error-prone. This is especially true when you're inputting values that aren't in a password manager. For example, the password on the bottom of your friend's router, or the temporary WiFi password they give you at a hotel. In such cases, being able to toggle the obfuscation of the password field can reduce the headache of failed logins. Luckily, with modern browsers, it's quite easy to implement a "show password" checkbox on a login form using JavaScript.
Want to use code from this post? Check out the license.