Putting DEBUG Comments In Your SQL Statements Makes Debugging Performance Problems Easier
I freakin' love SQL. And, I freakin' love relational databases. But, as everyone knows, database operations can become a significant bottleneck in the performance for your web application, especially as it scales. At InVision App, part of my job is to monitor our database performance, identify problematic queries, and think about ways to make them faster (often by making them simpler). And, to make that job easier, I've gotten into the habit of including "DEBUG" statements at the top of all of my SQL queries.
A DEBUG statement is not magic. It's nothing more than a SQL comment that helps identify where the given query is being run from. This way, when that query shows up in the PROCESSLIST or the SLOW_LOG or in FusionReactor monitoring or the New Relic monitoring, it doesn't take more than a quick glance to be able to identify the query in the context of the overall application.
To see what I mean, here's a query with a DEBUG statement that I would use. Notice that the DEBUG statement includes both the component name and the method name that was used to initiate the query:
SET @userID = 1;

/* DEBUG: userGateway.getCurrentFriends(). */
SELECT
	u.id,
	u.name,
	u.email
FROM
	user uSource
INNER JOIN
	friendship f
ON
	(
			uSource.id = @userID
		AND
			f.userID = uSource.id
		AND
			f.endedAt IS NULL
	)
INNER JOIN
	user u
ON
	u.id = f.friendID
ORDER BY
	f.startedAt ASC
;

While this does mean that you are sending more data over the wire to the database, the cost is trivial and the benefit is enormous. If this query were to start showing up in the SLOW_LOG, for example, it would be simple to identify: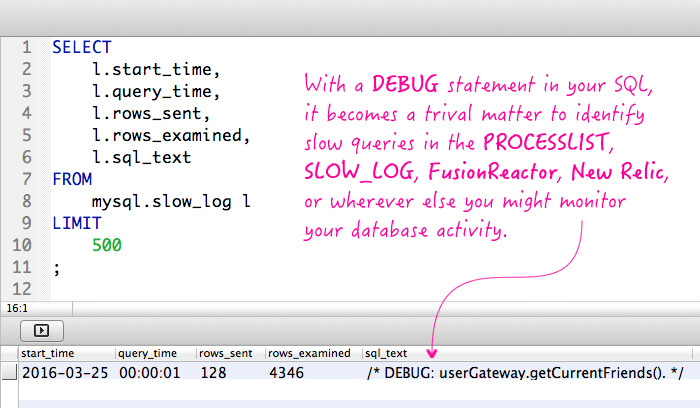 As you can see, without even seeing the entire SQL statement, I can already tell you that this slow query was being initiated by the UserGateway component via the method getCurrentFriends(). Now, I just need to go explore that code and see if there are ways to optimize the query or refactor the workflow to get better performance.
Honestly, I can't imagine writing SQL any other way at this point. Having these DEBUG statements come through in all the monitoring has made my life so much easier.
Want to use code from this post? Check out the license.