Isolating The ngModel Two-Way Data Binding Life-Cycle In AngularJS
In AngularJS, I love the two-way data binding that the ngModel directive provides. But, I don't necessarily want the two-way data binding to directly affect all my data. I know that might sound contradictory. But, instead of having ngModel alter my core data, I like to isolate the two-way data binding life-cycle behind a form object that can evolve independently, alongside my core data.
Run this demo in my JavaScript Demos project on GitHub.
That's a complicated way of saying that I use a plain-old JavaScript object - "form" - to house my ngModel bindings. When I need to start using an ngModel binding, I move data into my form object. Then, when I need to process the results of my ngModel bindings, I move the data out of my form and back into my core data, if necessary.
This adds a bit of indirection. But, it's a pattern that I've come to really appreciate. It allows me to play with my form data without having to be concerned about my core data. I can reset the form or update the form based on changes with relative ease. All while leaving the core data completely isolated.
To see this in action, I've created a very simple view / edit demo. When I move into the edit mode, you can see that I copy data into a vm.form object. And, when it's time to process the form, I copy the data out of my vm.form object and back into my core data model.
<!doctype html>
<html ng-app="Demo">
<head>
	<meta charset="utf-8" />

	<title>
		Isolating The ngModel Life-Cycle In AngularJS
	</title>

	<link rel="stylesheet" type="text/css" href="./demo.css"></link>
</head>
<body ng-controller="AppController as vm">

	<h1>
		Isolating The ngModel Life-Cycle In AngularJS
	</h1>

	<p class="nav">
		<a ng-click="vm.viewFriend()">View</a> &mdash;
		<a ng-click="vm.editFriend()">Edit</a>
	</p>

	<div ng-switch="vm.isEditing">

		<!-- BEGIN: Viewing Interface. -->
		<div ng-switch-when="false">

			<p>
				<strong>Name:</strong> {{ vm.friend.name }}
			</p>

			<p>
				<strong>Description:</strong> {{ vm.friend.description }}
			</p>

		</div>
		<!-- END: Viewing Interface. -->


		<!-- BEGIN: Editing Interface. -->
		<form ng-switch-when="true" ng-submit="vm.processForm()">

			<p>
				<label>Name:</label>
				<input type="text" ng-model="vm.form.name" />
			</p>

			<p>
				<label>Description:</label>
				<input type="text" ng-model="vm.form.description" />
			</p>

			<p>
				<button type="submit">Save Friend</button>
				<a ng-click="vm.viewFriend()">Cancel</a>
			</p>

		</form>
		<!-- END: Editing Interface. -->

	</div>


	<!-- Load scripts. -->
	<script type="text/javascript" src="../../vendor/angularjs/angular-1.4.5.min.js"></script>
	<script type="text/javascript">

		// Create an application module for our demo.
		angular.module( "Demo", [] );


		// --------------------------------------------------------------------------- //
		// --------------------------------------------------------------------------- //


		// I control the root for the application.
		angular.module( "Demo" ).controller(
			"AppController",
			function( $scope ) {

				var vm = this;

				vm.isEditing = false;

				// I am the friend that is being viewed. This object WILL NOT BE connected
				// to the ng-model bindings. Editing will be managed through the vm.form
				// ng-model bindings.
				vm.friend = {
					name: "Kim",
					description: "One of the coolest people I know!"
				};

				// I hold the ngModel bindings so that form-interactions can be
				// encapsulated and managed without model-changes leaking into the rest
				// of the view-model.
				vm.form = {};

				// Expose public methods.
				vm.editFriend = editFriend;
				vm.processForm = processForm;
				vm.viewFriend = viewFriend;


				// ---
				// PUBLIC METHODS.
				// ---


				// I show the edit form.
				function editFriend() {

					vm.isEditing = true;

					// When we enter the editing mode, we want to move the current values
					// from the Friend into the Form model so that the form / ng-model
					// bindings can be edited independently of the friend object.
					vm.form.name = vm.friend.name;
					vm.form.description = vm.friend.description;

				}


				// I process the edit form, saving the changes.
				function processForm() {

					vm.isEditing = false;

					// At this point, the ng-model bindings have changed the isolated
					// form object. Now, when the form is being saved, we can move the
					// isolated changes back into the Friend if they are valid.
					if ( vm.form.name ) {

						vm.friend.name = vm.form.name;
						vm.friend.description = vm.form.description;

					}

				}


				// I show the detail page.
				function viewFriend() {

					vm.isEditing = false;

				}

			}
		);

	</script>

</body>
</html>

As you can see, the .editFriend() method moves data into the form object. And then, the .processForm() method moves data out of the form and back into the core data, if necessary.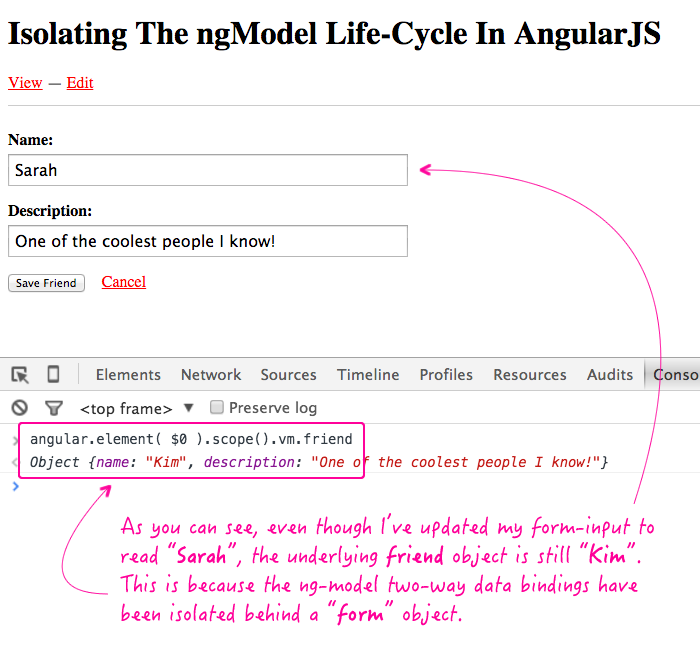 If you hook your ngModel bindings directly up to your core data, I find that it makes the state of the core data harder to reason about because it can change at any moment. Plus, it makes reverting changes or updating the core model in the background harder since you're directly mutating the core data. By using a intermediary "form" object, I can completely isolate the ngModel-based changes. And, I find this gives me excellent control over how data flows through my controller.
Want to use code from this post? Check out the license.