Using Dynamic Element Names With The JSX Transpiler In ReactJS
When I first started using JSX with ReactJS, I knew that you could use native HTML elements, like <a> and <span>, as well as React Components, like <List> and <ListItem>; but, it didn't occur to me that JSX element names were dynamic in a more general sense. Mostly by trial-and-error, I discovered that a JSX element could be defined by any variable that didn't look like a native HTML element.
Run this demo in my JavaScript Demos project on GitHub.
The JSX transpiler, in ReactJS, uses upper-case and lower-case convention to distinguish between HTML elements and React components; React components are upper-case and HTML elements are lower-case. But, if you look at the interactive JSX compiler, I think the breakdown can be worded a bit differently: lower-case values become inline strings and everything else becomes a variable reference.
Once I realized that things like "<div>" and "<span>" just compiled down to React.createElement("div") calls, it made sense that the "div" argument could be replaced with a variable that contained a string that represented an element name.
To see this in action, I've created a simple ReactJS component that cycles through a list of HTML element types. And, as it cycles through, the current element type is stored in the component state and used to render the component element:
<!doctype html>
<html>
<head>
	<meta charset="utf-8" />

	<title>
		Using Dynamic Element Names With The JSX Transpiler In ReactJS
	</title>

	<link rel="stylesheet" type="text/css" href="./demo.css"></link>
</head>
<body>

	<h1>
		Using Dynamic Element Names With The JSX Transpiler In ReactJS
	</h1>

	<div id="content">
		<!-- App will be rendered here. -->
	</div>


	<!-- Load scripts. -->
	<script type="text/javascript" src="../../vendor/reactjs/react-0.13.3.js"></script>
	<script type="text/javascript" src="../../vendor/reactjs/JSXTransformer-0.13.3.js"></script>
	<script type="text/jsx">

		// I manage the root component.
		var Demo = React.createClass({

			// I return the initial state of the component.
			getInitialState: function() {

				this.tagNames = [ "div", "p", "article", "section", "header", "footer" ];

				return({
					tagName: "div"
				});

			},


			// ---
			// PUBLIC METHODS.
			// ---


			// I run once, on the client, when the component has been mounted on the DOM.
			componentDidMount: function() {

				// Now that we have access to the window, let's start changing the
				// current tag every second.
				setInterval( this.cycleTagName, 1000 );

			},


			// I return the virtual DOM represented by the current component state.
			render: function() {

				// We are using the variable, this.state.tagName, to define the element
				// in this component. As long as our variable name doesn't conflict with
				// one of the known DOM elements (ex, "<a>"), the JSX transpiler will
				// happily create a dynamic tag.
				// --
				// NOTE: I could have stored this value in an intermediary value that was
				// easier to read, like "Container", and it would have worked as well.
				return(
					<this.state.tagName>

						Holy chickens, this is a &lt;{ this.state.tagName }&gt; tag!

					</this.state.tagName>
				);

			},


			// ---
			// PRIVATE METHODS.
			// ---


			// I cycle through to the next tag name in the collection.
			cycleTagName: function() {

				var index = this.tagNames.indexOf( this.state.tagName );
				var nextTag = ( this.tagNames[ ++index ] || this.tagNames[ 0 ] );

				this.setState({
					tagName: nextTag
				});

			}

		});


		// --------------------------------------------------------------------------- //
		// --------------------------------------------------------------------------- //


		// Render the root Demo and mount it inside the given element.
		React.render( <Demo />, document.getElementById( "content" ) );

	</script>

</body>
</html>

As you can see, every second, I'm cycling through to the next HTML tag using a setInterval(). Since I am storing the current tag using setState(), ReactJS knows to re-render the current component, which will re-render the component element using the dynamic tag name. And, when we run this code, we get the following output: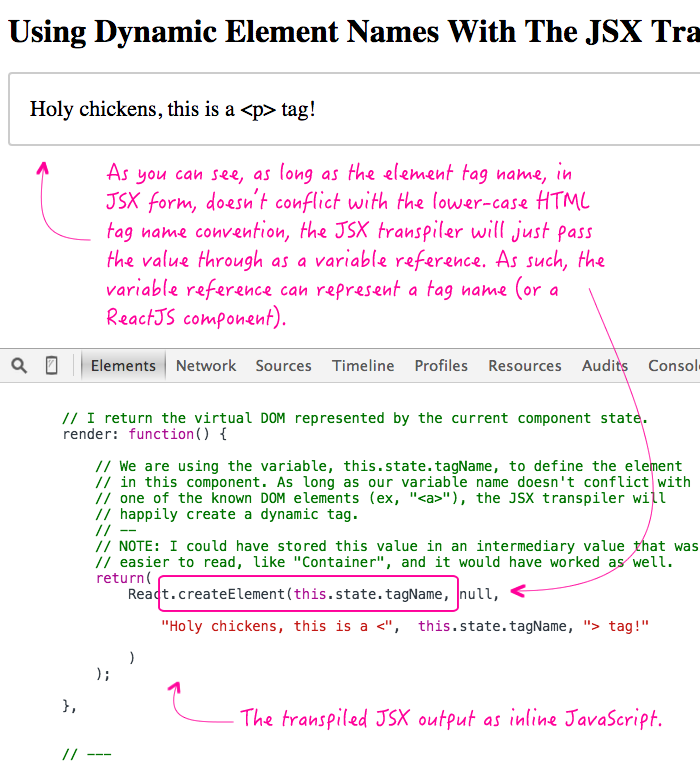 I was using this functionality in my previous post on attaching dynamic event handlers to proxied child elements, in ReactJS. In that particular post, the functionality was used as a means to drive home the very dynamic nature of event bindings. But, I could definitely see a use-case for this level of dynamic tag generation in a real app; and, it's good to know that it's possible.
Want to use code from this post? Check out the license.