Replacing ngInclude With Component Directives In AngularJS
For the last few years, I've been using the ngInclude directive in order to render nested layouts in AngularJS. And, it's been working out quite well. But, last night, Igor Minar - AngularJS team member and wicked smart fellow - challenged me with the idea that ngInclude could be entirely replaced with "component directives." To date, the vast majority of my directives have been behavioral; so, the idea of using component directives is a bit foreign. As such, I felt that I needed to immediately experiment with the concept of replacing nested layouts with AngularJS components.
Run this demo in my JavaScript Demos project on GitHub.
In the past, if I had to render a view that had nested subviews, my AngularJS view code would have looked something like this:
<div ng-switch="subview">
	<div ng-switch-when="a" ng-include=" 'a.htm' "></div>
	<div ng-switch-when="b" ng-include=" 'b.htm' "></div>
	<div ng-switch-when="c" ng-include=" 'c.htm' "></div>
</div>

As you can see, I have a "subview" $scope value that I am switching on and using it to include an HTML page. The included subview would then look something like this, often times, having its own switch for nested views:
<!-- a.htm. -->
<div ng-controller="ViewAController">

	Some more stuff here.

	<!-- Nested layout here. -->
	<div ng-switch="subview">
		<div ng-switch-when="x" ng-include=" 'x.htm' "></div>
		<div ng-switch-when="y" ng-include=" 'y.htm' "></div>
		<div ng-switch-when="z" ng-include=" 'z.htm' "></div>
	</div>

</div>

And like I said, this approach has been quite successful for me. But, after I demonstrated that using ngRepeat with ngInclude can be a significant performance hit in AngularJS, Igor laid down his challenge: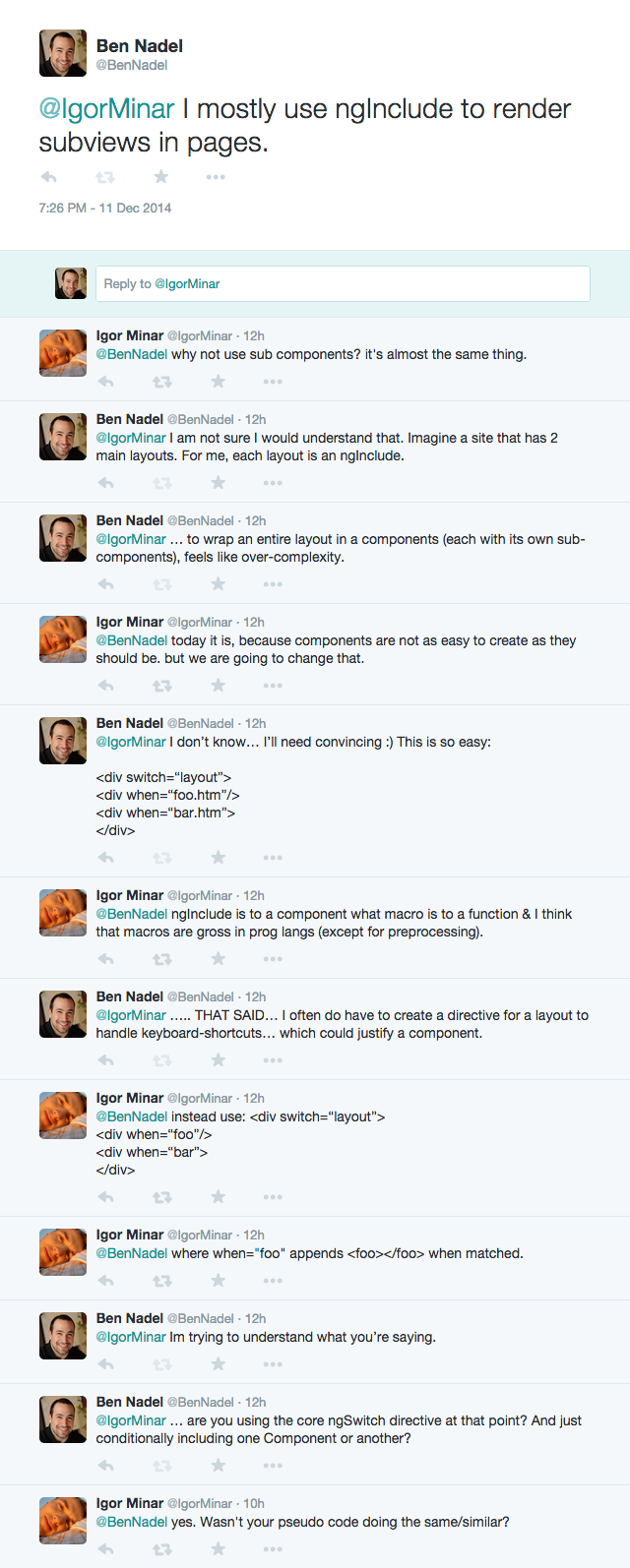 To experiment with this idea, I wanted to create a small demo that had two different "layout" components. Then, within each layout component, I would render a sub-component for a particular list (friends and enemies).
In order to do this, I have to change the way that I think about my page hierarchy. Rather than thinking about it in terms of nested views, each of which invokes a controller using the ngController directive, I have start thinking about it in terms of nested components, each of which binds a particular controller to a particular view.
Let's take a look at the main index page that I created in this demo:
<!doctype html>
<html ng-app="Demo" ng-controller="AppController">
<head>
	<meta charset="utf-8" />

	<title>{{ windowTitle }}</title>

	<link rel="stylesheet" type="text/css" href="./demo.css"></link>
</head>
<body
	ng-class="{ primary: ( layout == 'primary' ), secondary: ( layout == 'secondary' ) }"
	ng-switch="layout">

	<!--
		Each of these ngSwitchWhen directives will conditionally render a COMPONENT
		directive. The component directive will take care of rendering a template and a
		controller as well as any other nested components that are relevant.
	-->
	<div ng-switch-when="primary" primary-layout>
		<!-- Content provided by component directive. -->
	</div>
	<div ng-switch-when="secondary" secondary-layout>
		<!-- Content provided by component directive. -->
	</div>

	<p class="legal">
		<strong>Note</strong>: This is a new approach for me, so take with grain of salt.
	</p>


	<!--
		CAUTION: Commingling ngSwitchWhen directives next static content has only been
		available since AngularJS 1.2 (stable). In prior versions, the ngSwitch container
		is completely emptied when switching rendering templates.

		Load application scripts.
	-->
	<script type="text/javascript" src="../../vendor/angularjs/angular-1.3.6.min.js"></script>
	<script type="text/javascript" src="./app.controller.js"></script>

	<!-- Enemies list component. -->
	<script type="text/javascript" src="./enemies-list/enemies-list.controller.js"></script>
	<script type="text/javascript" src="./enemies-list/enemies-list.directive.js"></script>

	<!-- Friends list component. -->
	<script type="text/javascript" src="./friends-list/friends-list.controller.js"></script>
	<script type="text/javascript" src="./friends-list/friends-list.directive.js"></script>

	<!-- Primary Layout component. -->
	<script type="text/javascript" src="./primary-layout/primary-layout.controller.js"></script>
	<script type="text/javascript" src="./primary-layout/primary-layout.directive.js"></script>

	<!-- Secondary layout component. -->
	<script type="text/javascript" src="./secondary-layout/secondary-layout.controller.js"></script>
	<script type="text/javascript" src="./secondary-layout/secondary-layout.directive.js"></script>

</body>
</html>

As you can see, I'm still using the ngSwitch and ngSwitchWhen directives to conditionally render parts of the page; but, instead of using the ngInclude directive, as I normally would have, I'm using a "component directive" alongside each ngSwitchWhen directive. Each of these "layout components" then binds a particular View to a particular Controller. Let's look at the "primary-layout" directive:
angular.module( "Demo" ).directive(
	"primaryLayout",
	function() {

		// Return the directive configuration.
		return({
			controller: "PrimaryLayoutController",
			link: link,
			restrict: "A",
			templateUrl: "primary-layout/primary-layout.htm"
		});


		// I bind the JavaScript events to the scope.
		function link( scope, element, attributes ) {

			console.log( "Primary layout directive linking." );

		}

	}
);

As you can see, this will "include" the View, "primary-layout/primary-layout.htm" and then bind it to the Controller, "PrimaryLayoutController". This is pretty much what I was doing with the ngInclude approach; only the "component" approach has the added benefit of exposing a linking function where I can manage the JavaScript events, on the view, that need to be piped into the scope (or the Controller for those of you who love controllerAs).
And, just quickly, let's look at the primary-layout.htm view so you can see how I am rendering a sub-component:
<h1>
	Replacing ngInclude With Component Directives In AngularJS
</h1>

<p>
	This is the <strong>primary</strong> layout.

	<!--
		NOTE: For simplicity of the demo (since we're not using URL-based routing), this
		method is inherited from the app-controller.
	-->
	<a ng-click="showSecondaryLayout()">Show secondary layout</a>
</p>

<!--
	From this component (primary layout), we're going to "include" another component
	to look at how nested layouts can be achieved without ngInclude.
-->
<div friends-list>
	<!-- Content provided by component directive. -->
</div>

As you can see, this component - PrimaryLayout - turns around and "includes" another component, FriendsList. And, the FriendsList "component" does exactly the same thing as the PrimaryLayout component - it binds a given view to a given controller:
angular.module( "Demo" ).directive(
	"friendsList",
	function() {

		// Return the directive configuration.
		return({
			controller: "FriendsListController",
			link: link,
			restrict: "A",
			templateUrl: "friends-list/friends-list.htm"
		});


		// I bind the JavaScript events to the scope.
		function link( scope, element, attributes ) {

			console.log( "Friends list directive linking." );

		}

	}
);

It took me a little while to wrap my head around this; but, after seeing it come to life, I have to say that I think it's actually kind of cool. If I'm really behing honest with myself, most of the views that I included with ngInclude also required an additional directive to perform actions like keyboard-shortcuts and deferred linking. As such, the fact that "component directives" combine a View, a Controller, and a Linking function makes them very appealing.
AngularJS! After 3 years, I'm still learning stuff! And still so much more to learn. I love this framework and this community.
Want to use code from this post? Check out the license.