Aborting An AJAX Request In AngularJS Using httpi
Last week, I demonstrated how to abort an AJAX (Asynchronous JavaScript and XML) request in AngularJS by using the "timeout" property. While only available as of AngularJS 1.2 (and earlier "unstable" releases), it's an awesome feature and one that I thought would be a nice value-add for httpi, my $resource-inspired lightweight $http wrapper. This morning, I updated httpi to provide an .abort() method in the $http request object. But, I wanted to demonstrate why I thought it was an important addition.
View the httpi project in my GitHub account.
Because AJAX requests are asynchronous, things can get a little hairy when you have several AJAX requests running at the same time. You have no way of knowing the order in which the requests will return. For this reason, being able to explicitly "abort" an unwanted AJAX request can make your life a lot easier.
Consider a simple List-Detail interface in which a user can select an item and view the item's detail. If the detail information has to be retrieved using an asynchronous method (ex, AJAX), the user may be able to click on several list items before the first request is resolved. This may end up leaving your View-Model in an unexpected state.
To demonstrate, I've put together a small app that presents a list of friends. If you click on a friend, the client will make a request to the server to gather the detail information before AngularJS renders it on the page. The caveat, in this case, being that the API will "sleep" all API requests for an unequal amount of time. This allows us to create an "unexpected" order of request resolutions.
To manage this problem, we have to keep track of the currently-executing AJAX request. This way, when we go to make a new AJAX request, we can abort the pending request so that it doesn't end up invoking our data resolution / success handlers.
<!doctype html>
<html ng-app="Demo">
<head>
	<meta charset="utf-8" />

	<title>
		Aborting AJAX Requests In AngularJS Using httpi
	</title>

	<style type="text/css">

		a[ ng-click ] {
			color: red ;
			cursor: pointer ;
			text-decoration: underline ;
		}

	</style>
</head>
<body ng-controller="DemoController">

	<h1>
		Aborting AJAX Requests In AngularJS Using httpi
	</h1>

	<!-- List of friends. -->
	<ul>
		<li ng-repeat="friend in friends">

			<a ng-click="showFriend( friend )">{{ friend.name }}</a>

		</li>
	</ul>

	<!-- Friend detail. -->
	<div ng-if="friend">

		<hr />

		<p>
			<strong>ID</strong>: {{ friend.id }} <br />
			<strong>Name</strong>: {{ friend.name }} <br />
			<strong>Job</strong>: {{ friend.job }} <br />
			<strong>Bio (Bacon Ipsum)</strong>: {{ friend.bio }} <br />
		</p>

	</div>


	<!-- Initialize scripts. -->
	<script type="text/javascript" src="../jquery/jquery-2.1.0.min.js"></script>
	<script type="text/javascript" src="../angularjs/angular-1.2.4.min.js"></script>
	<script type="text/javascript" src="./httpi.js"></script>
	<script type="text/javascript">

		// Define the module for our AngularJS application.
		var app = angular.module( "Demo", [ "httpi" ] );


		// -------------------------------------------------- //
		// -------------------------------------------------- //


		// I control the main demo.
		app.controller(
			"DemoController",
			function( $scope, friendService ) {

				// I contain the data that we are going to render.
				$scope.friends = [];
				$scope.friend = null;

				// I hold on the most recent request for data for this interface. We need
				// to hold on to this so that we can abort it (when necessary).
				var pendingRequest = null;

				// Initialize the list.
				loadFriends();


				// ---
				// PUBLIC METHODS.
				// ---


				// I get the given friend from the repository.
				$scope.showFriend = function( friend ) {

					// If we have a pending request, it's important to abort it. If we
					// don't, then the asynchronous nature of our data access requests
					// could leave our view-model in an unexpected state (if the
					// requests are resolved in an order that is different from that in
					// which they were initiated).
					if ( pendingRequest ) {

						pendingRequest.abort();

					}

					// Store the primary promise (before invoking .then) since this is
					// the object that has the .abort() method (courtesy of httpi). Once
					// you call .then(), you lose access to .abort().
					pendingRequest = friendService.getFriend( friend.id );

					// Handle data response.
					pendingRequest.then(
						function( newFriend ) {

							$scope.friend = newFriend;

						},
						function( code ) {

							console.warn( "Friend couldn't be loaded." );

						}
					);

				};


				// ---
				// PRIVATE METHODS.
				// ---


				// I get the list of friends from the repository.
				function loadFriends() {

					friendService.getFriends().then(
						function( newFriends ) {

							$scope.friends = newFriends;

						}
					);

				}

			}
		);


		// -------------------------------------------------- //
		// -------------------------------------------------- //


		// I provide access to the the friend repository.
		app.service(
			"friendService",
			function( httpi, $q ) {

				// Return the public API.
				return({
					getFriend: getFriend,
					getFriends: getFriends
				});


				// ---
				// PUBLIC METHODS.
				// ---


				// I get the friend with the given ID.
				function getFriend( id ) {

					var request = httpi({
						method: "get",
						url: "./api/friend.cfm",
						params: {
							id: id
						}
					});

					return( prepareResponse( request ) );

				}


				// I get the list of friends from the remote server.
				function getFriends() {

					var request = httpi({
						method: "get",
						url: "./api/friends.cfm"
					});

					return( prepareResponse( request ) );

				}


				// ---
				// PRIVATE METHODS.
				// ---


				// Prepare the raw httpi response for use in the calling context. The
				// goal here is two-fold: to encapsulate the underlying AJAX
				// transportation mechanism; but, more importantly, to wire the "abort"
				// method, provided by httpi service into the promise that we return to
				// the calling context.
				function prepareResponse( request ) {

					// "Unwrap" the AJAX response.
					var promise = request.then(
						function handleResolve( response ) {

							return( response.data );

						},
						function handleReject( response ) {

							return( $q.reject( response.status ) );

						}
					);

					// Wire in the underlying abort method.
					promise.abort = request.abort;

					// No matter what happens with the request, free up the object
					// references in order to help the garbage collection.
					promise.finally(
						function handleFinally() {

							request = promise = null;

						}
					);

					return( promise );

				}

			}
		);

	</script>

</body>
</html>

As you can see, whenever we initiate a request, we first call .abort() on the current request. This will make sure the current request is "rejected" and the new AJAX request is the only one running.
If I were to comment-out the .abort() call, we could end up with a page that looks like this: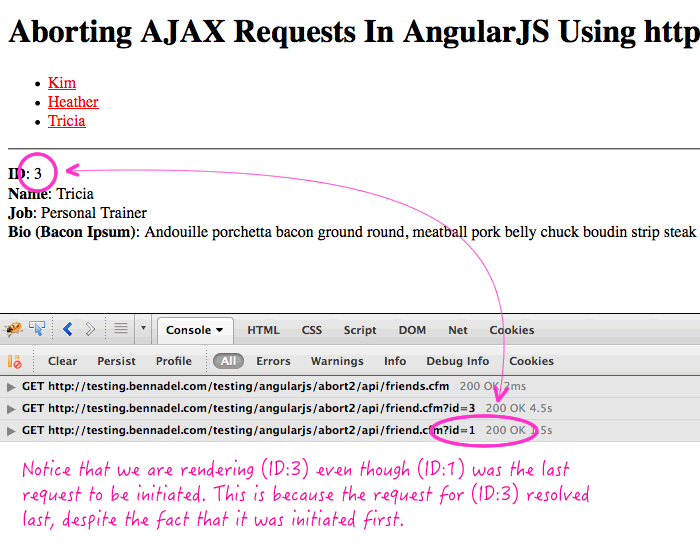 Notice that our UI is rendering "Tricia" (ID:3) even though "Kim" (ID:1) was the last request made. This is because the request for (ID:1) resolved before the request for (ID:3) even though the request for (ID:3) was initiated first. Had we aborted the first request when we made the second request, our UI would be rendered properly.
If you're on an earlier version of AngularJS, before the timeout property could be used to abort the underlying AJAX request, you can still manage this problem, just not as easily. Solutions range from the not great - using something like ng-if / ui-if to completely destroy and rebuild the View anytime an ID changes - to the merely inconvenient - checking the response data against the current View-Model to make sure they are in alignment. It works, but it's a headache.
In addition to avoiding race conditions in asynchronous requests, aborting the underlying request can be helpful when your current $scope is destroyed. I've talked about this before, in terms of canceling a $timeout callback, but same applies to AJAX requests; when your $scope is destroyed, you should abort any relevant AJAX request or the eventual request resolution (or rejection) may end up generating an unexpected user experience.
All to say, I've added an .abort() method to my httpi AngularJS module.
Want to use code from this post? Check out the license.