Using Transparent Select Menus To Create Styled Menu Roots
At work, we use Trello for our project management. It's a super light-weight tool that offers an unopinionated approach to task management. But, more than that, it presents some really cool technical choices. One such choice that I wanted to look at was their use of transparent Select menus.
I am a huge fan of using native form elements whenever possible. So when I saw Trello's approach to Select menus, I got excited. They managed to combine the native functionality of the browser's Select element with the high-design of a custom menu root. They do this by overlaying a transparent Select menu on top of a custom menu root. By doing this, it allows the custom root to be visible to the user while still presenting the native Select menu interactions.
To demonstrate, take a look at this code:
<!doctype html>
<html>
<head>
	<meta charset="utf-8" />

	<title>
		Using Transparent Select Menus To Create Styled Menu Roots
	</title>

	<style type="text/css">

		div.menu {
			position: relative ;
		}

		div.menu div.root {
			background-color: #FF3399 ;
			border-radius: 4px ;
			color: #FFFFFF ;
			font-size: 30px ;
			height: 50px ;
			line-height: 50px ;
			text-indent: 20px ;
			width: 200px ;
		}

		div.menu select {
			border: none ;
			cursor: pointer ;
			height: 50px ;
			left: 0px ;
			opacity: 0 ;
			position: absolute ;
			top: 0px ;
			width: 200px ;
		}
	</style>
</head>
<body>

	<h1>
		Using Transparent Select Menus To Create Styled Menu Roots
	</h1>

	<!-- BEGIN: Menu. -->
	<div class="menu">

		<div class="root">
			Menu ( <span class="value"></span> )
		</div>

		<select name="items">
			<option value="1">1</option>
			<option value="2">2</option>
			<option value="3">3</option>
			<option value="4">4</option>
		</select>

	</div>
	<!-- END: Menu. -->


	<script type="text/javascript" src="//code.jquery.com/jquery-2.1.0.min.js"></script>
	<script type="text/javascript">

		$(function() {

			var dom = {
				menu: $( "div.menu" ),
				root: $( "div.root" ),
				value: $( "div.root span.value" ),
				select: $( "div.menu select" )
			};

			// Echo the initially selected value.
			dom.value.text( dom.select.val() );

			// Echo selected value in the menu DOM.
			dom.select.change(
				function( event ) {

					dom.value.text( dom.select.val() );

				}
			);

		});

	</script>
</body>
</html>

Notice that the Select menu has "opacity:0" and is positioned absolutely over the custom root element. The opacity allows the Select to be hidden while still accepting mouse interactions. As such, when I go to click on the custom menu root, I end up triggering the native Options menu: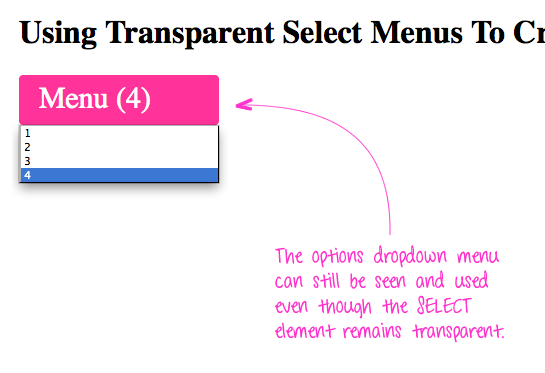 That's pretty cool!
Granted, this kind of combination doesn't work in all situations. But, in some ways, it's the best of both worlds - you get to make the page "pretty" in most situations without having to deal with creating custom dropdowns.
Want to use code from this post? Check out the license.