Creating A JavaScript Shim For Array Unshift() Method
If you write JavaScript, chances are good that you're familiar with the push() and pop() methods of an Array. These methods add and remove items to and from the end of an array, respectively. You might, however, not be as familiar with the unshift() and shift() methods of an Array. These add and remove items to and from the beginning of an array, respectively. Unshift() is a pretty awesome function; so, when I realized yesterday that I tend to use the more complex splice() method in order to achieve unshift() functionality, I was saddened.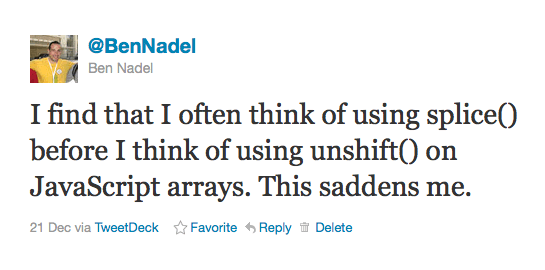 In a response to my tweet, Aaron Cox told me that my instinct was probably good since, according to the W3C Schools website, unshift() is not actually supported in Internet Explorer (IE). Upon some subsequent testing and Googling, however, I found the W3C site to not be so accurate. Other sites do state full browser support; and, testing in my own IE 9 and IETester apps, I failed to find any occurrences where unshift() was not supported.
That said, the functionality of the unshift() method can be easily reproduced using the splice() method. As such, I thought it would be fun to write a quick shim that would implement unshift() support in any browser that didn't support it natively:
<!DOCTYPE html>
<html>
<head>
	<title>Creating A JavaScript Shim For Array Unshift() Method</title>

	<script type="text/javascript">


		// For testing, delete the native unshift method.
		delete( Array.prototype.unshift );


		// -------------------------------------------------- //
		// -------------------------------------------------- //
		// -------------------------------------------------- //
		// -------------------------------------------------- //


		// Check to see if this browser supports the unshift()
		// method of the Array class.
		if (!Array.prototype.hasOwnProperty( "unshift" )){

			// We are working with a partially-disabled browser;
			// let's fill in the unshift() method.
			Array.prototype.unshift = function(){

				// The unshift() method can take N-arguments to push
				// onto the front of the array. We can use splice()
				// under the hood to carry out this funciton. Prepare
				// the splice() arguments by adding two zeros: one
				// for the zero index and one for the delete count.
				Array.prototype.splice.call( arguments, 0, 0, 0, 0 );

				// Splice the "unshifted" values into place.
				Array.prototype.splice.apply( this, arguments );

				// For debuging....
				console.log( "Unshifting...." );

				// Return new length of unshifted array.
				//
				// NOTE: This return value does not seem to be
				// consistent across browsers. Firefox returns an
				// empty array natively.
				return( this.length );

			};

		}


		// -------------------------------------------------- //
		// -------------------------------------------------- //
		// -------------------------------------------------- //
		// -------------------------------------------------- //


		// Create an empty array.
		var collection = [];

		// Push a few items onto the end.
		collection.push( "End1", "End2" );

		// Push a few items onto the beginning using unshift().
		collection.unshift( "Begin1", "Begin2" );

		// Log the result.
		console.log( collection );


	</script>

</head>
<body>
	<!-- Left intentionally blank. -->
</body>
</html>

In this demo, you can see that I am starting out by deleting the native unshift() method. Then, I replace it with my splice()-powered shim. Since splice() can be used to both delete and insert items, unshift() can be thought of as splicing values onto the front of an array.
When we run the above code, we get the following console output:
Unshifting....
["Begin1", "Begin2", "End1", "End2"]
As you can see, this works quite nicely. Necessary or not, this was a fun little snippet of code to write. The splice() method is incredibly powerful, which is why I tend to think of it. If you ever read JavaScript: The Good Parts by Douglas Crockford, you'll actually see a number of Array methods that can be reproduced using the splice() method.
Want to use code from this post? Check out the license.