Sending Client-To-Client Realtime Messages With The PubNub JavaScript Library
Last night, I finally got around to playing with the PubNub JavaScript library. PubNub provides an API for "push" communication that can broadcast textual messages to a wide range of devices including desktop, TV, and mobile. And, unlike some other realtime messaging libraries, PubNub allows clients to communicate directly with each other using nothing more than the PubNub API. The PubNub website appears to have a tremendous amount of information on it (and is, quite frankly, a bit overwhelming); as such, I'm quite sure that my understanding of the service only scratches the surface. With just a little bit of JavaScript, however, I was able to get this demo up and running quite quickly. And, without having to set up any ColdFusion or Node.js servers, the barrier to entry is incredibly low.
NOTE: In the title to this post, the term "client-to-client" is not meant literally; not as in peer-to-peer. I simply meant that the service does not require you to provide an additional server-side entity in order for the publish and subscribe feature to work.
With PubNub, your server-side application needs to be involved only as much as is necessary - the clients can push messages directly to each other. Your server-side application also has the ability to push messages to the clients. And, depending on the type of server you are running, your server-side application can either subscribe to the PubSub API; or, it can request a message history using a more traditional request/response lifecycle.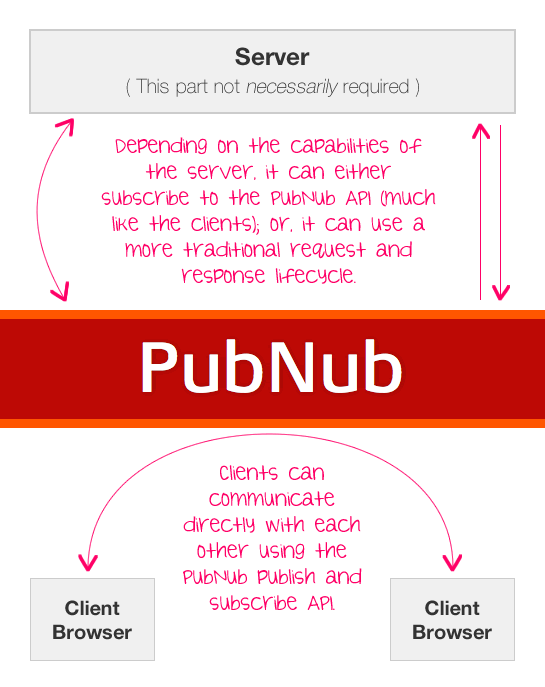 Ok, so that's about as deeply as I understand the PubNub service at this point (which is not even as much information as they have on their FAQ page). But, in about an hour or so, I was able to get a client-to-client demo working, complete with iPhone functionality:
<!DOCTYPE html>
<html>
<head>
	<title>Using PubNub For Publish And Subscribe Communication</title>

	<!-- Mobile viewport configuration. -->
	<meta name="viewport" content = "width=device-width, user-scalable=no" />

	<!-- Chat styles. -->
	<link rel="stylesheet" type="text/css" href="./styles.css" />

	<!-- jQuery. -->
	<script type="text/javascript" src="./jquery-1.6.1.min.js"></script>
</head>
<body>


	<!-- This is simple CHAT - what can I say, it's realtime. -->

	<div class="messageLog">
		<ul>
			<!-- This will be populated dynamically. -->
		</ul>
	</div>

	<form>

		<input type="text" name="message" size="" />

		<button type="submit" disabled="disabled">Send</button>

	</form>


	<!-- --------------------------------------------------- -->
	<!-- --------------------------------------------------- -->
	<!-- --------------------------------------------------- -->
	<!-- --------------------------------------------------- -->


	<!-- PubNub configuration details. -->
	<div
		id="pubnub"
		pub-key="pub-7b6592f6-4ddb-4af6-b1b3-0e74cefe818d"
		sub-key="sub-f4baaac5-87e0-11e0-b5b4-1fcb5dd0ecb4"
		origin="pubsub.pubnub.com"
		ssl="off">
	</div>

	<!--
		Include PubNub from THEIR content delivery netrwork. In the
		documentation, they recommend this as the only way to build
		things appropriately; it allows them to continually update
		the security features.

		NOTE: The PubNub script MUST BE included AFTER the above DIV
		tag that provides the configuration keys.
	-->
	<script type="text/javascript" src="http://cdn.pubnub.com/pubnub-3.1.min.js"></script>

	<script type="text/javascript">

		// This is the user object. Each user has a unique ID that
		// allows it to be differentiated from all other clients on
		// the same subscribed channel.
		var user = {
			uuid: null,
			subscribed: false
		};


		// Cache frequent DOM references.
		dom = {};
		dom.messageLog = $( "div.messageLog" );
		dom.messageLogItems = dom.messageLog.find( "> ul" );
		dom.form = $( "form" );
		dom.formInput = dom.form.find( "input" );
		dom.formSubmit = dom.form.find( "button" );


		// Override form submit to PUSH message.
		dom.form.submit(
			function( event ){

				// Cancel the default event.
				event.preventDefault();

				// Make sure there is a message to send and that the
				// user is subscribed.
				if (
					!user.subscribed ||
					!dom.formInput.val().length
					){

					// Nothing more we can do with this request.
					return;

				}

				// Send the message to the current channel.
				sendMessage( dom.formInput.val() );

				// Clear and focus the current message so the
				// user can keep typing new messages.
				dom.formInput
					.val( "" )
					.focus()
				;

			}
		);


		// I append the given message to the message log.
		function appendMessage( message, isFromMe ){

			// Creat the message item.
			var messageItem = $( "<li />" ).text( message );

			// If the message is form me (ie. the local user) then
			// add the appopriate class for visual distinction.
			if (isFromMe){

				messageItem.addClass( "mine" );

			}

			// Add the message element to the list.
			dom.messageLogItems.append( messageItem );

		}


		// I send the given message to all subscribed clients.
		function sendMessage( message ){

			// Immediately add the message to the UI so the user
			// feels like the interface is super responsive.
			appendMessage( message, true );

			// Push the message to PubNub. Attach the user UUID as
			// part of the message so we can filter it out when it
			// gets echoed back (as part of our subscription).
			PUBNUB.publish({
				channel: "hello_world",
				message: {
					uuid: user.uuid,
					message: message
				}
			});

		};


		// I receive the message on the current channel.
		function receiveMessage( message ){

			// Check to make sure the message is not just being
			// echoed back.
			if (message.uuid === user.uuid){

				// This message has already been handled locally.
				return;

			}

			// Add the message to the chat log.
			appendMessage( message.message );

		}


		// -------------------------------------------------- //
		// -------------------------------------------------- //


		// In order to initialize the system, we have to wait for the
		// client to receive a UUID and for the subscription to the
		// PubNub server to be established.
		var init = $.when(

			// Get the user ID.
			getUUID(),

			// Subscribe to the PubNub channel.
			$.Deferred(
				function( deferred ){

					// When the PubNub connection has been
					// established, resolve the deferred container.
					PUBNUB.subscribe({
						channel: "hello_world",
						callback: receiveMessage,
						connect: deferred.resolve,
						error: deferred.fail
					});

				}
			)

		);

		// When the UUID has come back, prepare the user for use
		// within the system.
		init.done(
			function( uuid ){

				// Store the UUID with the user.
				user.uuid = uuid;

				// Flag the user as subscribed.
				user.subscribed = true;

				// Enable the message form.
				dom.formSubmit.removeAttr( "disabled" );

			}
		);


		// -------------------------------------------------- //
		// -------------------------------------------------- //
		// -------------------------------------------------- //
		// -------------------------------------------------- //


		// NOTE: The following are just PubNub utility methods that
		// have been converted from callback-based responses to
		// deferred-based promises.


		// I get a UUID from the PUBNUB server. I return a promise
		// of the value to be returned.
		function getUUID(){

			// Since the core UUID method uses a callback, we need to
			// create our own intermediary deferred object to wire
			// the two workflows together.
			var deferred = $.Deferred();

			// Ask PubNub for a UUID.
			PUBNUB.uuid(
				function( uuid ){

					// Resolve the uuid promise.
					deferred.resolve( uuid );

				}
			);

			// Return the UUID promise.
			return( deferred.promise() );

		}

	</script>

</body>
</html>

As with all things "realtime," the first demo anyone wants to try out is a chat application. And, since PubNub provides an API that allows for both publish and subscribe functionality to be executed on the client, the above code is the only thing powering this demo.
I tried to write the code in a top-down manner; I'm using jQuery's Deferred objects and management to ensure that the user is fully subscribed and assigned a PubNub-provided UUID before they are allowed to send messages. Then, messages are added to the chat log as they are both sent out (for perceived performance) and received to and from the PubNub API respectively.
Once I got the code working, I tried to create some bi-directional communication between my Mac and my iPhone. And, much to my delight it worked perfectly and with better performance than I would have anticipated. Even when I was using the 3G network, the latency on the iPhone was entirely acceptable.
Here's what the conversation looked like on my Mac: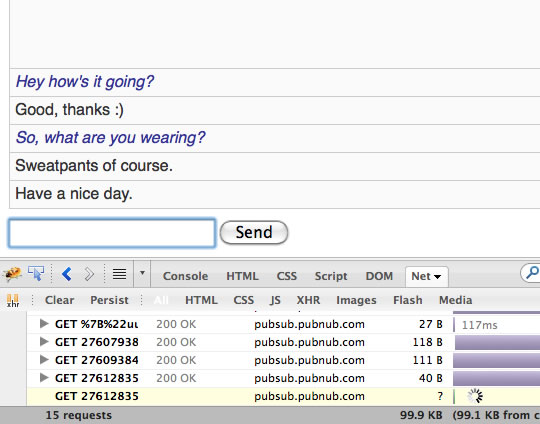 ... and here's what the other side of the conversation looked like on my iPhone: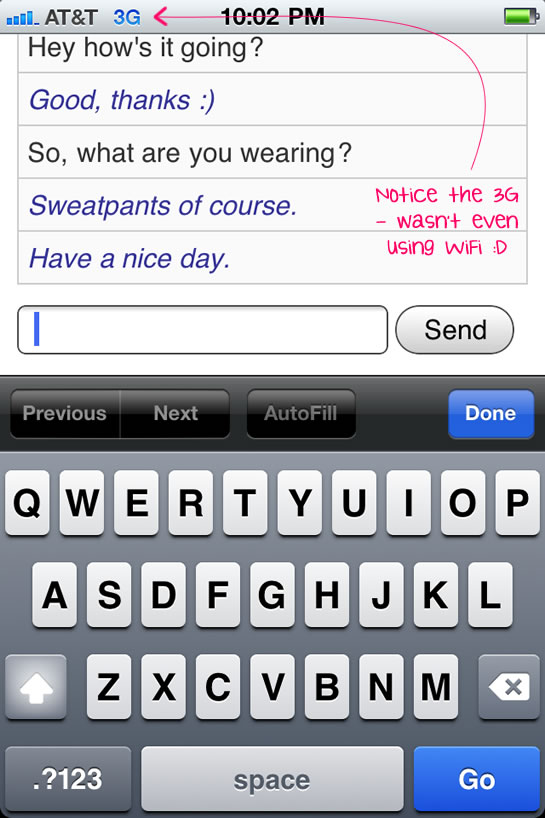 One thing that was especially interesting on the iPhone was that the messages appeared to sync up even after the mobile Safari browser was no longer in use. So, if I put the phone to sleep or if I exited the browser in order to use another application, any back-logged messages appeared to sync to the phone once the browser was re-focused. Pretty cool!
Overall, the PubNub service and JavaScript library appear to be quite promising. The thing that I found most frustrating about putting this together was the PubNub website. It's just a tab bit overwhelming. There's a huge number of links and demos; but, at the same time, there doesn't appear to be any consolidated documentation. For example, what's with that "pubnub" DIV in my demo? Honestly, I have no idea - that's just how one of their tutorials worked. Even the pricing is unclear. It seems that there is a certain amount of free broadcasting that one can perform (which is awesome for developers looking to dive in); but, I wasn't sure how to quantify it, nor did I really see how my credits related to my demo activity.
That said, the PubNub website definitely leaves you with the feeling that this realtime platform is no joke. It looks like they've put a tremendous amount of effort into putting it together and I'm looking forward to playing with it some more.
Want to use code from this post? Check out the license.