In The Spirit Of B. Virdot - A Small Gift For A Few Families In Need
Over the weekend, I watched a piece on CBS Sunday Morning news that brought me to tears. In it, Rita Braver covered a story about a benefactor from the Great Depression who gave small gifts to families in need such that even in the worst of times, those families would be able to give their kids a "merry and joyous Christmas." As Ted Gup - grandson of this benefactor - explains, "It wasn't going to reverse the momentum of the Great Depression; but it could reverse the feeling of isolation and abandonment for these familes."
Right now, I can't do too much; but, I know that I can do something. As I am getting ready to pay my quarterly taxes, I am happy to have found out that I have saved about a thousand dollars too much. In the spirit of B. Virdot and my love of the holiday season and all that is romantic, I want to share my unexpected abundance with a few families in need.
I will give out ten $100 Amazon gift cards ( see update below ) to families that specifically cannot provide their children with presents this year. I have no idea how I will select those families; but if you are in need or know someone in need, please tell me your story: ben@bennadel.com. Please make the subject line read: "B. Virdot".
I will make my selection on Dec 10th such that plenty of time will be left to order gifts for the youngsters.
May we all have a joyous and wonderful holiday season!
IMPORTANT UPDATE: As Joe Kelly rightly pointed out, not everyone has computers or can even make use of an Amazon gift card. I had just thought of that one because I live online (it's what I do). We can just as easily do a Target or Walmart gift card or even something like an American Express gift credit card for ultimate flexability. The medium of delivery should not be the thing that stops this from happening - you help me find people and we'll make this happen!!
IMPORTANT UPDATE: After I posted this entry, not only was I flattered by people's kind words, I was also thrilled that some people wanted to climb up on this margic carpet ride. Somehow, it reminds me of the movie Scrooged with Bill Murray. If you've not seen it... what's up with that? Watch it immediately :) Anyway, in it, Bill Murray's character has an epiphany about the Christmas season: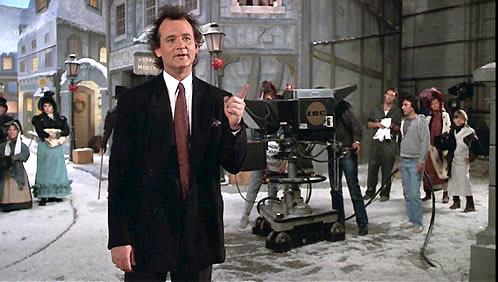 I'm not crazy. It's Christmas Eve. It's the one night when we all act a little nicer. We...we smile a little easier. We...we...share a little more. For a couple of hours we are the people we always hoped we would be. It's really a miracle because it happens every Christmas Eve. And if you waste that miracle, you're gonna regret it. I know.
You have to do something. You have to take a chance and get involved. There are people that don't have enough to eat and who are cold. You can go and greet these people. Take an old blanket out to them or make a sandwich and say, "Here."
I get it now. And if you give, then it can happen, the miracle can happen to you. Not just the poor and hungry, Everybody's gotta have this miracle! It can happen tonight for you all! If you believe in this pure thing, the miracle will happen and you'll want it again tomorrow! You won't say, "Christmas is once a year and it's a fraud." It's not!
It can happen every day! You've just got to want that feeling! You'll want it every day! It can happen to you! I believe in it now. I believe it's gonna happen to me, now. I'm ready for it! And it's great. It's a good feeling. It's better than I've felt in a long time.
I bring this scene up because Murray's character was deeply touched by the spirit of the season, just as I have been deeply touched by people's kind words and their desire to help. I wanted to give special thanks to the following people who have asked to participate in this act of giving:
Anthony Webb - Gift Card Donor
Anthony lives in Idaho with his wife and 3 boys. He has been a ColdFusion developer since version 4 and has built and sold several successful companies over the course of his career. Recently, he sold IMified to Voxeo/Tropo and now concentrates on running a consulting group that specializes in Web and Mobile solutions. Anthony loves the ColdFusion community and aims to become a more vocal community member through Twitter (@anthonywebb) and other community-based outlets.
Thanks Anthony! We'll have to get a good thumbs-up photo together soon!
Darren Walker - Financial Donor

Playfully referred to as New Zealand's fourth favorite comedy ColdFusion folk web developer, Darren Walker is a web application developer with over 10 years of programming experience. Whether it's in ColdFusion, Java, .NET, FLEX, ActionScript, or Javascript, Darren has the right tools to meet your technical demands. Darren discusses his web adventures on Twitter (@bayornet) and his blog. He will also be presenting at the upcoming Scotch On The Rocks conference in Scotland.
Thanks Darren! Looking forward to hanging out with you in Edinburgh.