jQuery Selectors - The Firebug Plugin Inserts A Hidden DIV Element
Last night, I was testing out someone's jQuery queue() and dequeue() code and I had a bug that was just driving me crazy; no matter how simple I made my test, my queued callbacks kept firing twice. To give you some insight into how simple my code was, take a look at this demo:
<!DOCTYPE html>
<html>
<head>
	<title>Hidden FireBug DIV</title>
	<script type="text/javascript" src="jquery-1.4.2.js"></script>
	<script type="text/javascript">

		// When the DOM is ready, interact with DOM.
		$(function(){

			// Get our testing DIV.
			var div = $( "div" );


			// Create and add a callback to your div's queue.
			div.queue(
				"testQueue",
				function( next ){

					// Simply log that the callback has fired.
					console.log( "Queued item fired!" );

				}
			);


			// Initiate the dequeuing.
			div.dequeue( "testQueue" );

		});

	</script>
</head>
<body>

	<h1>
		Hidden FireBug DIV
	</h1>

	<div>
		This is my defined div!
	</div>

</body>
</html>

As you can see, there's almost nothing going on here; when the DOM is ready, I grab the one defined DIV element, queue up a single callback, and then initiate its dequeuing. I'd expect the single queued callback to execute and be done with it. When I run this code, however, I get the following console output in Firebug: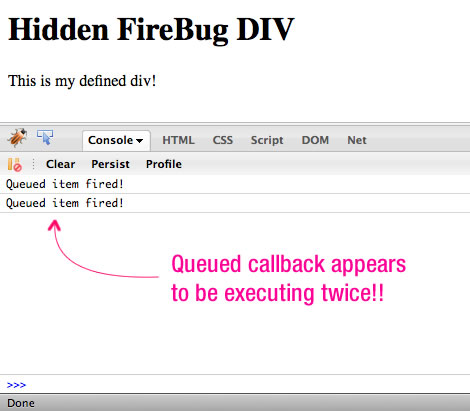 As you can see, jQuery appears to be executing my queued callback twice.
This behavior had me stumped for a good 15 minutes. I tried everything from rewriting the entire demo to searching through the jQuery source code for a queuing bug. Then, finally, I had to the bright idea to double-check the jQuery collection on which I was acting. To do this, I went into the Firebug runtime command line and executed my jQuery selector:
When I did this, I got the following output: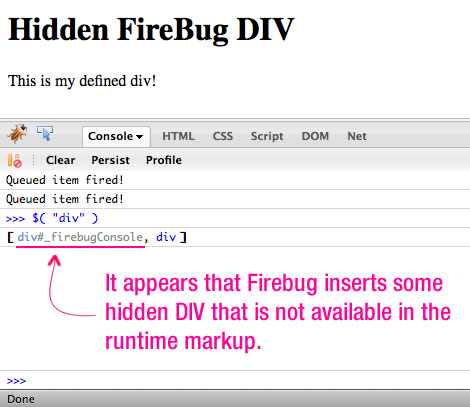 As you can see, when we query the DOM for our "DIV" element, we get back our explicitly defined node plus a hidden one that is added by the Firebug plugin. What's odd is that I can't find that Firebug DIV anywhere in the markup. When I log its parent element, I get "HTML"; however, when I inspect the runtime markup, there is nothing but a HEAD and BODY tag contained within the HTML.
NOTE: This happens regardless of whether or not the Firebug console is actually open.
Normally, this would not be a problem since we very rarely query the DOM for an unqualified DIV element; however, when testing code, it's definitely going to be good to know that Firebug is adding its own hidden markup to the DOM tree.
Want to use code from this post? Check out the license.