From Windows To Mac - A Roller-Coaster Of Emotions
Yesterday morning, I walked into my office to find that my Lenovo / Windows XP Pro machine was frozen in the "shutting down" state; no doubt something was updated overnight that rendered the machine unstable. Upon trying to manually reboot the machine, I ended up with nothing by a black screen and a white mouse pointer. Rebooting again, this time into the ThinkVantage startup application, I was told that critical boot files were missing. Unfortunately, ThinkVantage was not able to restore those boot files (although it certainly kept telling me that it could).
When I told Clark Valberg about my situation, he suggested that it would be the perfect time to make the switch over to a Mac. And so it went, we headed up to the Apple store, found a decent MacBook Pro, and took the plunge: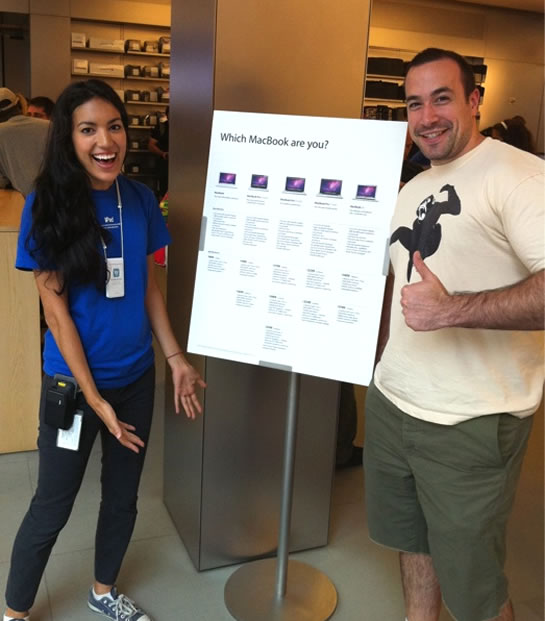 There's no doubt that Apple computers are beautiful. In fact, pretty much all Apple products are thoroughly designed and aesthetically stunning. Even as a traditional PC user, I can testify that my iPhone and my iPad are a
thing of beauty. But, as the cliche goes, beauty is only skin deep; the real challenge is extending that beauty into the realm of the five senses.
That said, the last 24 hours have been.... interesting to say the least. By 11PM last night - 12 hours after initial Mac contact - I felt like I had been punched in the face then air-dropped into a hostile jungle; I was tired, disoriented, and feeling quite a bit of pain. It was as if I had suddenly stepped into Adrien Brody's role as Royce, only without the company of Alice Braga - the actress from Repo Men.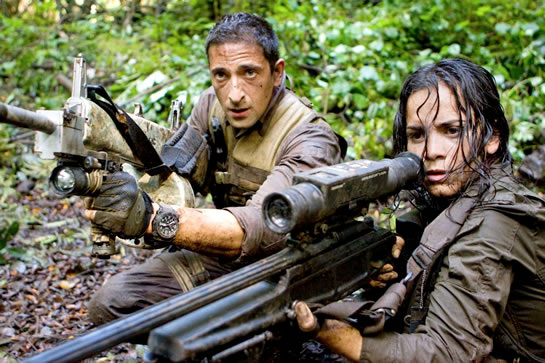 By the time I woke up this morning - 19 hours after initial Mac contact - I was starting to feel a bit more relaxed; my jaw was still clenched of course, but at least I was getting used to my new surroundings. I was able to install multi-instance versions of ColdFusion 9 and ColdFusion 8 (EAR files) on my own as well as configure the built-in Apache server to point to a central "Sites" directory. Jamie Krug then helped me figure out how to connect both ColdFusion instances to Apache via the wsconfig tool.
And - wait for it - I'm finally using ColdFusion Builder! Unless I can get Homesite installed on a virtual machine -- just kidding.
So far, here's what I have installed on my machine:
ColdFusion 8
ColdFusion 9
ColdFusion Builder
Apache (default install, configured)
MySQL
Navicat (MySQL client)
Jing (Screen capture)
CreativeSuite 5 (CS5)
Chrome
FireFox
Adium (IM client)
Skype (Voice over IP)
TweetDeck
ForkLift (FTP, S3, etc.)
CoRD (Remote desktop client)
JungleDisk (Backup software)
QuickSilver (Launcher utility)
After getting all of these applications installed, the most important thing that I've learned so far is that the ColdFusion Community simply rocks!! And I don't mean just a little bit of rocking - I mean y'all rocked me right out of my own socks! I cannot get over how helpful and enthusiastic people have been about giving me advice. I couldn't post a "n00b" question on Twitter without getting helpful responses from at least 20 different people. If I didn't respond to you personally, it was only because I was overwhelmed with how much support I was receiving. I might be conflicted about switching from PC to Mac; but, at least I know that I'll be bringing all of you with me on this overly anti-aliased journey.
Now, 9PM - 30 hours after initial Mac contact - I am fully up and running. I might not totally understand how it all works, but at least I am at the point where I can be productive. To my surprise, the one feature I always thought I would love - Spaces - is one of the first features that I felt I had to disable. Transitioning from space to space was very disorienting. Something about the animation or the timing totally threw me off; I would get to the target space and suddenly forget what I was doing.
At first, I thought maybe I just didn't have the cognitive modeling power to keep so many spaces in my head. But upon reflection, I think it might just be the total opposite. Years of Alt-Tabbing have forced me to expect instantaneous interface changes; and now that there's a relatively long animation between space positioning, the machine can no longer keep up with the model I have in my head. I think it's this lag that's throwing me off. After all, minus the animation, there's no real difference between Alt-Tab and swapping spaces.
Anyway, now I'm back to one screen and Alt-Tabbing - er'um Command-Tabbing - with joy. I still don't like the fact that Mac draws a hard distinction between swapping applications (Command-Tab) and swapping windows (Command-Tilda). In the digital age with the prevalence of the "Cloud," this distinction feels very much like an archaic approach to system navigation. As a web developer, I feel like Macs have, and continue to, miss the mark on this behavior. When I'm programming, I'm never in one application or the other - I'm constantly Command-Tabbing from editor, to development browser, to email browser, to R&D browser, to finder, to graphics program, and then back. I don't think in terms of browsers - I think in terms of windows. I use a "stack" of software and every layer of that stack is crucial.
We'll see how strongly I feel about this in a few weeks.
Thanks again to everyone who has helped me get this far. I know Mac users simply rave about how awesome their machines are; so, I am truly excited to get to know this beast a bit better. Hopefully, over the next couple of months, this will start to feel more natural. And, who knows - I might even have some advice of my own to offer one day.