Is Simulating User-Input Events With jQuery Ever A Good Idea?
The other day, I was having a discussion with Ryan Jeffords about programmatically simulating user-based input events with jQuery. Ryan was in the middle of building a very rich, very dynamic user interface for an eCommerce system's price adjuster module when he hit a bit of snag trying to programmatically simulate a user's click event on a checkbox. As I blogged about a while back, when you simulate a click() event on a checkbox, the checkbox's "checked" status does not actually change until after your event handler has executed. This is very different from a user-triggered checkbox click event in which the checkbox's "checked" status changes prior to the event handler execution.
After discussing the possible work-arounds to this problem, I start to think about simulating user-based input events in general. Checkboxs happen to cause a problem because of their state; but, state aside, is simulating user-based input events ever a good idea? Before we get into that discussion, let's take a quick look at what it means to programmatically simulate a user-based input event.
In the following demo, I have a paragraph of information that the user can show and hide by clicking on certain links:
<!DOCTYPE HTML>
<html>
<head>
	<title>Simulating User-Generated Events In jQuery</title>
	<style type="text/css">

		#more-info {
			background-color: #F0F0F0 ;
			border: 1px solid #CCCCCC ;
			display: none ;
			padding: 15px 15px 15px 15px ;
			width: 400px ;
			}

	</style>
	<script type="text/javascript" src="../jquery-1.4.js"></script>
	<script type="text/javascript">

		// When the DOM is ready, initialize scripts.
		jQuery(function( $ ){

			// Get references to our links.
			var toggleLink = $( "#toggle" );
			var closeLink = $( "#close" );

			// Get a reference to our more-info container.
			var moreInfo = $( "#more-info" );


			// Bind the toggle link so that it toggles the more
			// info box's visibility.
			toggleLink.click(
				function( event ){
					// Cancel default event (navigation).
					event.preventDefault();

					// Slide toggle the more info container.
					moreInfo.slideToggle( 500 );
				}
			);

			// Bind to the close link. Since this will only be
			// available when the more-info is open, we can
			// leverage the toggle link.
			closeLink.click(
				function( event ){
					// Cancel default event (navigation).
					event.preventDefault();

					// Trigger the click event on the toggle link.
					// This will simulate the user clicking on the
					// toggle link directly.
					toggleLink.click();
				}
			);

		});

	</script>
</head>
<body>

	<h1>
		Simulating User-Generated Events In jQuery
	</h1>

	<p>
		<a id="toggle" href="#">Click here</a> for more info.
	</p>

	<p id="more-info">
		Wow! Did you see Joanna yesterday? Should it even be
		allowed for someone to be looking that good? It seems
		rather unfair to the rest of us who are trying to
		concentrate.... <a id="close" href="#">Close</a>
	</p>

</body>
</html>

As you can see in the above code, the paragraph of information starts off closed and the page has a primary "Toggle" link. If the user clicks this toggle link, it will show the paragraph if it is hidden and hide it if it is visible. Once the paragraph is made visible, the user has the option to click another "Close" link contained within the paragraph. This close link simply turns around and programmatically triggers a click() event on the Toggle link. Since the close link is only available when the paragraph is open, triggering a click() event on the toggle link will successfully close the paragraph.
At first glance, this looks really awesome; we're centralizing are client-side business logic in a single method (the toggle link event handler) and then we're invoking that business logic in several different places. It appears that we're keeping our code DRY (Don't Repeat Yourself) and making good use of code reuse. But, is that really what we're doing? Let's take a step back and think about "intent."
Every time a user interacts with the browser, the user is acting on some internal intent; they click a button or a link because they believe that the button or link click will precipitate some desired response. In that case, it is the browser's responsibility to translate the user's intent into some action. With intent in mind, let's think about the first demo - when the user clicked the "Close" button, did they intend for the paragraph to "toggle", or to "close?"
Clearly, because the "close" link is labelled "close", the intent of the user was to close the paragraph; it was not to "toggle" the paragraph as that would imply some possibility that the close button would ever do anything other than close the paragraph. That said, does it make sense that our Close link simulates a click() event on the Toggle link? It does by coincidence, but certainly not by intent.
So the real question becomes, do you want your code to work by coincidence? Or by intentful design?
The more I think about it, the more it becomes clear that the role of the event handler is simply to translate the intent of the user-based input event into calls made against the core API of the current page or piece of software.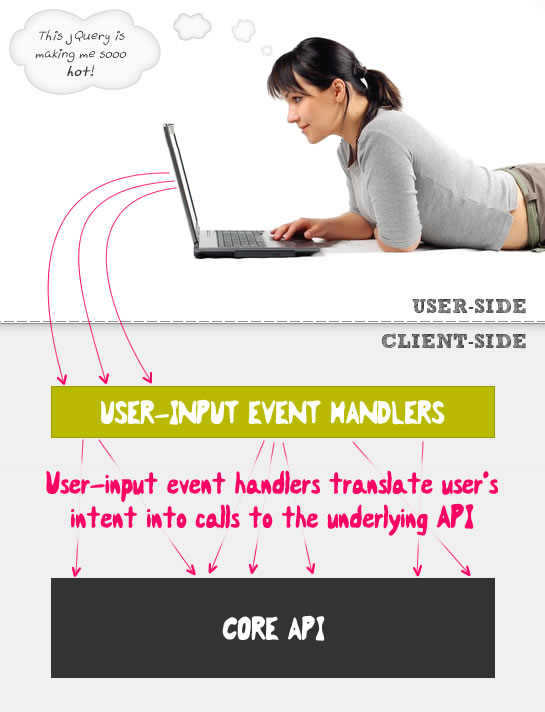 This has more of a benefit that pure personal satisfaction; when you code in this manner, your software becomes less susceptible to bugs. Taking the first demo again, imagine that this page had been live for a while and then needed to be updated. A programmer comes along and sees the "Click here for more info" link and decides that that link shouldn't toggle the paragraph, it should only open it since the language on the page makes no mention of "toggle". As such, he changes the toggle link event handler to simply open the paragraph. At this point, our page breaks because the Close link piggybacked by the toggling nature of the, now-altered "click here" link.
If the event handlers' only action had been to translate the intent of the user into API-based actions, then altering the Toggle link would not have caused a problem.
With this new outlook in mind, let's factor the "intent" out of the event handlers and leave the event handlers as mere translators of said intent.
<!DOCTYPE HTML>
<html>
<head>
	<title>Simulating User-Generated Events In jQuery</title>
	<style type="text/css">

		#more-info {
			background-color: #F0F0F0 ;
			border: 1px solid #CCCCCC ;
			display: none ;
			padding: 15px 15px 15px 15px ;
			width: 400px ;
			}

	</style>
	<script type="text/javascript" src="../jquery-1.4.js"></script>
	<script type="text/javascript">

		// When the DOM is ready, initialize scripts.
		jQuery(function( $ ){

			// Get references to our links.
			var toggleLink = $( "#toggle" );
			var closeLink = $( "#close" );

			// Get a reference to our more-info container.
			var moreInfo = $( "#more-info" );


			// ---------------------------------------------- //
			// ---------------------------------------------- //

			// These functions will act as our very simple
			// page API.


			// I open the more info container.
			var openMoreInfo = function(){
				moreInfo.slideDown( 500 );
			};

			// I close the more info container.
			var closeMoreInfo = function(){
				moreInfo.slideUp( 150 );
			};


			// ---------------------------------------------- //
			// ---------------------------------------------- //


			// Bind the toggle link so that it toggles the more
			// info box's visibility.
			toggleLink.click(
				function( event ){
					// Cancel default event (navigation).
					event.preventDefault();

					// Check to see if the container is currently
					// open. If it is, close container, otherwise
					// open it.
					if (moreInfo.is( ":visible" )){

						// Close it.
						closeMoreInfo();

					} else {

						// Open it.
						openMoreInfo();

					}
				}
			);

			// Bind to the close link.
			closeLink.click(
				function( event ){
					// Cancel default event (navigation).
					event.preventDefault();

					// Close the more info container.
					closeMoreInfo();
				}
			);

		});

	</script>
</head>
<body>

	<h1>
		Simulating User-Generated Events In jQuery (v2)
	</h1>

	<p>
		<a id="toggle" href="#">Click here</a> for more info.
	</p>

	<p id="more-info">
		Wow! Did you see Joanna yesterday? Should it even be
		allowed for someone to be looking that good? It seems
		rather unfair to the rest of us who are trying to
		concentrate.... <a id="close" href="#">Close</a>
	</p>

</body>
</html>

In the above code, you can see that we took the slide open and close actions and factored them out into API methods, openMoreInfo() and closeMoreInfo(). Our event handlers now act as links between the user's input event and these new API methods. It's a little more code, but in doing this, I believe that our event handlers become both more closely aligned with the user's intent as well as more resistant to changes in the event handler layer.
Simulating user-based input events is an attractive idea in our software because it works; but, when it is done to make something work merely by coincidence, as in our first demo, I believe that this feature is being abused and can quickly come back to bite us (as in the checkbox-click-simulation problem). This makes me question - is there ever a good time to simulate user-based input events (outside of truly simulating a user for testing purposes)? Right now, I can't think of one.
Want to use code from this post? Check out the license.