Using jQuery To Detect CSS-Based Table Display Capabilities
Yesterday, I started to play around with CSS-based table displays for my "Best of ColdFusion 9" contest entry. Based on some very brief testing, it appears, as expected, that Internet Explorer (IE) is the only browser that I have that doesn't support CSS-based table displays. This is something that I might ordinarily deal with via browser-sniffing; but, I believe with the future releases of jQuery, the jQuery team wants us to move away from browser-sniffing and move more towards capability-sniffing.
The difference between browser-sniffing and capability-sniffing is that capability-sniffing checks for individual pieces of functionality rather than entire sets of functionality. The benefit to this approach is that it allows for browsers to be partial upgraded (adding support for some functionality) without breaking the code. With this approach in mind, I wondered if I could programmatically detect CSS-based table display support.
While this was not extensively tested (I only have a few different browsers), it appears that you can detect support for CSS-based table displays by gathering the markup of elements that contain inline table CSS and checking it for the inline CSS; the theory here is that non-supporting browsers will strip out the unsupported table-CSS:
<!DOCTYPE HTML>
<html>
<head>
	<title>
		Detecting CSS-Based Table Display Support With jQuery
	</title>
	<style type="text/css">

		div.table {
			display: table ;
			width: 100% ;
			}

		div.table-row {
			display: table-row ;
			}

		div.table-cell {
			display: table-cell ;
			}

		div.first-table-cell {
			background-color: #E0E0E0 ;
			width: 50% ;
			}

		div.last-table-cell {
			background-color: #FFE0E0 ;
			width: 50% ;
			}

		/* -- Fixes for non-Table support. -- */

		div.table-fix {
			display: block ;
			}

		div.table-fix div.table-row {
			display: block ;
			}

		div.table-fix div.table-row:after { content: "."; display: block; height: 0; clear: both; visibility: hidden; }
		div.table-fix div.table-row { display: inline-block; }
		/* required comment for clearfix to work in Opera \*/
		* html div.table-fix div.table-row { height:1%; }
		div.table-fix div.table-row { display:block; }

		div.table-fix div.table-cell {
			display: block ;
			float: left ;
			}

	</style>
	<script type="text/javascript" src="jquery-1.3.2.js"></script>
	<script type="text/javascript">

		// Check to see if this browser supports CSS-based Table
		// layout displays.
		var supportsCSSTableLayout = (function( $ ){

			// Create nodes with the table-based display values.
			var tableLayoutTest = $(
				"<div>" +
					"<div style=\"display:table;\"></div>" +
					"<div style=\"display:table-row;\"></div>" +
					"<div style=\"display:table-cell;\"></div>" +
				"</div>"
			);

			// Get the HTML for the above node and gather all
			// "table" type displays from the markup (IE browsers
			// will strip that out of the markup if they do not
			// support it.
			var tableMatches = tableLayoutTest.html().match(
				new RegExp(
					"table(-(row|cell))?",
					"gi"
				)
			);

			// Return true if all three table-based displays were
			// found in the markup.
			return(
				(tableMatches && (tableMatches.length == 3)) ?
				true : false
			);

		})( jQuery );


		// -------------------------------------------------- //
		// -------------------------------------------------- //


		// When the DOM is ready to be interacted with, init.
		jQuery(function( $ ){

			// Output whether or not CSS table display is supported.
			$( "#has_support" ).text( supportsCSSTableLayout );

			// If there is no CSS-based table display support,
			// then add the fix to the table elements.
			if (!supportsCSSTableLayout){

				$( ".table" ).addClass( "table-fix" );

			}

		});

	</script>
</head>
<body>

	<h1>
		Detecting CSS-Based Table Display Support With jQuery
	</h1>

	<p>
		Supports CSS Table Display:
		<strong id="has_support">...</strong>
	</p>

	<div class="table">
		<div class="table-row">

			<div class="table-cell first-table-cell">
				Cell 1
				<br />
			</div>

			<div class="table-cell last-table-cell">
				Cell 2

				<!--- Add breaks here to grow cell. --->
				<br /><br /><br /><br /><br /><br />
			</div>

		</div>
	</div>

</body>
</html>

As you can see in the above code, I am creating three DIV elements, each with a different table-display property. I then grab the markup of those DIV elements and see if I can extract all three table-display properties. If I can, I am assuming that table-display is supported.
Here's me running the above code in FireFox (or Safari, or Chrome), which supports CSS-based table display: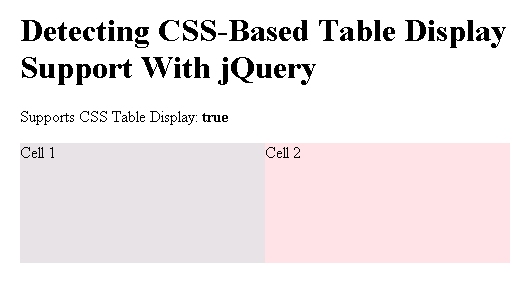 And, here's me running the above code in Internet Explorer 7, which does not support CSS-based table display: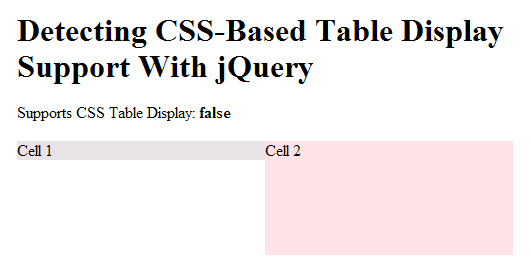 As you can see, the support for CSS-based table display was detected effectively. But again, I have not tested this exhaustively; however, I believe this is a similar approach to feature-detection that the future releases of jQuery will be using.
Want to use code from this post? Check out the license.