jQuery Live() Method And Event Bubbling
Recently, there has been a lot of talk in the development community about jQuery's new live() event method. People are just in love with it. If you have not heard of jQuery's live() method, it's an event delegation mechanism that allows you to bind event handlers not just to all existing instances of a given node type, but also to any future instances of a given node type (by "type" I mean a set of DOM nodes matched by a given jQuery selector). This is a very cool thing, both from a development standpoint as well as from a memory and performance standpoint; but, if you don't understand how the live() method works, you might get yourself into trouble.
While there is a magical quality to it, under the hood, jQuery's live() method is quite practical. Rather than binding an event handler directly to a given node set, the live() method works by binding event handlers to the document itself and then reacting to all the events that bubble up through the DOM. The actual wiring mechanism is a bit more complicated than that, but in general, you can think of the essence of the live() event cycle as follows: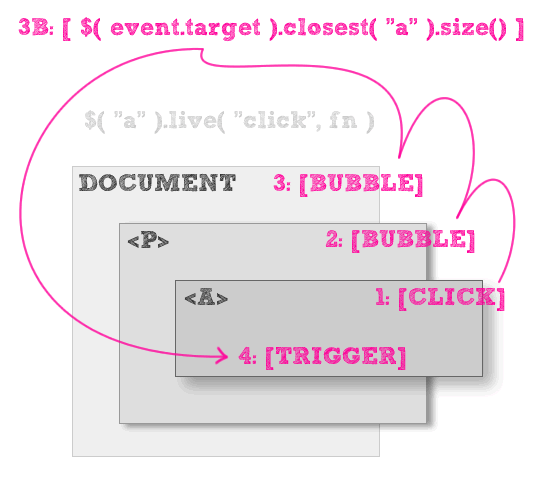 As you can see, the click event on the "A" element bubbles up to its parent element, "P," and then on to its ancestor, the document. At the document level, jQuery then checks the event target against the selector used to define the live() event. If the target matches the selector (or close enough), jQuery then triggers the event handler in the context of the target element.
This event cycle is excellent for event delegation but, it comes with a cost; because it relies completely on the ability for the given event to bubble up to the document object, it is imperative that the bubbling remains in tact. If the event bubbling breaks anywhere within the ancestor chain, the live-bound event handlers will not be triggered. To see this problem in action, take a look at this demo:
<!DOCTYPE HTML>
<html>
<head>
	<title>jQuery Live() Method And Event Bubbling</title>
	<script type="text/javascript" src="jquery-1.3.2.js"></script>
	<script type="text/javascript">

		jQuery(function( $ ){

			// Bind click events to links. This will bind a click
			// handler to all current links as well as all new
			// links added to the page.
			$( "a" ).live(
				"click",
				function( event ){
					alert( "Link clicked!" );
				}
			);

			// Cancel all click events off of paragraphs.
			$( "p" ).click(
				function(){
					return( false );
				}
			);

		});

	</script>
</head>
<body>

	<h1>
		jQuery Live() Method And Event Bubbling
	</h1>

	<p>
		I am a paragraph that contains a <a href="">link</a>.
	</p>

	<p>
		I am a paragraph that contains a <a href="">link</a>.
	</p>

	<p>
		I am a paragraph that contains a <a href="">link</a>.
	</p>

</body>
</html>

Looking at the code above, can you see what will happen with one of the "A" tags is clicked?
Nothing.
If you look at the code, you will see that we are using jQuery's live() method to bind a click handler to all the "A" elements. We are also directly binding a click handler to all of the "P" elements. The P-based click handler listens for the click event and then prevents it from being propagated (bubbling up). Now, even though each "P" element is an ancestor of each "A" element, because the live() method depends on event bubbling, the stop-propagation directive kills the live event.
jQuery's live() event method is definitely useful; but, unless you understand how it's working, things can start to fail quite quickly and for no obvious reason.
Want to use code from this post? Check out the license.