Default To The Numeric, Email, And URL Keyboards On The iPhone
A long time ago, it used to work on the iPhone Safari browser that if your form inputs had the term "zip" or "phone" in the form field name, clicking on it would default the resultant iPhone keyboard to a numeric keyboard. While this forced us to use some really poor naming conventions, it increased the usability of our web-based iPhone applications in a very palpable way, removing unnecessary clicks for data entry. Unfortunately, this feature was lost somewhere among the many subsequent iPhone firmware updates.
It felt like all was lost and there was no hope... until now. Dorinake, in the comments of my previous post, just explained that if he changed the Type attribute of his form inputs to "number" then he would get the numeric keyboard on the iPhone browser. I also confirmed this, and after doing a bit more testing, it looks like the iPhone now (in the latest firmware updates) supports a small sub-set of the HTML 5 input types:
To test this, I set up a tiny sample page to see how each of these input Types would default the keyboard on the iPhone:
<!DOCTYPE html PUBLIC "-//W3C//DTD XHTML 1.0 Transitional//EN" "http://www.w3.org/TR/xhtml1/DTD/xhtml1-transitional.dtd">
<html>
<head>
	<title>Defaulting The iPhone Keyboard To: Number, Email, Url</title>
</head>
<body>

	<h1>
		Defaulting The iPhone Keyboard To: Number, Email, Url
	</h1>

	<form>

		Type="Number":<br />
		<input type="number" /><br />
		<br />

		Type="Url":<br />
		<input type="url" /><br />
		<br />

		Type="Email":<br />
		<input type="email" /><br />

	</form>

</body>
</html>

As you can see, the Type attributes of the above Input fields are Number, Url, and Email respectively. When I open this page on my iPhone browser and click on the individual form fields, here are the keyboards that I get:
iPhone Input Type="Number"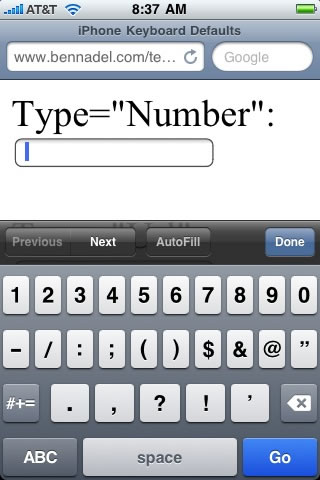 iPhone Input Type="Url"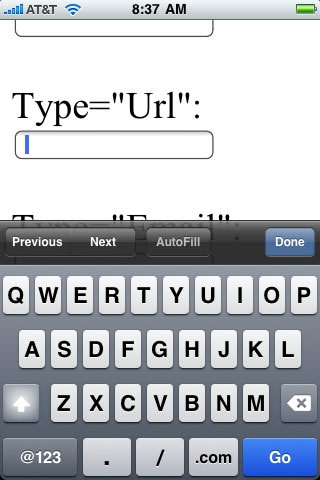 iPhone Input Type="Email"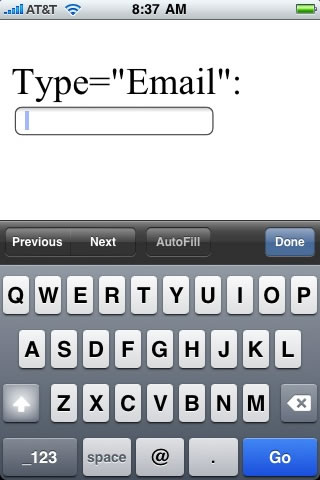 This is so awesome! And, what's great is that any browser that doesn't recognize these new HTML 5 input types will simply treat the input as a Text input. As such, this is completely backwards compatible. After discussing this insight with some people, it seems that even on the some of the most up-to-date phones, there are people who are not seeing the appropriate keyboards; we're not sure why this is happening but, there's certainly no harm in putting in the appropriate input types in the meantime.
Want to use code from this post? Check out the license.