Using Super Constructors Is Critical In Prototypal Inheritance In Javascript
I like to think that I have a pretty decent understanding of the inheritence mechanisms available in Javascript. But last night, I started reading Pro Javascript Design Patterns by Ross Harmes and Dustin Diaz and I discovered that there were some glaring omissions in my understanding of how prototypal inheritence works. First off, I just want to give the book a huge shout out because Pro Javascript Design Patterns explains prototypal inheritence better than anything else that I have read in other books or on the web; their explanations are very thorough and well articulated. And I'm only through chapter 4 - I'm sure the next 13 chapters are gonna be page turners!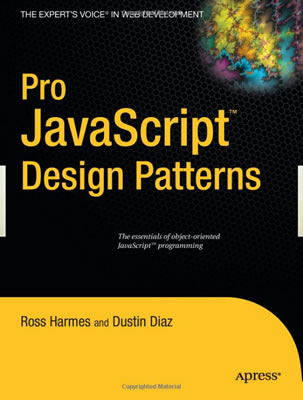 To understand my misunderstanding, it is first important to get a quick understanding of what prototypal inheritence is. In Javascript, everything is an object. And, each object is part of a prototype chain. Each object in a prototype chain defines a "prototype" of the object below it. By "prototype", what I mean is that it defines a default of what the next object should look like. To help visualize this, I have created the following graphic: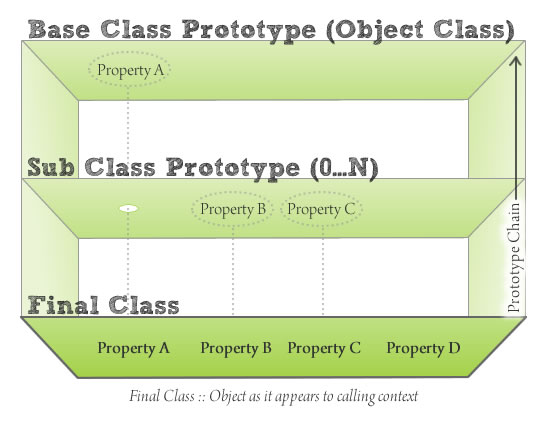 As you can hopefully see from the graphic, the final class, as seen by the outside world, appears to have all of the properties defined within the entire protoype chain. When I say "appears", I mean that while it seems as though the final class has all of these properties, it does not actually contain them. Behind the scenes, what happens is that when you access a property on the final class, Javascript will keep moving up the prototype chain in search of the requested property until it finds it (in which case it returns the value) or until it hits a null prototype, in which case it returns undefined (or throws an error).
At first glance, this might seem like inheritence as you know it in other languages; but, there is one huge caveat! In typical inheritence, each sub-class gets a copy of its base class. In prototypal inheritence, on the other hand, for each set of sub-classes, there is but one single prototype instance and each sub-class merely gets a pointer to that prototype (base class).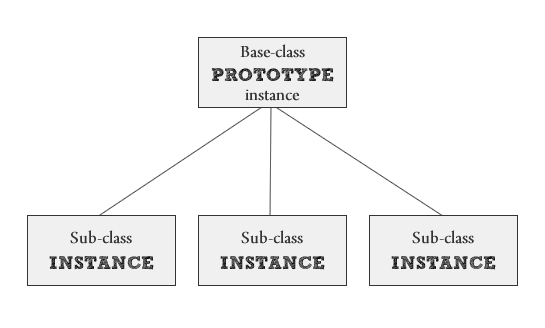 Normally, this doesn't matter to us because 95% of inheritence is method-based; meaning, we use inheritence to factor out common methods into base classes so that they don't have to be redefined in all of our sub-classes. It's the other 5%, the property-based inheritence, that can really trip us up if we don't fully understand prototypal inheritence. And of this 5%, really, the only tricky part involves complex property values.
Simple pass-by-value properties, such as strings and numbers never cause a problem because of the asymmetrical reading and writing of properties in the prototype chain. This is the part I didn't understand at all until I started reading Pro Javascript Design Patterns. See, when you read a property from an object, it travels up the prototype chain looking for it (see diagram above). But, when you write a property to an object, Javascript always writes it directly to the sub-class (not back into the object prototype). In doing this, Javascript allows each sub-class to leverage the default values defined in its prototype chain while maintaining a separate, unique set of instance values when it updates properties.
While this is an amazing architecture for memory conservation, we run into problems when we read and update complex pass-by-reference properties defined in our prototype chain. When you read a complex object property, Javascript climbs the prototype chain looking for it as normal. But, because the object is pass-by-reference, it doesn't return a copy of it; rather, it returns a reference to the original object contained in the Prototype. When you then update a key within that object reference, you are altering the Prototype itself. And, since each instance in a set of sub-classes points to the same Prototype instance (see diagram above), updating a complex property updates all sub-class instances (not just the one in question).
To demonstrate this, I will define a base class with both a complex and simple property, then define two sub-class instances and update each property respectively:
<script type="text/javascript">

	// Create a base class to sub-class.

	function Base(){
		this.SimpleProperty = "Simple";
		this.ComplexProperty = {};
	}

	/* ------------------------------------- */

	// Create sub-class and extend base class.
	SubClass.prototype = new Base();
	SubClass.constructor = SubClass;

	function SubClass( strProperty ){
		this.SubClassProperty = strProperty;
	}

	/* ------------------------------------- */

	// Create two instances of sub-class.
	objA = new SubClass( "ObjA" );
	objB = new SubClass( "ObjB" );

	// Update the simple property in the base class.
	objA.SimpleProperty = "SimpleA";
	objB.SimpleProperty = "SimpleB";

	// Update key in complex property in the base class.
	objA.ComplexProperty.AKey = "FromA";
	objB.ComplexProperty.BKey = "FromB";

	// Log updated property profiles.
	console.log( objA );
	console.log( objB );

</script>

When we run this code, we get the following console.log() output: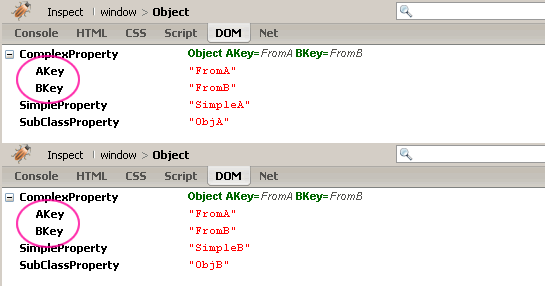 As you can see in the console output, updating the "ComplexProperty" updated both instances of the sub-class. Now, we are really seeing how prototypal inheritence is different from typical inheritence!
All of the above gets us to the main point of this blog post - super constructors are a crucial ingredient to effective prototypal inheritence. When you are using prototypal inheritence, you should always call the super constructor from the sub-class constructor to make sure that your sub-class instance gets a unique copy of all properties, simple and complex. We can still use the prototype chain to define global copies of the methods (awesome memory conservation); but, by calling the super constructor with the sub-class context, we force the prototype to copy all default values into the instance of our sub-class.
To illustrate this point, I will take the above demo and add the super constructor call from within the sub-class constructor:
<script type="text/javascript">

	// Create a base class to sub-class.

	function Base(){
		this.SimpleProperty = "Simple";
		this.ComplexProperty = {};
	}

	/* ------------------------------------- */

	// Create sub-class and extend base class.
	SubClass.prototype = new Base();
	SubClass.constructor = SubClass;

	function SubClass( strProperty ){
		// Call super constructor.
		Base.call( this );
		this.SubClassProperty = strProperty;
	}

	/* ------------------------------------- */

	// Create two instances of sub-class.
	objA = new SubClass( "ObjA" );
	objB = new SubClass( "ObjB" );

	// Update the simple property in the base class.
	objA.SimpleProperty = "SimpleA";
	objB.SimpleProperty = "SimpleB";

	// Update key in complex property in the base class.
	objA.ComplexProperty.AKey = "FromA";
	objB.ComplexProperty.BKey = "FromB";

	// Log updated property profiles.
	console.log( objA );
	console.log( objB );

</script>

The only update I made is that I call the Base method (base constructor) within the sub-class constructor:
Now, when we output the FireBug console, we get the following: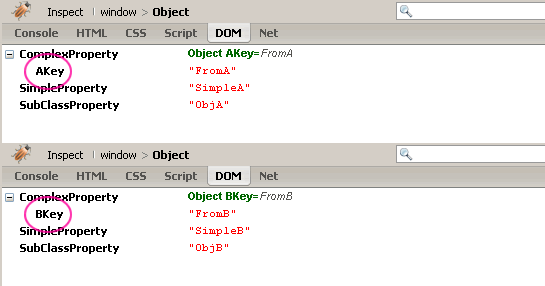 As you can see, each object now has a unique copy of all the properties and as such, updating the ComplexProperty, which is still pass-by-reference, is not affected by other instance activities.
Javascript's prototypal inheritence is an awesome inheritence architecture and provides the most excellent memory management. But, if you don't fully understand how it works, it can certainly come back to bite you in the butt. So, my closing words of advice: always call the super constructor from within your sub-class constructors! And, while I have not finished Pro Javascript Design Patterns, I'm already recommending that you check it out.
Want to use code from this post? Check out the license.