The Wrestler Starring Mickey Rourke And Marisa Tomei
The Wrestler, starring Mickey Rourke and Marisa Tomei, finds fictitious wrestler, Randy "The Ram" Robinson, 20 years after the height of his professional wrestling career. He is no longer performing in arenas on pay-per-view with a crowd of 80 thousand and another 40 million television viewers; he's an "old, broken down piece of meat" that simply survives long enough to make it from one community-center wrestling match to another, performing for crowds of two dozen and a couple of bucks.
I wanted to see this movie from the very first moment I saw the preview; it looks like a great under-dog movie. And it was - I really really liked it and I'll probably see it again in the theaters. But, it's definitely not a "feel good" under-dog movie. It's not a "Rudy" or a "Cinderella Man" by any means. The Wrester offers an insight into the world of professional wrestling that we never see, and, I have to say, it's quite depressing.
But, part of why it's such a depressing movie is because The Ram, played by Mickey Rourke, loves wrestling. It's his passion - it's all he wants to do; he can't imagine doing anything else and pretty much won't stand for the thought of such a thing. And yet, at the same time, it is his very passion that has stripped his life of all those that cared about him and it is this passion that is quite literally killing him.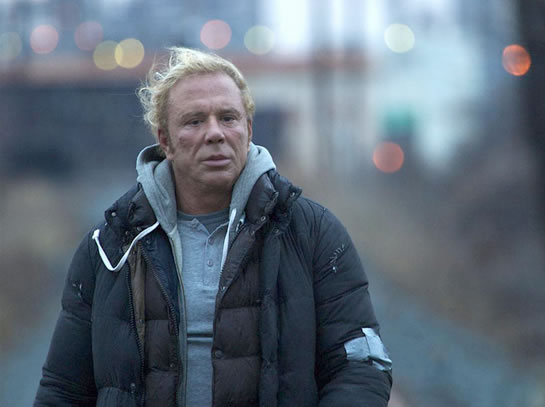 I have to say, I definitely got emotional during this movie. The performances were great, but more than that, I think it really struck a chord in me. I love working out more than most things; and, I know that when I am injured and cannot work out, it has a large negative impact on almost every aspect of my life. And yet at the same time, I know that many of my injuries are cause by this love of working out (mixed with carelessness and a good bit of laziness). While working out and wrestling entail very different things, it was easy for me to relate to this concept of having to choose between your passion and your health.
On top of that, I don't think there isn't anyone here who hasn't thought or worried about ending up alone. I believe that to be a universal fear that everyone has at some level whether it be a driving force in their lives or simply something that pops into their head from time to time. Regardless of how you feel on this matter, it's very hard to watch this man, once on the top of the world, look up 20 years later and realize that he has no one in his life and that he'll die alone. When you're already in an emotional state, it's quite tempting to stop and ask, "Will that be me?"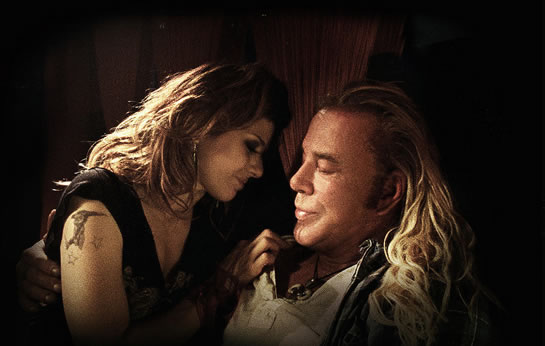 Marisa Tomei does a great job as well. In a way, her story as a stripper is much like his - she's alone and definitely too old to be doing what she does for a living. But, just like The Ram, she is doing whatever she can in order to survive for her passion - her son. You'd think that these two would go well together; but, ironically, while they are both alone, they are simply too broken to find each other.
Ever since I saw Sin City, I have thought of Mickey Rourke as a top quality actor. Now, with the Wrestler, I think he has solidified his standing in the Hollywood crowd. I highly recommend this movie, but be warned - you're not gonna leave the theater feeling great.