Project HUGE: WTF, Waist Line, And Money
It's been a long time since I've written anything for Project HUGE. And frankly, that pretty much mirrors my recent dedication to it. For the last few months I have been dealing with a scary wrist pain and a hectic job. At the end of the day, my wrist hurts and I've been just too tired to care. In the past month, I think I've worked out like three times. I've also stopped buttoning my pants cause they don't quite fit anymore around my waist. Did I mention that I also stopped drinking tea and am now trying to get over a head cold?
I have also been budgeting quite poorly lately. Due to the success of the company, I have been living a bit beyond my means. This one is completely my fault. I generally don't spend much money at all. But the last few months have been out of character - eating out a lot and treating people to food and movies. I guess it makes me feel good and I like to share the success that I've had.
But there is light at the end of the tunnel - a silver lining to my recent slothly demeanor; my wrist pain has gotten much better. The time away from the gym has given my body plenty of time to rest. In fact, I had a really good workout on Saturday with Big Dave and my wrist felt great. To aide in my recovery (and further injury prevention), I have invested in some WSF wrist wraps: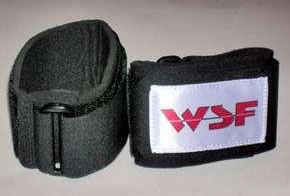 These help to keep pressure around my wrist during compressive lifts (pushing) which helps keep my body's protective joint fluids in the right places. They also keep me more aware of my wrist alignment so that I don't lose my form during movement in such a way that will stress my ligaments.
What about the money and the waist line? I think these are two problems that I can actually attack at the same time. One of my biggest money draws is food. I eat out a lot and I never bring food to work. I'm spending a good 20-30 dollars a day just on office food! That's outrageous! ... and that's not couting dinner or anything else. I am going to start bringing food to the office to help curb that cost. But, also, I am looking into some MRBs - Meal Replacement Bars. These are just what they sound like - a nutritional bar that you eat instead of a meal.
I had my first one yesterday - a DETOUR Oatmeal Bar. It was actually pretty good and it filled me up for the rest of the afternoon (much better than I thought it would). And, the best part is that for the cost of one standard Ben lunch, I can get three lunches' worth of MRBs. For $15, I can buy lunch for the entire week.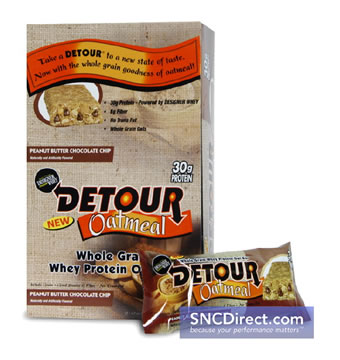 Now, don't get me wrong - I know that nothing beats "real" food when it comes to proper nutrition; but the fact is, I wasn't eating very well to start with. It's not like I'm going from organic salads and fruit to MRBs; I'm going from salty, deli, buffet food to MRBs. When you come at it from that perspective, the MRB might actually be an improvement (and at less cost). And, I hope to start brining in vegetables (carrots and broccoli and such) to snack on during the day.
In regards to tea drinking, I tried going with loose tea for a while. That just added too much overhead to the tea making process. And so, I stopped drinking it. But, I just ordered a good amount (3 cases of 12 boxes) of bagged tea from Eden Foods.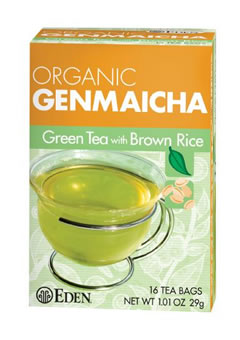 That should help me get back on that horse.
But what about my workouts? With my wrist getting better, it's simply time to make those a priority again. I am confident that I can do that, especially with all the other efforts above falling into place. It's time that I rise above my baseline, which is, as Big Dave sums it up, "Bitching out."