jQuery Attr() Function Doesn't Work With IMAGE.complete
I ran into what I think is a jQuery bug this morning when testing to see if an image had finished loading. As you may or may not know, the image object has a boolean attribute, "complete", which determines whether or not the image has finished loading (either to success or failure/error). It seems, however, that this attribute can only be accessed via the image node property and not through .attr() function.
Take a look at this test code:
<!DOCTYPE html PUBLIC "-//W3C//DTD XHTML 1.0 Transitional//EN" "http://www.w3.org/TR/xhtml1/DTD/xhtml1-transitional.dtd">
<html>
<head>
	<title>jQuery Bug</title>

	<script type="text/javascript" src="jquery-latest.pack.js"></script>
	<script type="text/javascript">

		// Once the document is loaded, check to see if the
		// image has loaded.
		$(
			function(){
				var jImg = $( "img:first" );

				// Alert the image "complete" flag using the
				// attr() method as well as the DOM property.
				alert(
					"attr(): " +
					jImg.attr( "complete" ) + "\n\n" +

					".complete: " +
					jImg[ 0 ].complete + "\n\n" +

					"getAttribute(): " +
					jImg[ 0 ].getAttribute( "complete" )
					);
			}
			);

	</script>
</head>
<body>

	<p>
		<img src="about:blank" alt="Empty Image" />
	</p>

</body>
</html>

Notice that we are alerting the "complete" value via the .attr() method as well as the DOM node propertyy and the DOM getAttribute() method. This is what we get: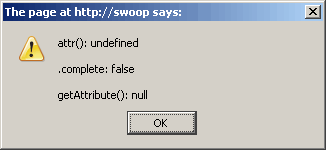 The .attr() method fails to return a valid value. The .complete attribute works fine. Behind the scene, the jQuery .attr() method works in conjunction with the .getAttribute() method, which looks like it fails to get the "complete" attribute as well. So, maybe this is a bug with the browser?
Of course, that above output was run in FireFox. This is what we get when we run it in Internet Explorer: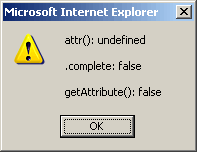 Notice here that .getAttribute() does return a valid value (false), and still, .attr() fails to return a boolean value. This seems very odd. Anyone have any thoughts?
Want to use code from this post? Check out the license.